Wednesday, September 28, 2016
By Cory K. Doviak
NJS.com Editorial Director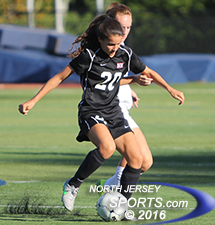 Sophomore Claudia Mischeler's crafty chip led to the game's lone goal in the 79th minute as Northern Highlands nipped NV/Old Tappan, 1-0, on Tuesday.
OLD TAPPAN – Over the course of its near decade of dominance against even the best of Bergen County competition, Northern Highlands' girls soccer program has found itself in a similar position so many times. Up against an opponent looking to make its mark by beating a nationally ranked side and locked in a tight game, Highlands seems to always find a way not matter what.
Remember the Bergen County Tournament quarterfinals in 2011 when the Highlanders trailed Mahwah by a goal with less than one minute left in regulation before scoring twice in 90 seconds to pull off a miraculous victory?
Anyway, this was not that. This was a run-of-the-mill Tuesday in the regular season, but it was another reminder of just how hard it is to beat the Highlanders, or even tie them. Northern Valley/Old Tappan ran with Highlands for the first half, was probably unlucky not to have been ahead at the intermission and was only a minute away from being granted the second wind it might have inhaled at the break before overtime of what still a scoreless game.
But then one piece of creativity and one touch of class undid everything that Old Tappan had been holding onto for 79 minutes. Sophomore Claudia Mischeler, a new-comer to the Highlands tradition, hit a clever chip over the head of her defender and senior Evan Hurm, a veteran of many such battles, snuck around the back of her mark and volleyed the ball with her left foot into the lower left.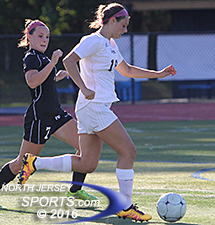 Old Tappan's Izzy Ramil crushed one off the crossbar in the 28th minute.
"Everyone was just so ready to get a goal. We wanted it so badly and we all worked together to make it happen," said Hurm, who will play at Notre Dame University next fall. "It wasn't just me, it wasn't just Micheler, it was everyone working hard the whole way through no matter how much time was left."
By the time the celebration was over and by the time the ball was put back in play at the center circle, it was just about time for the final whistle to blow in Highlands' 1-0 victory. A day after being awarded the No. 1 seed in the upcoming Bergen County Tournament, the Highlanders improved to 5-0 on the season.
"I guess is it better that it happened in the 79th minute than not at all. It was nice, a great goal, I just wish maybe that it happened in the first two minutes rather than in the last two," said Highlands head coach Tara Madigan. "We came in knowing that it was going to be a challenging game, but when you get down to the 79th minute and you score a goal, it certainly says something about the character of the team. The fact that we were still fighting for that goal rather than taking our chances in overtime definitely shows a lot."
There were not that many dangerous chances either way, but there was one in particular that stuck out and made quite a racket in the first half. Izzy Ramil, one of Old Tappan's three senior captains and four-year starters (along with Kelly Walsh and Amanda Tripodi), snaked her way through the midfield, got to within 30 yards and then hit a crackling shot that was kept out only by a head-on collision with crossbar in the 28th minute. Jordan Crescente's follow-up header finished high and wide of the mark.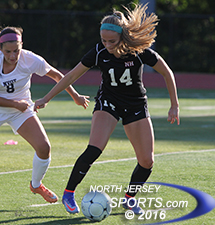 Senior Eva Hurm, a Notre Dame commit, volleyed home the game-winner with her left foot in the 79th minute.
Highlands' to best chances of the first half came eight minutes apart. On the first one, Claudia Dipasupil whipped in a cross from the left side that just missed connecting with the back post run of Claire Nam in the 16th minute. The other was set up by a sprint up the left by Hurm, who won the end line and charged hard toward the near post, but her rolling cross went unanswered.
Old Tappan held its own in the midfield for the entire first half and for a good chunk of the second, but the reason why Northern Highlands wins so many games late on is because it brings constant pressure from start to finish. The Highlanders compete for every ball and started to lock it in their offensive half just past the midway of the second stanza.
They starting testing Old Tappan keeper Jada Udal from distance just to make her work. Nam skimmed the bar from 35 yards in the 65th minute, Mischeler forced Udal into a save from 30 yards two minutes later and there was a lot of traffic building up right around the top of the box as Old Tappan tried to hang in there late.
"We played really well, we were just a little out of sorts in the last three or four minutes of that game. We were very tired, but you have to give Highlands the credit for that," said Old Tappan head coach Tom Quinn, whose team, now 4-3, is the No. 10 seed in the Bergen County Tournament. "We can't hang our heads about this one. We have a lot of tough games coming up and we are going to be fine. This is going to hurt a little bit because we played real well, but at least we know now what we are capable of and this can help us as we move into October and then, hopefully, November."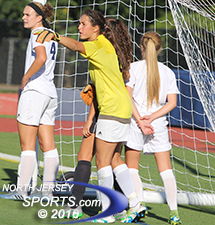 Jada Usal made 7 saves for Old Tappan, which fell to 4-3 on the season.
Highlands is in a familiar position of being an undefeated team and the favorite to repeat as the Bergen County champion, but what is unfamiliar are many faces in the starting lineup. It was a deep and talented senior class that walked out the door back in June, but the expectations never change. There are 10 sophomores on this year's roster including Micheler, who provided the game-winning assist, and Sara Ghorashi, the keeper who made three saves to keep the clean sheet.
The Highlanders, ranked No. 2 in the state by the Star Ledger, will step out of league play on Thursday and pay a visit to Ridge, another perennial state power.
"We have a lot of young players out here, a lot of young starters that have not really played 80 minutes in a starting role for us in the past and I think this group is coming together. They have high standards for themselves, they have high expectations and we are all looking forward to the county tournament and to Ridge on Thursday," said Madigan. "That is a great test for us and it we felt it was a style of game to put on the schedule before October. Putting another competitive game on the schedule against a quality opponent can only help our team."
CLICK HERE FOR MORE PHOTOS FROM THIS GAME. TO BUY A COLLECTOR'S PRINT OF THIS STORY, PLEASE VISIT 4FeetGrafix.com.