Sunday, September 18, 2016
By Rich Barton
NJS.com Staff Writer
Gianna D'Amato netted her first career hat trick, including the game-winner midway through the second overtime, as Hawthorne Christian Academy beat Saddle River Day, 5-4, in front of a homecoming crowd.
HAWTHORNE – When Saddle River Day scored with less than 14 minutes to play in regulation, history was not on the side of Hawthorne Christian Academy as it was facing a two-goal, second-half deficit. In the history of the program, the Defenders had never rallied to win after trailing by two so late in the game. History is meant to be rewritten; and with a furious late rally led by Gianna D'Amato, the Defenders did just that.
With a Homecoming crowd on hand to witness the action, D'Amato sent the game into overtime with a penalty kick late in regulation then completed her hat trick and the comeback midway through the second overtime as Hawthorne Christian pulled off a wild 5-4 win over Saddle River Day on Saturday in Hawthorne.
"This is a great win and we're really excited about it," said Hawthorne Christian striker Kelly Etemadipour.
D'Amato got Hawthorne Christian on the scoreboard first by converting a penalty kick in the 14th minute. Saddle River Day responded three minutes later with a goal from Alexa Tsahalis that tied the game.
That momentum carried the Lady Rebels through the rest of the half. Michaela McMahon settled a corner kick from Caity House and drilled a perfect shot into the upper right-hand corner before Carolyn Carrera netted her first goal of the season to give the Rebels a 3-1 lead that they were able to hold until halftime thanks two a pair of big saves in the final minute by freshman netminder Sophia McMahon, making her first start between the pipes.
Etemadipour was a nightmare for the Rebels' back line along the right wing during the second half. She made several nice runs before finally breaking through with a goal with exactly 17 minutes to play in regulation, cutting the lead to 3-2.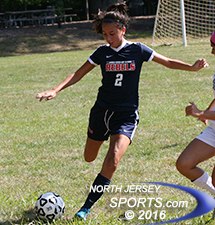 Michaela McMahon had a goal and an assist for Saddle River Day.
Once again Saddle River Day answered back swiftly and methodically. They two-touched the ball from midfield until Maya Feerick's shot clanged off the post, Caity House beat a defender to the inside to pounce on the loose ball and slam it home for a 4-2 SRD lead with 13:28 to play.
"We felt like we had the better of play but after letting up that fourth goal of theirs, we knew we were running out of time," said Hawthorne Christian head coach Melissa Hawthorne. "We pushed players up to have more of them attacking but basically we just kept playing the same style we were playing all game."
Conventional wisdom would say that the deficit was too big and the time too short for the Defenders to mount a comeback. They never believed they were out of the game and played like their season depended on the outcome of this game.
Etemadipour scored with 7:30 to play to trim the lead back down to one before being taken down in the box to set up a PK for D'Amato. With the game hanging in the balance, the freshman midfielder showed poise well beyond her years. She calmly walked up to the ball and placed a shot in the lower right-hand corner with 1:54 to play to knot the score at 4 and send the game into overtime.
"I knew I was going to the bottom right and it felt great to put where I wanted to," said D'Amato.
D'Amato was dangerous throughout the overtime before finding the net for her first career hat trick. She made a nice move and got a touch with the outside of her right foot to slip past a defender and loft a shot past the charging McMahon and into the net for the game-winner.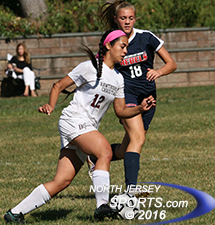 Kelly Etemadipour scored twice for HCA, which improved to 2-2 on the season.
"After working so hard to get the game to overtime we had to finish it off and win the game," added D'Amato. "Our team came together and we gave it our all. We're growing in every way and we're on the same page. It feels great and it gives us a lot of momentum for the rest of the season."
D'Amato and Etemadipour accounted for all five goals for Hawthorne Christian Academy (2-2). Noelani Rivera had eight saves for the Defenders.
House and Michaela McMahon each had a goal and an assist for Saddle River Day (0-3). Sophia Sophia McMahon finished with 14 saves.
Things do not get any easier for Hawthorne Christian with five tough games (Cresskill, Park Ridge, Midland Park, Emerson, and Waldwick with a combined 11-2 record). But with a young roster and a two-game winning streak, the Defenders' future is bright and now they have some positive results to build off of.
"I loved how much heart we had today and we never gave up," said Hawthorne. "Saddle River Day beat us twice last year and we were looking forward to this game with a great crowd here to watch it. It was a great atmosphere and we're showing that this team is headed in the right direction."
CLICK HERE FOR MORE PHOTOS FROM THIS GAME. TO BUY A COLLECTOR'S PRINT OF THIS STORY, PLEASE VISIT 4FeetGrafix.com.