Sunday, November 6, 2011
By Cory K. Doviak
NJS.com Editorial Director
Madison Holleran put Northern Highlands in front for good with her goal in the 63rd minute as the Highlanders won their first Bergen County championship since 2005 with a 3-1 win over rival Ramapo on Saturday.
OAKLAND – Because Northern Highlands and Ramapo have two of the best girls soccer teams in the state on a year-in, year-out basis and because they play in the same league, the same county and the same state section, success in any given year for either side is measured by their success against each other. Last season it was Ramapo that won three of the four games the teams played (with the other being a tie) and it was Ramapo that won a league title, a state sectional title and played for the Bergen County championship.
This year, the script has been flipped, so far at least. After winning their one previous matchup by a 6-2 score, Northern Highlands made it 2-0 against its rival this season and this time the result was reflected in the trophy presentation. Highlands, the undefeated top seed, scored three times in the final 17 minutes on Saturday with and won its first Bergen County championship since sharing the title with IHA in 2005 with a 3-1 win at Indian Hills High School.
"It wasn't an easy ride for us and I think it made us stronger throughout the county tournament. We faced challenges every game that we played in the last few matches with Mahwah and Glen Rock and today was no different," said Tara Madigan, who has now won three county titles (2004, 2005, 2011) as the head coach at Northern Highlands. "I think that all of the challenges we faced helped prepare us for today."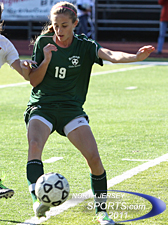 Kasey Finn scored the lone goal for Ramapo, whose only two losses this season have come against Highlands.
The Highlanders were certainly prepared for Ramapo and vice-versa as no two teams in the state know each other as well. There were no scouting reports needed, no feeling out process and no goals through the first 62 minutes of play, but Highlands had to feel like it was coming. In the the first half the Highlanders made Ramapo defend Jackie Reyneke's killer long throws from inside the 50 on eight different occasions and one of them, in the 22nd minute, was flicked on by Madison Holleran, who redirected it into what looked like an empty corner before headed it off the line at the near post.
Then, just 10 seconds before halftime, Clare Shea sent in the perfect cross from the right corner that was scissor-volleyed by Carly Leipzig, but knocked down by a defender just before the two teams went off for the intermission scoreless.
"We knew that in the first 10 minutes of both halves that team will come down your throat like it is nobody's business and our kids competed," said Ramapo head coach Paul Heenehan. "We were in the right place at the right time, we cleared balls off the line from the back post, the kids were smart and we competed the whole game, but I think a little wind got out of our sail when at about the [24] minute mark [of the second half] when we had that point blank [chance]."
That point blank chance for Ramapo came about 16 minutes into the second half when Hailey Roccio won a 50/50 ball on the right sideline near midfield and then centered a pass for freshman Carson Cochran, who held off a defender and then saw the line that would send Caroline Chagares in. Cochran led Chagares into open space and all that was left was a foot race with Chagares heading one way and Highlands keeper Brooke Holle sprinting from the exact opposite direction. Holle made a do-or-die save with a hard slide near the top of the box and she recovered in time to deflect Jen Andresen's follow up attempt.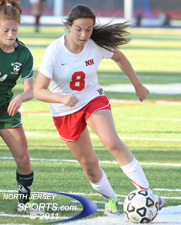 Carly Leipzig, one of Highlands' two freshman starters, scored in the 75th minute to put her team up 2-0.
Highlands dodged that bullet and then fired back and finally hit the mark. Highlands' offensive tactics often include runs up the flanks with the end line the desired destination and Emma Campbell got there with just over 17 minutes left in regulation. With the Ramapo defense in recovery mode, Campbell crossed the ball to Hana Kerner, who then set up Madison Holleran, who did the rest.
"Emma won it on the side and crossed it and then it was just commotion in the box," said Holleran, Highlands' junior midfielder who has a knack for scoring big goals. "I was screaming for Hana to give me the ball and she laid it off really nice. I just took a quick touch with my left foot and shot it in the corner."
Ramapo keeper Ally Villano got her finger tips on the shot with an all out dive to her left, but the ball found its way into the side panel and Northern Highlands had a 1-0. That forced Ramapo to take more chances and rather than pack in the defense and play for a one-goal win, Highlands kept up the attack and did it through Kerner and Leipzig, its two talented freshmen.
Kerner, a forward who goes at defenders as hard as any player in the county, and Leipzig a crafty midfielder who is adept with both feet, have given Highlands two solid options and their more experienced teammates show no hesitation in feeding them the ball.
Caroline Chagaras nearly gave Ramapo the lead on a breakaway midway through the second half.
"We have a wide range of ages. We have freshmen through seniors, so we have 13-year-olds mixing in with 18-year-olds," said Madigan. "All of the girls have their own personalities and yet the chemistry has come together and instead of being 20 individuals, they are just one true team."
When Leipzig scored by hooking a shot into inside the opposite post from the right side with 5:15 to play, it looked like little more than a tack-on late in the game, but it turned into the game-winner when Ramapo made it interesting in the final four minutes. Jamie Barna was fouled to give Ramapo a free kick from 35 yards out and freshman Kasey Finn volleyed home the restart to cut the Highlands lead in half at 2-1 with 2:55 to play.
But less than a minute later and with Ramapo (19-2) pushed up in search of the equalizer, a ball bounced off a head and toward the left sideline where Kerner, who was man-marked just about all game, ran onto it with open space ahead. Kerner knew she had time and she used it to enter the area and set up a bender that went from left to right and into the net to provide the winning margin.
"They had just scored a few minutes earlier and we were still into the game, but we needed that one final clincher to be comfortable. I saw the net and then I picked the corner," said Kerner. "Stepping in [to the lineup] at first, I knew every minute I had on the field was going to be a challenge and had to be earned. The more time you get, the more you have to prove yourself in there and I think that when you work hard, you get good results and that is what has happened."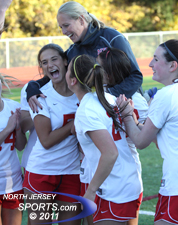 Tara Madigan got taken for a ride after her third county title as Highlands' head coach.
While the season series between Ramapo and Highlands usually plays out over the course of a whole season, this year's version is a bit more compressed. Round 2 was the county final and if there is a Round 3, it will come on Thursday in the North 1, Group 3 state sectional final. Highlands, the top seed, plays No. 4 Pascack Valley in Monday's semifinal round while No. 2 Ramapo will host No. 3 Wayne Hills on the same day. And because North Jersey weather now rivals that of Northern Alaska, there is still that matter of an unplayed regular season match between the two powers that could be the difference between a shared league title or Highlands winning it outright that has yet to be rescheduled if that is even possible at this late date.
But while there is still plenty left to play for, Highlands will allow itself to soak what has already been accomplished.
"We hope to go as far as possible and on Monday we have to focus on the state tournament," said Madigan. "But right now we will appreciate this."
FOR MORE PHOTOS OF THIS EVENT OR TO BUY A COLLECTOR'S PRINT OF THIS GAME STORY, PLEASE VISIT 4FeetGrafix.com.