Sunday, June 5, 2016
By Rich Barton
NJS.com Staff Writer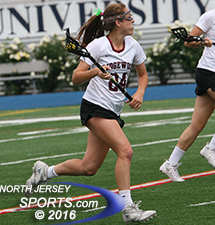 Katie Bourque and Ridgewood ripped through Shawnee to the tune of an 18-4 victory in the Group 4 state final at Kean University on Saturday morning.
UNION – One would be hard-pressed to find a team anywhere in New Jersey that would be slightly disappointed after beating the No. 3 ranked team in the state and the only one that was still undefeated at that time. But that was how Ridgewood felt after a 10-8 victory over previously unbeaten Bridgewater-Raritan in the North Group 4 section final. After being held scoreless for the last 15 minutes of that game, the Maroons were chomping at the bit to show that the way the section final ended was not indicative of how this team planned to play moving forward.
If the Maroons are going to reach their ultimate goal of winning the Tournament of Champions, there could not be any more lapses on either end of the field.
Saturday morning, Shawnee took the brunt of the Maroons' frustrations in a virtuoso performance that showed why Ridgewood has been built itself as one of the elite girls' lacrosse programs in America.
Playing in the Group 4 state final against a team ranked in the top 10 in the state, Ridgewood absolutely dominated the game from the opening draw to the final buzzer. Alex Absey led eight goal scorers with five goals with two-way standouts Hannah Cermack and Katie Bourque doing damage all over the field as Ridgewood barely broke a sweat in repeating as Group 4 state champs with an 18-4 romp over Shawnee to advance to the Tournament of Champions at Kean University in Union.
"We're always happy with a win but we knew that we needed to start strong after the way we ended against Bridgewater," said Bourque, who will play next year at Dartmouth University. "We love to work the ball and spread out. With so much space on a big field, that really played into our hands."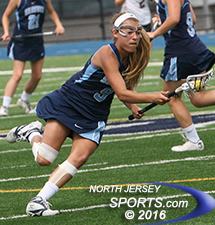 Kate McLoughlin led the way for Shawnee with two goals and an assist.
After that rare drought of 15 minutes without scoring against B-R, the Maroons needed just over a minute to find the back of the net to set the tone yesterday. Off of a free position, Cermack scored just 1:24 in to put the Maroons in front.
Bourque, arguably New Jersey's most well-rounded player, got the first step past a defender and scored less than two minutes later to make it a two-goal lead. Absey scored twice off feeds from Cermack and Bourque before Lillie Kloak got in on the act. Bourque made a nice move to juke a defender and scored on a leaping shot to finish off the game-opening spurt. Just over 10 minutes into the game and Ridgewood held what felt like an already insurmountable 6-0 lead.
Kate McLoughlin got the Renegades on the scoreboard and Lauren Jobes also scored to trim the lead to five, 7-2. It never got closer than that as Ridgewood ripped off the last four goals of the first half to remove any hopes of a miraculous comeback. Ashley Turnbull scored a pair of goals with Kloak and Absey adding the others as the Maroons were in total control by the break, 11-2.
"Our defense was great and they really helped us in transition to get up the field and get the midfielders the attackers good looks at the net," said Cermack. "I think our speed, our depth, and the style we play was really suited to this field. It was a definite advantage for us. Our defense getting so many turnovers and interceptions put us in good situations with the midfielders and attackers already down there ready to start our offense while (Shawnee) was still getting back and trying to catch up."
After not finishing strong in the section final, there was little doubt that the Maroons would make it a priority to finish like championship teams do. Liza Barr opened the second half for the Renegades with a goal 1:40 into the second half before Ridgewood slammed the door shut. The Maroons allowed just three shots over the final 23:20 against a Shawnee team that scored in double-figures in 17 of its previous 21 games. From there, it was merely a countdown to the celebration as Ridgewood held onto its crown as Group 4 champ.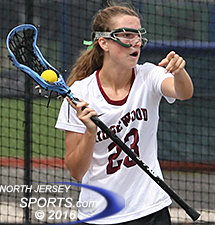 Hailey Ricciardi and Ridgewood will face Rumson-Fair Haven in their T of C opener on Wednesday.
"We were so consistent today and did it on both ends of the field," said Ridgewood head coach Karla Mixon. "I couldn't be happier with both how we started and how we finished. At this point in the season, you win or you go home. No team wants to go home of course, but as driven as our team is this year we were not about to go home today without giving it 100%."
Quinn Daly, Hailey and Riley Ricciardi, and Bourque (2 goals, 1 assist) all excelled in the back for Ridgewood (19-2). Up front, Absey's five goals led all players. Cermack finished with two goals and a game-high four assists. Kloak had one of her best games of the season with four goals and three ground balls. Chelsea Trattner, Cat Roxas, and CC Telesco also scored. Goalie Casey Cole finished with seven saves.
McLoughlin led the way for Shawnee (20-2) with two goals and an assist. Boston University-bound keeper Bianca Smith had nine saves.
Ridgewood heads to the Tournament of Champions for the second consecutive year. They will be the No. 2 seed and will face third-seeded Rumson-Fair Haven in the Tournament of Champions semifinal round on Wednesday at Monmouth University.
After suffering a heartbreaking loss to Summit (this year's top seed) in the T of C semis last year, the Maroons have tunnel vision towards winning their first T of C crown since winning back-to-back titles in 2010 and 2011.
"The Summit loss last year was in the back of our minds from the time that game ended until right this second," added Bourque. "Whether you were on the team or not, if you were a part of this program you know how upsetting that loss was for all of us. Now that we're back in the T of C, we're going to give it our all and go for the trophy."
CLICK HERE FOR MORE PHOTOS FROM THIS GAME. TO BUY A COLLECTOR'S PRINT OF THIS STORY, PLEASE VISIT 4FeetGrafix.com.