Wednesday, May 25, 2016
By Rich Barton
NJS.com Staff Writer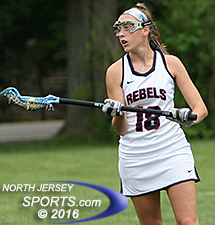 Seven weeks after suffering a broken thumb, Alexa Tsahalis returned to help Saddle River Day reach the North Group 1 semifinals for the first time in program history with a 16-7 win over Kinnelon.
SADDLE RIVER – This has been the by far the best season in the brief history of the Saddle River Day girls' lacrosse program. But ever since the first minute of the second game all Alexa Tsahalis could do was watch.
Having suffered a fractured thumb against Ridge and forced to simply cheer her team on, the sophomore was getting restless as the state tournament approached. Finally cleared for game action and with the return of Kelly Hannigan from injury, the Lady Rebels are finally healthy for the first time in seven weeks and made the most of it against a talented Kinnelon squad looking to pull the upset.
Dani McMahon had a strong game all over the field and Tsahalis netted three goals in her return as third-seeded Saddle River Day advanced to the North Group 1 semifinals for the first time in school history with a 16-7 victory on Tuesday afternoon over sixth-seeded Kinnelon in Saddle River.
"This is what I love and playing the game is what I want I do. I just wanted to get back out here for my teammates," said Tsahalis. "We had such intensity going into this game and we worked well together the whole way through. Everybody is healthy and winning today was a true team effort."
Kinnelon's Ashley Bobinski had the highest goal-scoring outburst in New Jersey this season with 12 goals in a first-round win over Villa Walsh. The Qunnipiac-bound attacker scored to open the game and again to tie it at 3 near the midway point of the first half. Teammate Katie Bononno tied the game again at four before the Rebels took over.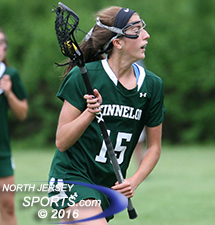 Ashley Bobinsky scored twice for Kinnelon, which finished the season with a 12-8 record.
After a goal by Kinnelon native Jackie Wolak gave the Saddle River Day the lead, a crafty defensive play led to a goal that got the Rebels into high gear. Colts' goaltender Dana DeBel made her fifth point-blank save of the half. As DeBel circled the net looking for an open teammate, SRD's Maggie Kuntz was in hot pursuit. DeBel never saw Dani McMahon coming from behind and she stripped the ball before Kuntz pounced on the loose ball and made a nice move past a defender for the goal and a 6-4 lead.
"When I was coming around the goal I saw Daniella (McMahon) coming for the check and I knew she was going to get it," said Kuntz. "When she made the check and the ball was on the ground, I just had to pick up and put it right in."
The McMahon sisters controlled the rest of the half with McMahon scoring late to give the Rebels some breathing room at halftime, 9-5.
Saddle River Day has developed a reputation as one of the top offensive attacks in the state and with good reason. But to make a deep run in the state tournament, solid defense is essential as well. Megan Crowley, Caity House, Carly Christofi, Talea Garabo, and Carolyn Carrera got better as the game went on ending with a stellar second-half effort. The Rebels gave up just two second-half goals. Three huge saves from goalie Zoe Fava early in the second half allowed the Rebels to maintain momentum and allowed Dani McMahon and Wolak to create havoc up front as Saddle River Day rolled.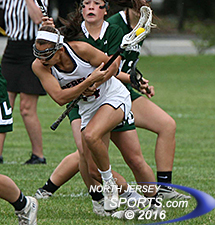 Jackie Wolak and Saddle River Day will play defending overall state champ Oak Knoll in the semifinals.
Dani McMahon finished with game-highs of five goals, four assists, and scooped up a season-high nine ground balls for Saddle River Day (17-4). Wolak finished with three goals, four assists, and a career-high eight ground balls. Michaela McMahon had four goals, the Villanova commit Tsahalis had three and Kuntz added a pair.
Bononno led the way with three goals and an assist for Kinnelon (12-8). Ashley Bobinski had two goals with Jamie Lewit and Emily Thomson each tallying one.
Saddle River Day now gets the ultimate test when they face off against second-seeded and defending Tournament of Champions title winner Oak Knoll, an 18-5 winner over Glen Rock, in the North Group 1 semifinals. With the Rebels finally healthy and clicking on all cylinders, they know they have a chance to do something truly special.
"We couldn't be happier when Alexa and Kelly came here and said that they could play today," said Dani McMahon, who will play at Stanford University next year. "Our team is so used to running our attack through Michaela, Jackie, and myself that there was a little rust but not much. We're healthy and we have nothing to lose against Oak Knoll. I think if we practice 100-percent, play our hardest and play even better than we played today that we have a shot."
CLICK HERE FOR MORE PHOTOS FROM THIS GAME. TO BUY A COLLECTOR'S PRINT OF THIS STORY, PLEASE VISIT 4FeetGrafix.com.