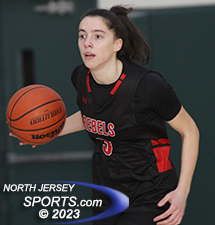 Cristina Parrella scored 16 of her 21 points in the second half and overtime as Saddle River Day erased a 17-point deficit and beat Immaculate Conception, 64-59, on Tuesday at Felician College.
RUTHERFORD – Battling all the way back from a 17-point deficit against Immaculate Conception, Saddle River Day finally got on track in the second half. It looked like the Rebels were going to ice the game, but junior guard Cristina Parrella missed the front end of a one-and-one and could only shake her head in disgust after watching Immaculate Conception tie the game with three seconds left to send the game into overtime. With four extra minutes to do something about it, Parrella showed why she is one of the premier players in Bergen County and made the most of her second opportunity to close it out.
She opened the scoring in overtime then, after two huge defensive plays by Juliana Almeida, hit three big free throws in the final minute as Saddle River Day survived the upset bid with a thrilling 64-59 triumph over Immaculate Conception on Tuesday afternoon at Felician College in Rutherford.
"We had to get back to basics and really focus on the fundamentals to make a run to get back in the game," said Almeida, who recently committed to play at the U.S. Naval Academy. "We had to make adjustments in the third quarter and staying grounded. I thought we shared the ball a lot better in the second half and that got us going."
On Monday night, six-time defending Bergen County champion Saddle River Day was awarded the top seed for the Bergen County Tournament. In a much bigger surprise, Immaculate Conception was given the No. 11 seed despite having a 13-1 record at the cutoff. That served as motivation coming into the game as the Blue Wolves showed right from the outset that they could match the Rebels' offensive firepower.
Reagan Bossard scored inside twice to give IC an early lead. Bella Pedone answered to put Saddle River Day back in front, but that lead would be their last until late in the fourth quarter as star point guard Meghan Gentile, who was the best player on the floor for either team throughout the game, led the Blue Wolves in a huge second-quarter run. She hit five of her six shots from the floor, scoring 11 points in a 17-2 run that gave Immaculate Conception a surprising 33-20 lead at the half.
"We played extremely well in the first half, holding a team like that to 20 points," said Immaculate Conception head coach Jio Fontan. "In the first half, we were doing all the intangibles you need to do in order to win big games. We feel we can give anyone problems with our defense and our three-point shooting. But when we turn the ball over and we don't box out, which is what happened in the second half, you give a team like Saddle River Day life. Can't give a team that talented a chance to get back in the game. I'm very proud of that first half, but we have to learn how to close out big games."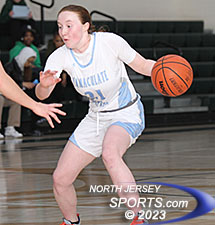 Meghan Gentile scored a career-high 29 points for Immaculate Conception, which lost for just the second time this season.
The lead was 15 midway through the third quarter when a pivotal minute of play swung the pendulum back in the Rebels' favor. The Blue Wolves had a pair of wide open layups that were missed followed by a silly turnover on the next possession. Saddle River Day made them pay with an Almeida layup and a three from Faith Williamson. Instead of potentially bumping the lead up to 19 or 20 points, the Rebels were able to slice the lead to 10 and played harder down the stretch knowing that they were in striking distance.
"The message at halftime was real simple, we weren't playing like we're capable of," said Saddle River Day head coach Derek Amalbert. "It was really clear that Immaculate Conception was ready to battle and they outworked us in the first half. We started to identify what we needed to do to make a run. We had trouble beating their five girls. What we had to do was try to expose one or two defenders where we felt we had an advantage and attack those areas."
A big factor in the Rebels' comeback was not only turning up the pressure defensively, but making an offensive adjustment that exploited the Blue Wolves' 2-3 zone. Instead of settling for contested three-point shots, they were able to dump the ball into the short corner along the baseline and then hit a cutter down the middle for an easy basket. This happened on consecutive possessions in the final two minutes of regulation with baskets by Almeida and Jessica Carter snapping a tie and putting SRD in front, 56-52.
Immaculate Conception caught a break down four with 19 seconds remaining when Gentile was fouled on a three-point attempt. She hit two of three from the charity stripe to cut the four-point lead in half then fouled Parrella to send her to the line for a one-and-one. However, the junior missed and gave IC a shot. Isabella Javier missed on a short jumper but the rebound caromed right back to her. She banked in the putback with three seconds left to tie the game at 56 and send it into overtime.
"I felt bad that I missed some big free-throws, but I had to stay calm," said Parrella. "There was nothing I could do about it. We had to stay composed and work together towards getting the win no matter how we had to do it."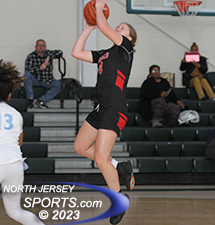 Juliana Almeida finsihed with 18 points and 10 rebounds for Saddle River Day, which is now 12-3 on the season.
Parrella hit a jumper to start the overtime with Gentile pulling IC in front on a three-pointer from the wing. Those would be the only points of the extra session for the Blue Wolves. Their lead was a brief one as Williamson answered right back with a long-range bomb of her own to put the Rebels ahead for good. With the clock running inside of a minute, Almeida forced a five-second violation with Parrella hitting 1-2 at the foul line. It was still a one-possession game when on the Blue Wolves' last possession a Gentlle three was blocked by Almeida. Parrella put the game away by hitting both free-throws to earn an all-important win after a convincing loss against the No. 1 team in New Jersey, St. John Vianney, on Saturday.
Almeida stuffed the stat sheet for Saddle River Day (12-3) with 18 points, 10 rebounds, three steals, two assists, and two blocks. Parrella had a team-high 21 points, 16 of which came in the second half and overtime. All of Williamson's 12 points came from behind the three-point arc.
Gentile was sensational, finishing with a career-high 29 points for Immaculate Conception (13-2). Bossard added 11 for the Blue Wolves, who will have to regroup for their first-round BCT matchup against Paramus Catholic and high-scoring guard Kylie Cabana. The Paladins pulled off an upset on Tuesday night over Holy Angels.
Saddle River Day has several tough games still remaining before heading into county tournament play. While the Rebels are still considered the team to beat, there are a lot of kinks that need to be worked out quickly if they are going to continue their historic run as Bergen County champs.
"At Saddle River Day we always have a target on our back," added Almeida. "Keeping up that championship standard is really important to us. Every team is going to come at us hard and we need to be prepared for that. How we respond to that is going to be based off of energy, working hard, and trusting each other to get the job done."
FOR MORE PHOTOS FROM THIS EVENT PLEASE CLICK HERE. TO BUY A COLLECTOR'S PRINT OF THIS STORY PLEASE VISIT 4-FeetGrafix.com
---