Monday, December 19, 2016
By Cory K. Doviak
NJS.com Editorial Director
Saddle River Day senior Cassie Cruz going to the basket against Old Tappan during one of seven games played at the Hoops 4 Autism Benefit Games on Sunday at Dwight Morrow High School.
ENGLEWOOD – Seven games, 14 teams and a waiting list of many more hoping to get into the action next year. That is what the Hoops 4 Autism Benefit Games have become in the four short years that the local girls basketball showcase has been in existence. Started by Lou Wejnert when he was the River Dell head coach and organized and administered by his wife Maryann, Hoops 4 Autism is as much a family mission as it is high school sporting event.
The Wejnert's granddaughter, 10-year old Leah, is autistic and shining a light on the condition while doggedly pursuing potential treatments and eventually a cure is what days like Sunday at Dwight Morrow High School are all about.
"We start working on this thing in July. My wife starts selling ads, asking for donations and getting everything together just for this one day so we can make the biggest possible impact," said Lou Wejnert, now the head coach at Dwight Morrow High School in Englewood. "The thing about autism is that if you meet 10 different kids that have been diagnosed with it every case is different. The spectrum of autism is so large that just trying to come up with one pill or one medication that is a cure is not realistic. What we hope for is to keep Autism in the spotlight, keep it out there in the media and hope that the smart people working on it can come up with treatments."
Hoops 4 Autism was held at River Dell in its first two years, it moved temporarily to Northern Valley/Old Tappan High School last season and moved to its new home at Dwight Morrow on Sunday as Lou Wejnert has shifted his base of operations. The 14 teams involved are charged no fee to play in the event, but instead conduct their own independent fundraising and then make a donation. This year, Ridgewood's girls basketball team donated $650, a record for one team and all of the others also made significant contributions. Proceeds benefit Autism Speaks, the national organization, and to BCCS-New Bridges Middle/High School where Leah Wejnert attends.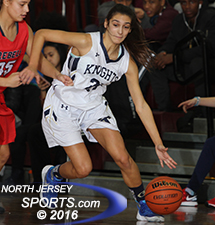 Skylar Regan, one of just two seniors on the Old Tappan roster, finished with 5 points.
As for the games themselves, four of the Top 10 teams in the Unknown Ranker's preseason Top 20 were in action. Pascack Valley, ranked fourth, had the early slot, a 9:00 a.m. tip-off that ended in a 73-33 decision over Fair Lawn and Immaculate Conception, No. 2 in the rankings, opened it up against Northern Highlands in Game 4 right after the host, Dwight Morrow, beat Wood-Ridge, 63-20.
In the second game of the day defending Bergen County champion Saddle River Day got its first win of the season in comfortable fashion as it beat Northern Valley/Old Tappan, 82-32, after a humbling opening night loss on the road at Rumson-Fair Haven. The Rebels used their defensive pressure to open the game on an 11-0 run and never looked back. They led 25-8 at the end of one quarter and 45-19 at the half with a starting lineup consisting of three standout sophomores and two talented seniors.
"No disrespect to the teams that we scrimmaged, but we needed to see a team of that [Rumson Fair-Haven] caliber two weeks ago to prepare us for the season. We were blind-sided a little bit, not the chemistry that we needed for a first game like that, but I would play them again in a minute," said Saddle River Day head coach Danny Brown. "I will take that loss over a game we could win by 40. We went into practice the next day with five things that we really needed to work on, we worked out for three hours and it was a great practice."
Sophomore center Jenna Jordan (11 points) was one of five Saddle River Day players to finish in double figures.
The improvement in chemistry and execution were obvious as the Rebels, with their buzzing traps and defensive hustle the full length of the floor forced numerous Old Tappan turnovers. A fingertip, a smart step, a jump in the passing lane; all of them created loose ball situations that led to open floor opportunities and the Rebels converted many of them into points.
"We always press the whole game and that is our advantage over other teams. We run the whole time and we switch things up depending on which team we are playing," said Cassie Cruz, one of SRD's two senior starters. "We lost a lot of key players from last year, but we still want to keep building this program up and keep going."
Saddle River Day had 10 players in uniform on Sunday and nine of them found their way onto the score sheet, led by 27 points from Michelle Sidor, the All-County sophomore point guard who scored over 800 points last year as a freshman. The two other sophomore starters, Jenna Jordan (11 points) and Jackie Wolak (10 points) also finished in double figures as did Carolyn Carrera, who scored 10 off the bench. Cruz (6 points), Alexa Tsahalis (4 points) and Michaela McMahon and Dayna Tirado each made field goals to round out the scoring for Saddle River Day, which is now 1-1. While Sidor, one of the best players in the state since the opening game of her freshman season, is the obvious catalyst, the Rebels are not a one-player show.
With all of the transition opportunities they created, the Rebels got the ball ahead and shared it, which was an area of focus after Friday night's loss.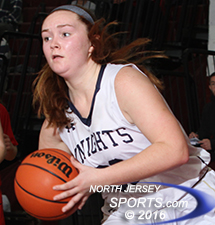 Junior Sophie Downey finished with 9 points for Old Tappan, which is now 1-1 on the season.
"On Friday I think we all kind of tried to do too much. We all took the game a little bit too much on ourselves. We wanted to win so bad and everyone tried to do it by themselves," said Jordan, the sophomore center. "We have to share the ball, work together and play our game. That is what we did today and sharing the ball makes us so much more dangerous on offense."
Old Tappan is a team in transition. The Golden Knights went to the Group 3 state final in each of the last two seasons, won it last year and made the program's first-ever appearance in the Tournament of Champions. But those teams were led by the talented Class of 2016, which has moved on and the loss of junior center Alex George to her second season-ending knee injury in the last three years is another hurdle to overcome.
Junior Sophie Downey is the lone returning player with extensive varsity experience. With a brand new backcourt just two games into the season, the Saddle River Day matchup was a tough one for the Knights. Downey and sophomore Noelle Gonzalez each scored 9 points to top NV/OT, Skylar Regan, one of only two seniors on the roster, finished with 5. Jaclyn Kelly added 4 points, Erin Harnisch had 3 and Kristine Hawkins had the other field goal for the Knights, who fell to 1-1 on the season.
CLICK HERE FOR MORE PHOTOS FROM THIS GAME. TO BUY A COLLECTOR'S PRINT OF THIS STORY, PLEASE VISIT 4FeetGrafix.com.