Saturday, March 4, 2017
By JC Baumuller
NJS.com Correspondent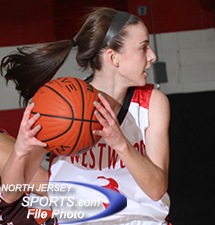 Carlye Danziger hit a 3-pointer to break the game's final and Westwood hung on from there in a 42-40 win over Jefferson in the North 1, Group 2 state sectional semifinals.
WASHINGTON TWP – Westwood junior Carlye Danziger drained a 3-pointer to break a 37-37 tie and propel the Cardinals to a 42-40 victory over Jefferson in the semifinals of the North 1, Group 2 state sectional tournament on Friday.
"We've been practicing what to do in pressure situations when the score is very close," Danziger said. "We have this play set up in case we need it. We practiced it before and I guess we executed it pretty well."
"That was Carlye's only 3 of the game," said Westwood coach Charles Collis. "We drew up a play for her and she knows we have a lot of confidence in her. And she's got a lot of confidence. That's a gutsy shot if you haven't made a shot all game."
Senior co-captain Samantha McClutchy canned a pair of free throws with 40.3 seconds to go to boost the lead to 42-37 but, 15 seconds later, Jefferson senior Nicole Vassallo nailed a 3-pointer to again make it a one-possession game.
With 22.1 seconds to go the Cardinals had a chance to put the game nearly out of reach but missed the front end of a one-and-one and Jefferson grabbed the rebound and immediately called timeout to set up a play.
The Falcons moved the ball to the front court and passed it around, looking for an open shot. With 14.7 seconds to go Danziger intentionally fouled junior Taylor Langan, who led Jefferson with 17 points, and the Falcons had to inbound the ball again.
"We fouled her to make them run another offense," said Collis. "That was the game plan there. We had a foul to give and it might screw up the play that they decided to run in the huddle [and make them] put something else in. And it worked."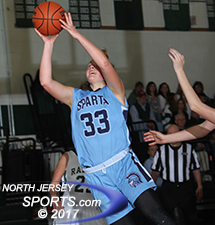 Erin Walsh scored the first points of the fourth quarter to give Sparta a 32-19 lead.
As it had for most of the game Jefferson moved the ball smartly around the perimeter and the Cardinals pressured each ball handler. But time was ticking down as the Cardinals stuck close to the Falcons as they looked for an open shot.
As the buzzer sounded a shot was finally put up and the officials signaled it came after time expired as it bounced off the rim.
"You could tell our kids knew it was on the line," said Collis. "They were pressuring kids, getting in their face, making their close-outs hard on the 3-pointers. We think we're a pretty smart team and that's what we did the last 22.1 seconds on both of those possessions."
The superb defense gave Westwood a lot of trouble scoring early on, which made the Cardinals change their style of offense.
"They're a very good defensive team," said Collis. "They've got a lot of players. They like to run too, so we figured maybe sometimes to stop their transition, let's try to run a slow offense. They're a very good team and good at transition basketball. That's a Morris County finalist."
"They did really well with their on-the-ball screens and handoffs," added McClutchy. "I got caught a couple of times so props to them. They played a hard game and played very well. It was a great battle and I'm glad we came out on top."
The Falcons got points in close and from some short jumpers and a long 3-pointer by Vassallo to grab a 13-8 first quarter lead. McClutchy, the Cardinals all-time leading scorer was held without a point in the first quarter.
"I realized my offense wasn't going in the beginning so I wanted to get the other girls offensive shots," McClutchy said. "I looked for Rachel [Bussanich] because I know if they key on me that means Rachel is going to be open on the block. If I drive in and I trust my shooters I got Carlye (Danziger), Liv (Olivia Cassidy), Shannon [Monaghan] and Hannah [Jackson] all over the place. If it's not me I got five other kids that can get do it."
McClutchy got her game going in the second quarter, scoring nine of her game-high 21 points, including a 3-pointer that gave the Cardinals their first lead of the game, 20-18.
The third quarter featured three lead changes and a tie, ending with the Cardinals taking a five-point lead, 35-30 into the fourth quarter. Their lead was short lived, however, as Falcons junior Victoria Pietraskiewicz scored from in close and Langan bombed a three-pointer to tie the game at 35-all.
The Cardinals were able to regroup, however, thanks in part to the experience of playing the Falcons in last year's semifinal game, won by Jefferson. Westwood began preparing for this game earlier in the season.
"We take a lot of pride in scouting," Collis said, "and we learned a lot from playing them last year in the state tournament where they did a great job against us. We made sure that we did our homework this year. We went to see them a lot of times, going out to Morris County, so we had a good post on them this year.
"I've got a group of seniors and I've got a whole bunch of underclassmen. Yesterday everybody in this program was ready to practice. They did not slow down. They knew what they were up against and they were ready to go."
The players had been waiting for the chance to avenge the loss that knocked them out of last year's tournament.
Jefferson is a good team," McClutchy said. "We played them last year so we felt we had a chip on our shoulder – we're home now – we felt we had to play this game hard and we wanted to win really badly."
"We both really wanted this," added Danziger. "We lost to them last year and it ended our season. We've been waiting to play this team."
The Cardinals move on to the section final Monday at High Point.
"I held my breath on that last shot," McClutchy said. "I stopped breathing and when it didn't go in I was so happy.
CLICK HERE FOR MORE PHOTOS FROM THIS GAME. TO BUY A COLLECTOR'S PRINT OF THIS STORY, PLEASE VISIT 4FeetGrafix.com.