Sunday, January 29, 2017
By Rich Barton
NJS.com Staff Writer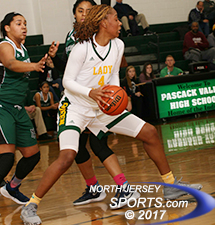 Raven Farley led all players with 21 points, 18 rebounds, and five blocks as Queen of Peace advanced to the quarterfinals with a 54-45 win over New Milford in the BCWCA Tournament on Saturday in Hillsdale.
HILLSDALE – In last year's Round of 16 in the BCWCA Tournament, Queen of Peace was undefeated and regarded as Bergen County's most talented and deepest team. But when the final buzzer sounded, the Golden Griffins could only watch helplessly as a last-second shot rolled around and dropped through in an upset loss to Northern Valley/Demarest.
So when an even bigger upstart team, Group 1 and No. 20 seed New Milford, made a fourth-quarter run on the same court in the same round, Queen of Peace head coach Jio Fontan experienced a bit of déjà vu. This time though, the Golden Griffins did just enough to make sure there was a different ending.
New Milford sliced a 15-point deficit down to four in the fourth quarter, but never got any closer. LSU-bound Raven Farley controlled the paint while Sydney Watkins shrugged off a scoreless first half and came up big late as fourth-seeded Queen of Peace held off the late surge and advanced to the quarterfinals with a 54-45 win on Saturday at Pascack Valley High School.
"The reason we were able to win this game as opposed to last year is that we have a tougher schedule and we've only played one home game this year, so we're battle tested," said Fontan, a former standout at St. Anthony and then the University of Southern California. "We know New Milford was a good team and we learned from last year not to underestimate everyone."
With nothing to lose and everything to gain New Milford looked to continue its torrid play as of late with a 3-pointer from Natalie Miller on the opening possession of the game. That would be the Lady Knights' only lead. After another 3 from Miller to tie the game at 6, the 6-foot-4 Farley took over inside. She had 12 points and 14 rebounds in the first half alone as Queen of Peace grabbed a 22-15 halftime lead.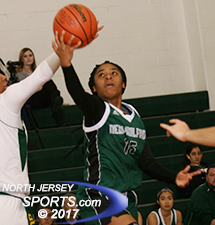 Bionca Chambers helped New Milford mount a charge that got the Knights as close as four points late in the fourth quarter.
The Golden Griffins carried the momentum from a strong second quarter into the third with consecutive 3s from D'Avion Magazine and Watkins for their largest lead, 32-17. New Milford quickly cut the lead to seven before Farley showed her range by stepping out and hitting a 3 from the top of the key to bump the lead back up to double-digits.
However, the Lady Knights were unfazed and kept playing hard to stay in the game. Bionca Chambers made a pair of nice passes that led to layups. One was to Vianca Soriano to beat the third quarter buzzer and the other was to Karina Toledo, who cut the deficit, 42-38, with 4:37 left in regulation.
That was as close as the Knights would get as Watkins made a pair of steals in the final 2:30 that helped the Golden Griffins escape another Round of 16 upset.
"We worked hard and had our chances, but we had a couple of turnovers and we just didn't knock down enough outside shots to get over the hump," said New Milford head coach Dave Wilson. "We came into the county tournament, beat a really good Paramus Catholic team and had a great week overall, including a win over Indian Hills (their only loss in the past 12 games). We hung tough against a fantastic Queen of Peace and we have nothing to hang our heads about. I think a game like this will get us ready for the states."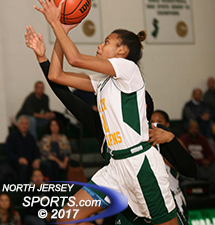 Forever Toppin and Queen of Peace will face Westwood in next weekend's quarterfinal round.
Farley led all players with 21 points, 18 rebounds, and five blocks for Queen of Peace (10-4). Nathalie Arroyave added 13 points and Watkins scored all 12 of her points in the second half.
Chambers stuffed the stat sheet for New Milford (11-4) with 12 points, seven assists, six steals, and five rebounds. Reyes added 10 points and Soriano finished with eight points and eight rebounds.
Queen of Peace now moves one step closer to its season-long goal of a Bergen County title. They will face fifth-seeded Westwood in the quarterfinals next Saturday at Fair Lawn High School. Although they will have an advantage in size and athleticism on the Cardinals, Fontan knows that an inconsistent effort like his team had in the Round of 16 and his team might not be so lucky to escape with a 'W'.
"In this county tournament there are so many good teams that you have to be as sharp as you possibly can be to advance," added Fontan. "Westwood is a legit team with only one loss to a good Mahwah team. We have to play disciplined and can't have many turnovers against them if we want to be successful."
CLICK HERE FOR MORE PHOTOS FROM THIS GAME. TO BUY A COLLECTOR'S PRINT OF THIS STORY, PLEASE VISIT 4FeetGrafix.com.