Friday, January 20, 2017
By Cory K. Doviak
NJS.com Editorial Director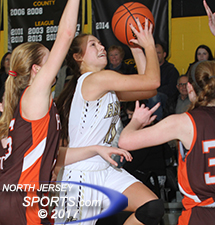 Katelyn Gillies scored 11 points for River Dell, which got back to .500 heading into the Bergen County Tournament with an impressive 52-30 win over Pascack Hills on Thursday.
ORADELL – River Dell's girls basketball team has piled up some impressive victories so far this season. The Golden Hawks are still the only team to have beaten Holy Angels and they also hold wins over IHA and DePaul, two other perennially strong Non-Public opponents. It goes against the grain of the current state of local high school sports because it has been the public school opponents that have given River Dell the most trouble and they entered Thursday night's contest against Pascack Hills, its last before opening Bergen County Tournament play, a game below .500.
What has been the difference between the impressive wins and the sometimes head-scratching losses? It's Basketball 101. When the Hawks can make enough shots to keep an opponent from playing a sagging zone defense they become a tough team to contain. An unselfish group that shares the ball, River Dell can give defenses fits with its ability to drive and dish or score on the interior through the classic entry pass. When not enough perimeter shots fall, the Hawks can look more like a group searching for answers rather than the open shooter.
Thursday night was one of those nights when the shots were falling and the result then came predictable. Madeline Weber scored the game's first points 26 seconds in and that was all it took to get River Dell up and running. A game after scoring just 24 points in a loss to Ridgefield Park, the Hawks opened the game with a 10-2 run, scored 16 points in the first quarter alone and went wire to wire in a 52-30 win that gets them back even on the season at 6-6.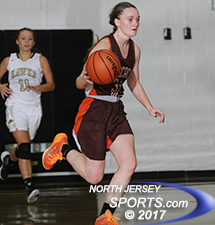 Allison Ernest scored a team-high 16 points, including 11 of the 15 Pascack Hills scored in the second half.
"We had a team discussion yesterday about the energy level that we were playing with, the lack of focus we had against Ridgefield Park and I think the senior took that to heart. I told them they only have a month-and-a-half left to play basketball," said River Dell head coach Lindsay Steffner. "Tonight we saw we can be when we come out with energy and when we come out with focus. Pascack Hills is a very good team, a very good outside shooting team and they beat us by 18 points on opening night. This shows how far we have come since then."
Weber, Caton Henderson and Julie McGovern all made field goals as River Dell opened the game with a 6-0 run. After Amanda O'Brien got Pascack Hills on the board with a driving layup, Katelyn Gillies scored to make it 10-2. Bridget Cahill's 3-pointer from the corner with 2:21 left in the first quarter made it a 13-4 game and all five River Dell starters were already in the box score.
"Today our thing was just to get out there with a lot of energy as possible and get on a run and build off of that. Once you get a good lead it makes it easier to play off of that. We got momentum and we carried it all the way through," said Henderson, one of River Dell's two senior starters. "It's crazy think that it is my senior year. You play your whole life and it ends so quickly. Coach [Steffner] reminded us of that and that Madeline [Weber] and I need to be leaders out there on the court, the seniors one the bench got everyone hyped up and we got momentum early."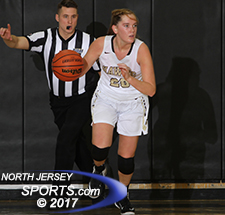 Caton Henderson scored 9 points for River Dell, which will host Teaneck in the first round of the Bergen County Tournament.
Pascack Hills was trailing 16-5 with 30 seconds to go in the first quarter before a 6-0 run spanning the first and second periods to get as close as it would for the rest of the night. Allison Ernest got to the basket to close the first quarter scoring and her sister, Caitlyn, made a runner and a 3-pointer from the wing to get the Cowgirls to within 16-12 with 3:22 left in the first half, but Henderson and McGovern scored the next two baskets to double the River Dell lead. Gillies' steal and layup with 19 seconds left gave the Hawks a 22-15 advantage at the break and they would blow the game open shortly after returning to the floor 10 minutes later.
Four different players scored for River Dell in a 13-2 run that opened the third quarter. Weber's two free throws with 2:29 left in the period gave the Hawks a 35-17 lead and her lay-up off a drive and dish by McGovern just before the buzzer made it 39-21 heading into the fourth quarter and that was the ballgame.
"We talked, we communicated, we ran our plays and we got it done," said Weber, River Dell's other senior starter. "We really needed, more than anything, to get a win because we have been a little bit up and down lately. To play the way we did today only builds our confidence."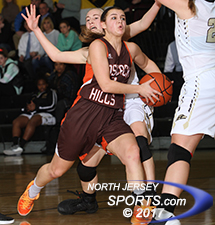 Amanda O'Brien and Pascack Hills will host Ridgefield Park in the BCT on Saturday.
Allison Ernest was the only Pascack Hills player to finish in double figures. She scored 16, including 11 of her team's 15 second half points. O'Brien and Erin Hedrick each scored 5 points and each made on 3-pointer. Julia Kreusch finished with 3 points and Megan Evans made a free throw for the Cowgirls, the No. 15 seed, who will host No. 19 Ridgefield Park in the first round of the Bergen County Tournament on Saturday.
River Dell was well-balanced as Weber led the way with 16 points and Gillies added 11. Henderson (9 points) scored one field goal in every quarter and added a free throw, McGovern finished with 6 points and 4 assists and Cahill (6 points) made both of the Hawks' 3-pointers. Madison Dominguez and Chloe Derian split the other four points for the Hawks, who will host Teaneck in their BCT opener on Saturday. River Dell is the No. 16 seed.
An early scouting report on Teaneck?
"I have a lot more film to watch, but I know are aggressive and they are strong. Cedeja James plays hard, she gets to rim well and we have to slow her down," said Steffner. "If we can rebound, push the ball and get good shots in transition and not turn the ball over against their pressure than I think we can be OK."
CLICK HERE FOR MORE PHOTOS FROM THIS GAME. TO BUY A COLLECTOR'S PRINT OF THIS STORY, PLEASE VISIT 4FeetGrafix.com.