Wednesday, January 11, 2017
By Cory K. Doviak
NJS.com Editorial Director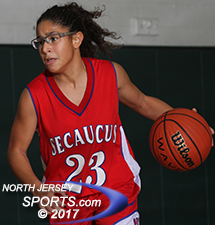 Freshman point guard Damaris Rodriguez made three free throws with 5:11 left to play to give Secaucus the lead for good in a key league win, a 61-56 victory over New Milford on Tuesday.
NEW MILFORD -- There are a lot of ways for an outsider to tell just how players on a specific team feel about each other and their coaches. Do they share the ball? What is the body language when a teammate makes a mistake or a coach takes a player out of the game? Are there eye-rolls or attitude? Those non-verbal cues can speak volumes.
There is another way to test team chemistry, however, and it is probably a bit more accurate. You could just ask a member of said team, in this case the Secaucus girls basketball team, and see what they say.
We chose sophomore Amanda Ulrich and asked her these questions…
A) Like playing with your teammates?
I love it. I have been playing with these girls since I was in the third grade and I love that we get to play together for the next three years.
B) How about playing alongside freshman point guard Damaris Rodriguez?
I love her. I call her my 'Splash Sister' because we always pass the ball to each other and get each other involved.
C) How about playing for head coach John Sterling, who just picked up his 500th career win last week?
I love him, too. He is tough on us, but he pushes us and he is why we are this good and why we know we are going to get better.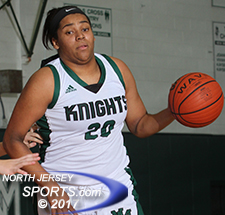 New Milford's Vianca Soriano was dominant in the paint as she with with game-highs of 19 points and 20 rebounds.
Being such a happy group certainly has its advantages in games like the one that Secaucus was involved in on Tuesday night on the road. Up against New Milford, their biggest rival in the race for the NJIC- Liberty Division title, neither team could separate itself and the home team held a lead well into the fourth quarter. But Secaucus, without a senior on the roster and being out rebounded by nearly 2 to 1, found a way to edge in front and then held on for a 61-56 win, their eighth in 10 games played this season.
Rodriguez made three straight free throws with 5:11 to play in the game to wipe out the last New Milford lead and Secaucus, with two freshmen, two sophomores and a junior on the floor in crunch time, found a way to outlast the Knights, a far more experienced group and a defending state sectional champion.
"We know that our two teams are a bit better than the other teams in our league, so this was a huge game to come and play and we are very fortunate to come out on top. This game could have gone either way," said Sterling. "Early in the second half we were starting to take control, but they put a big spurt on and came right back. It was right down to the wire. It wasn't always pretty and neither team really shot well, but the intensity was very high and bodies were flying all over the place."
New Milford led 13-12 after the first quarter, Secaucus led 33-29 at the half and the Patriots then made a bid to pull away early in the third. The Patriots scored the final three points of the second quarter and then made it a 7-0 run right out of the locker room. Lindsey Mack scored off a no-look pass from Rodriguez and Ulrich then got free on the fast break to give Secaucus a 37-29 lead, the largest for either team in the game, two minutes into the third quarter.
Freshman Natalie Kashian came off the Secaucus bench and made three second quarter 3-pointers.
The big New Milford spurt that Sterling referred to came directly after and all of it off the fingertips of senior center Vianca Soriano, who Secaucus, an athletic, but vertically-challenged team, had no answer for inside. Soriano scored three straight baskets in the span of 1:18 to tighten things back up.
Foul trouble to senior point guard Bionca Chambers, who picked up two quick one early in the first quarter, set New Milford's offense back in the first half, but she returned to the floor with a vengeance in the third quarter. Secaucus had a 47-41 lead with 1: 14 to go in the third before Chambers banked in a 3-pointer and turned a steal into a layup. Soriano flipped in a rushed attempt that just beat the horn to grab the lead back and Natalie Miller's putback to open the fourth quarter put the Knights up 50-47 after a 9-0 run that lasted all of 1:09.
"The early foul hurt us. Bionca Chambers does so many things for us. She pulls the defense towards her and that opens up Miller for some 3s, that give Soriano some more looks inside and it helps Reyes because she can play off the ball and be the slasher to the basket," said New Milford head coach Dave Wilson. "Alyssa Henyecz and Amarise Cabahug came off the bench and did a good job filling in and helping us stay close, but you could see the difference when [Chambers] was back on the floor in the second half."
Ulrich pulled off a spin move and Rodriguez then nailed a floater on the fastbreak to give Secaucus the lead back at 51-50 before Chambers set up Soriano for the bucket that gave New Milford its final lead at 52-51 with 5:32 to play. The next time down the floor, Rodriguez was fouled in the act of shooting behind the arc and made the three free throws for the final lead change of the game.
Secaucus' final field goal of the game was a Rodriguez take with 3:52 to go that gave the Patriots a 58-53 lead and they struggled from the free throw line down the stretch (3 for 8 in the final 1:11, 13 of 20 for the game), but they held New Milford to just eight fourth quarter points and just three over the final 3:41 to close it out.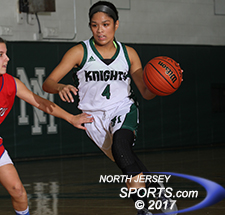 Katrina Toledo scored 9 of her 11 points in the first half for New Milford.
Ulrich scored 12 of her team-high 18 points in the second half and was one of four Patriots to finish in double figures. Rodriguez had 15 to go along with 9 assists, Mack had 11 and led Secaucus with 7 rebounds and freshman Natalie Kashian scored 10 off the bench with nine of those points coming on three second quarter 3-pointers. Payton Intindola added 7 points for Secaucus, which is now 8-2 on the season and in control of the league title race pending the outcome of the rematch to be played in Hudson County.
New Milford's points were spread between its starting five as Soriano led the way with 19 to go along with 20 rebounds, a dominant double-double that contributed to the Knights' 43-27 advantage on the boards. Katrina Toledo helped pick up the scoring slack with Chambers on the bench by scoring 9 of her 11 points in the first half and Miller finished with 10 to make it three in double figures. Reyes added 9 and Chambers scored all 7 of her points upon her return in the third quarter.
New Milford fell to 5-3 on the season, but has posted that record against a beefed up schedule that more matches their ambitions. The Knights lost by five points on Tuesday night to one of the better Group 1 teams around, one that is a real contender to win the Hudson County Tournament, but still has everything to play for. Closing the gap against Secaucus the next time around might be as simple as making a couple of more free throws. The Knights made just 4 of 15 attempts on Tuesday night and still had a shot at the end.
"We have nothing to hang our head about. We played a really good team and we played them right to the wire. In our other two games we played a really good Glen Rock team right to the wire and we played a really good Pascack Hills team right to the wire. We are playing good teams and we are playing with them, now we just have to get over the hump," said Wilson. "All of us have to cut down on our mistakes, myself included, and we have to start winning these games. But it's early, we are learning our lessons and we are playing for three things. If we beat Secaucus there the next time we have a shot at being co-league champs, we have the county tournament that we will enter and hope to make some noise and we have the state tournament. It's all in front of us."
CLICK HERE FOR MORE PHOTOS FROM THIS GAME. TO BUY A COLLECTOR'S PRINT OF THIS STORY, PLEASE VISIT 4FeetGrafix.com.