Sunday, February 27, 2011
By Rich Barton
NJS.com Staff Writer
Bayonne celebrated its third straight Hudson County championship after a 48-32 win over rival North Bergen on Saturday in Jersey City.
JERSEY CITY – When Bayonne lost at North Bergen two weeks ago in the de facto HCIAL championship game, junior forward Lisa Rovatsos felt responsible. To a point, she had reason to feel that way. After being held to her lowest scoring output of the season (seven points) in a 39-30 loss, Rovatsos could not stop thinking about getting another shot at the rival Bruins.
That opportunity came on Saturday at St. Peter's College with the Hudson County title at stake. Although the game was not played on Bayonne's home court, it might as well have been as Rovatsos and her teammates have made that court their own in recent years. This time though, there was no stopping Rovatsos from playing her best game of the year and achieving both a personal and a team milestone along the way.
Rovatsos scored her 1,000th point in the first half as Bayonne took a three-point lead, then the Bees pulled away with an early third quarter run. Rovatsos sandwiched two layups around a three-pointer from fellow junior Tara Flynn to spark a 13-0 run. Rovatsos finished with game-highs of 21 points and 16 rebounds as top-seeded Bayonne won its third consecutive Hudson County title with a 48-32 triumph over second-seeded North Bergen at the Yanitelli Center on the campus of St. Peter's College.
"We wanted this game so bad and we weren't going to let anyone take it away from us," said Flynn. "We knew what they wanted to do, they knew what we wanted to do. It came down to getting consecutive stops and who made that first big run like we did in the third quarter. Once we started on that run, we saw the confidence running out of their eyes and we knew we had them on the ropes."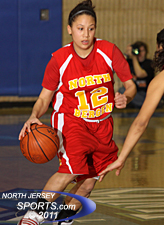 Jazmin Palma and North Bergen were within three points at halftime.
The teams went back-and-forth throughout an entertaining first half. Back-to-back threes from Doris Ilic and Ashley Vazzona gave North Bergen a 10-9 lead after one quarter. Three straight layups from Kerrie Kosakowski, Alex Fajardo, and Rovatsos capped an 8-2 run and put the Bees ahead 17-12. The Bruins quickly tied it on a three from Jazmin Palma, but Flynn answered on the other end with a three-pointer of her own from the corner as Bayonne took a 24-21 lead into the locker room.
Even though his team had a three-point lead, Bayonne head coach James Turner knew that it was far from safe.
"I thought we were doing good things offensively, but we had to turn it up a few notches on the defensive end if we were going to be county champs," said Turner. "I challenged them in the locker room and I tried to light a fire under them. It worked because we played about as well in that third quarter as we could play. We disrupted their offense, we forced turnovers, and we turned them into easy baskets."
Right from the beginning of the third quarter, the Bees took control of the game. Rovatsos scored going to the basket, then Flynn hit a three-pointer, followed by another Rovatos layup to quickly turn a close game into a double-digit lead.
"We needed to come out the way they came out in the third quarter," said North Bergen head coach Dan Reardon. "We just made mental errors and Bayonne took advantage of them. You can't give a good team an opportunity to run away with the game. Once we got down 10, I think we had ourselves beat mentally, which is disappointing. Instead of making a run right back, they padded their lead and it was pretty much lights out."
By the time Kosakowski scored on a layup off of another Bruin turnover, the Bees closed out a 13-0 run and held a 16-point lead, 37-21. The Bruins never got within 13 the rest of the way, and Bayonne was able to celebrate the program's third consecutive Hudson County title.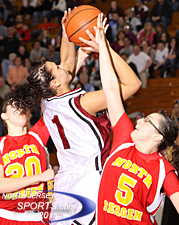 Bayonne's Lisa Rovatsos scored her 1,000th career point on the way to a double-double.
"This is what we worked for all year and we wanted to defend what was ours," added Flynn. "When we lost to them in the regular season, we played their style and settled for too many jump shots. You can't do that against a tough team like North Bergen or they will wear you out. This time, we got the ball inside to Lisa early and then we made that run in the third quarter, both of which were crucial. It allowed us to send a message that we going to go inside all game and they would have to beat us playing our game."
Rovatsos was all over the court to finish with 21 points and 16 rebounds for Bayonne (23-3). Flynn added 11 points, six assists, and three steals. Kosakowski and Fajardo each added six, while Luisa Montalvo had four.
Ashley Heredia was the only North Bergen (22-4) player to reach double-figures with 10 points. Palma and Vazzona added eight and six, respectively.
Now that Bayonne has '3-peated' as county champ and Rovatsos scored her 1,000th point, the Bees can head into the state tournament with tons of confidence and a goal to earn another title.
"Now that we won counties again, we want states," said Rovatsos. "This was a great team effort and we knew we had it in us to play this well. I felt a little embarrassed of the way I played when we lost to North Bergen and I had to make up for it. No better time to do it then in a county final. This meant so much to us and it really feels great right now. I'm so pumped up that we set a goal at the beginning of the season and we accomplished it."
FOR MORE PHOTOS OF THIS EVENT OR TO BUY A COLLECTOR'S PRINT OF THIS GAME STORY, PLEASE VISIT 4FeetGrafix.com.