Monday, March 10, 2008
By Cory K. Doviak
NJS.com Editorial Director
Rebecca Lynch scored 12 of her 17 points in the second half and was named the MVP for Pascack Valley, which won its first state title since 2005 with a 58-52 win over two-time defending champion Rumson-Fair Haven.
TOMS RIVER -- The pressure has steadily been building on the Pascack Valley girls basketball team for a while now and it all came to a head on Sunday. The Lady Indians were playing for an outright Group 2 state championship, they were playing for the 800th win in the 35-year head coaching career of Jeff Jasper, a milestone that would have to be put in the shelf until December in the event of a loss, and they were up against the two-time defending champion. Pascack Valley had every reason to come out tight.
But instead it was just the opposite. As nothing has fazed this team all year, the Indians did not let the unfamiliar surrounding of the Ritacco Center or any of the other obstacles they were up against affect their game plan or their resolve.
Pascack Valley made 8 of its 12 field goal attempts in the first quarter, including three three-pointers, and after erasing Rumson-Fair Haven's only lead of the game at 4-3, PV led the rest of the way in a 58-52 victory that gave Jasper his 800th career win, the Indians their first state championship since 2005 and the program its third ever trip to the Tournament of Champions.
Afterwards, Jasper had plenty to be thankful for.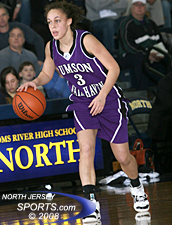 Candice Gree scored 15 points and added 3 assists and 4 rebounds in being named Rumson-Fair Haven's MVP.
"I am excited about the championship, I am excited about the 800th [win], but I am most excited that I get to practice tomorrow," said Jasper, whose team also beat Rumson-Fair Haven in 2005 to win its last Group 2 title. "That to me is unbelievable. Practice tomorrow!"
To extend the season for at least two more days, Pascack Valley changed nothing. The Indians came out moving the ball, taking whatever the defense gave them and whoever it gave an opening to, those players made Rumson pay. Sara Ely made two three-pointers in the first 1:43 of the game, the second of which gave her team the lead for good and Pascack Valley just kept the pressure on with its motion offense all game long.
When Rebecca Lynch made a three-pointer from the wing with 3:06 left in the first quarter, PV made its first bid to pull away as it opened a 13-6 lead. Rumson, which has been to the Group 2 state final in each of the last four seasons and had won the last to, predictably did not go away, however, and Candice Green's layup just before the first quarter Buzzer drew the Bulldogs to within 15-14 at the end of the first quarter.
Pascack Valley got contributions from all six players it put on the floor. For example, Mary Beierle made Rumson pay for an attempted trap in the corner when she took advantage of a screen and knocked down a three-pointer with 3:17 left in the first half to give her team a 25-21 lead.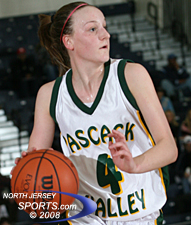 PV's Terry Ely scored 10 of her 12 points in the second half and played strong defense all game on Rumson's top gun, Kate Miller.
"I just feel like that was a shot that I have to hit. Somebody set a screen for me, I was open and it was all a team effort," said Beierle, a senior who does all of the little things for PV that don't show up in the scorebook but don't go unnoticed by those that appreciate basketball played right. "When [my teammates] play great, which is always, they bring my game up. I play at their level because they make me play with them."
Twenty four seconds after Beierle's three, Kara Abbot got Rumson as close it would get the rest of the way. Abbot drained a three-pointer to put the Bulldogs to within one point, but Sara Ely made two free throws and Maggie Ely made a triple to close the first half scoring and send the Indians into the locker room with a 30-24 advantage.
It was in the third quarter when PV took over. The Indians opened the second half with a 12-2 run that was fueled by 8 points by Lynch, a Terry Ely midrange jumper and a coast-to-coast layup by Beierle, who grabbed a defensive rebound and beat the defense to the other end of the floor.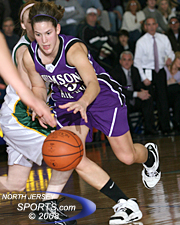 Kate Miller made two straight jumpers to get Rumson within
44-38 early in the fourth quarter.
Lynch, who scored 12 of her game-high 17 points in the second half, was did a lot of that damage in the first four-plus minutes of the second half. Her two free throws opened the third quarter scoring and another 2 for 2 trip to the line with 3:42 left in the third quarter gave Pascack Valley its largest lead of the game at 42-26.
Rumson scored the last five points of the third quarter, the last three on a bomb from the corner by Ashley Cooper, to cut its deficit to 10 points, 44-34, after the third quarter and kick off the Bulldogs' final charge of the season and their last as a defending state champion.
Kate Miller a junior, who has owned last season's Group 2 state final against River Dell and also played well as a freshman in 2006, made two straight pull-up jumpers to start the fourth quarter and Cooper, a 5-8 freshman, nailed a three-pointer 2:18 into the final quarter. Just like that, Rumson scored 12 straight points and trailed by just three points, 44-41, with 5:42 left to play in the game.
But almost like it was scripted, another actor stepped in when Pascack Valley needed a lift. This time it was Terry Ely, who ended the Rumson run with a perfect lob pass inside that Lynch turned into a layup. Terry Ely then hit a tough runner on which she let a defender sail by before knocking down the shot to put PV back up by 7 points, 48-41, with 4:20 to go.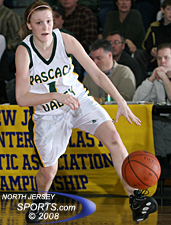 Maggie Ely scored all nine of her points in the first half to help PV get off to a quick start.
"Our team is so much like a family and we are all so close. It is great because we are playing with our best friends, but it also helps out there [on the floor]," said Terry Ely, who scored 10 of 12 points in the second half. "We can all kind of feel it when it is time for one of us to step up and we all do our own little piece inside what we are trying to do as a team. We just all know each other so well."
And after Rumson missed its next shot, PV put on a ball control clinic, the kind of possession that has been its signature all season and the kind that put a stamp on the game. The Indians ran more than one minute off the clock and every player on the floor touched the ball at least twice during the possession that ended when Terry Ely was fouled with 2:06 to go in the game. She made both ends of the one-and-one for a 50-41 lead and the final two minutes were stress free for Pascack Valley, which is now just one of six girls basketball teams in the state with a least one game left in the season.
Miller and Candice Green each scored 15 points to lead Rumson. Julie Kelly added 9 points, Cooper (6 points) made two second half three-pointers and Kara Abbot had a three-point field goal for the Bulldogs, who finished the season with a 25-6 record. Green, Rumson's senior point guard, also had four rebounds and three assists and was named her team's MVP.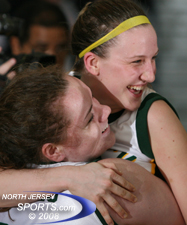 PV's Sara Ely (right) celebrating the second state title of her four-year varsity career.
Lynch, who had seven rebounds and two assists to go with her 17 points, was named Pascack Valley's MVP, but it could have been any of the Indians who were handed the trophy after the game. Sara Ely made three first half three-pointers to get her team off to its fast start and finished with 11 points, Maggie Ely scored all nine of her points in the first half and Terry Ely's 12 points were a bonus considering that she did most of the man-up defensive work against Miller, who was held scoreless through the middle two quarters.
Beierle finished with 7 points and Allie Lombardi made two fourth quarter free throws for PV, which was 16 of 20 from the line for the game. On the flip side, Rumson shot just one free throw in the game as the Bulldogs could get nothing going on the outside and was limited to one shot on just about every possession. Pascack Valley did not commit a team foul in the third quarter and Rumson had just two second chance points in the game.
"Blocking out was a really big part of the game. We knew we couldn't let them get too many restarts because they are such good shooters," said Sara Ely, a senior Division 1 recruit now who was a freshman role player when PV last won a state title and when Jasper won 700th game of his famed career. "We definitely wanted to be here for his 800th [win] because we were here for his 700th. Not too many people can say that they were able to do something like that, but also winning state championship was a goal that we had from the beginning of the season before we even realized that 800 was a possibility so this is special both ways."
FOR MORE PHOTOS FROM THIS GAME OR TO BUY A COLLECTOR'S PRINT OF THIS GAME STORY, PLEASE VISIT 4FeetGrafix.com.