Saturday, April 11, 2015
By Rich Barton
NJS.com Staff Writer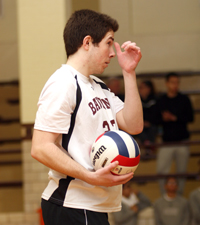 Bayonne's Christian Semeniak had two early kills to help the Bees get off to a quick start en route to a 25-19, 25-15 sweep of McNair Academic on Friday in Bayonne.
BAYONNE – Coming into this season, longtime Bayonne boys volleyball head coach Pat Longo knew her team had the potential to be a contender for both Hudson County and state sectional titles.
But when the Bees swept archrival St. Peter's Prep, the No. 5 ranked team in New Jersey, on Wednesday the Bees went from becoming contenders to becoming the team to beat in the county and North 2.
How they responded to their new role would be tested immediately, however, as a talented McNair Academic squad came to town looking to score a signature victory of its own.
With a balanced attack led by setter Arnan Romua distributing the ball all over the court, Bayonne has transitioned to its new role with relative ease. Romua finished with 21 assists and four players had five kills as Bayonne was in control from start to finish to score a two-game sweep 25-19, 25-15 over McNair on Friday at Bayonne High School.
"Volleyball is a big game of momentum," said Longo, who notched her 400th career victory earlier this week. "Once you have it you want to do whatever you can to maintain it."
Christian Semeniak had two early kills to get Bayonne off to a good start. The Bees held a two-point lead when a 7-1 run opened up a sizeable advantage. Daniel Rodriguez and Nicholas Cox had back-to-back kills to spark the spurt which put the Bees up 12-4.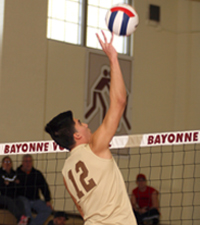 Jason Santander and McNair will look to get back on track next week with matches against Lincoln and Ferris.
McNair, which lost to St. Peter's Prep in three games (the third game was 28-26) last week, fought back in the first game to make it close. Shyam Patel's ace closed out a 6-1 run and cut the lead to four points, 20-16. But Longo called a timeout to settle her team down. It worked, as Justin Holloway came out of the timeout to put down a thunderous kill and Bayonne held on to take game one.
"I thought today we played pretty well in all aspects of the game," Longo said. "Beating Prep was a huge win for us and we know that we're going to really get everyone's best shot now. Regardless of where we're ranked or what tournament we're in, we're going to work hard to get better day by day."
A service error on the first point of the second game gave the Cougars their only lead of the match. The Bees came right back with a 10-1 run as Romua ran the offense with precision. He had seven assists during that span, including three perfectly timed quick sets up the middle that Cox put down for kills. Semeniak closed out with the match with a kill as Bayonne cemented its status as the top dog in Hudson County for the time being.
"When you play a team like Bayonne, you can't make mistakes and pop balls over the net because they'll make you pay for it," said McNair Academic head coach Angelo Gonzalez. "We're missing a few starters today but that's no excuse. Our bodies were here but our minds were somewhere else by the way we were passing and receiving serve.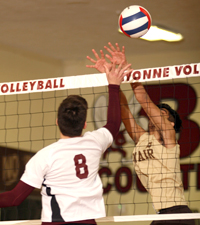 Daniel Rodriguez (8) was one of four Bayonne players with five kills.
"We have a tough schedule coming up but we're going to stay confident. We get Bayonne again on May 7th and we already have that one marked on our calendar because we think we're a better team than what we showed today."
Along with his 21 assists, Romua also had five digs, two kills and an ace. Semeniak, Cox, Rodriguez and Holloway each had five kills. Benjamin Kim led all players with seven digs. As diverse as the offensive attack was for Bayonne (4-1), the defensive effort was equally as impressive. Of the 34 total points scored by McNair (3-2), only five of them came on kills.
Playing in a loaded field at the Bloomfield Tournament on Saturday the Bees' pool is the most competitive with two state-ranked teams in it (No. 4 Christian Brothers Academy and No. 16 Hackensack) along with a strong Hunterdon Central team, Bayonne will look to take another step towards making noise on a state-wide level.
"We have a lot of momentum after beating Prep; we want to keep that going through this weekend and for the rest of the season," said Romua. "Our expectations from day one were to be county champs and state champs. It's really early in the season and other teams are going to get better as the season goes on. But this is a really hard-working team and we feel like we're going to get better every day too.
"If we keep playing the way we do and keep improving, we feel like we have a pretty good shot to be a championship team."
CLICK HERE FOR MORE PHOTOS FROM THIS GAME. TO BUY A COLLECTOR'S PRINT OF THIS STORY, PLEASE VISIT 4FeetGrafix.com.