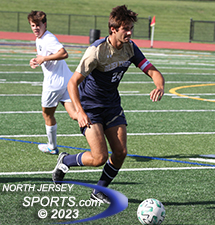 Now playing centerback, senior Goran Saric made his presence felt in Old Tappan's 3-0 win over Pascack Valley on Tuesday afternoon.
OLD TAPPAN – In the recently closed transfer window in the English Premier League, defending European champion Manchester City scooped up Josko Gvardiol from German side RB Leipzig, That bit of information was picked up at Northern Valley/Old Tappan's home opener on Tuesday afternoon when senior Goran Saric was explaining his own transfer, a move from attack back into the center of the Golden Knights' defense.
"My whole life I have been playing up top. I have never played center back before in my entire life, but there is this one player that I like, Josko Gvardiol. He is a Croatian centerback who moved to Man City," said Saric, a senior co-captain. "I just fell in love with him as a player and I was like, you know what? Let me try playing center back."
Saric is now a Croatian defender now, too, a hammer in the middle of the park who has not lost his instinct to get forward when the opportunity arises. Saric set up Old Tappan's first goal and scored its third and helped kept Pascack Valley at bay in a 3-0 victory on Tuesday afternoon in Old Tappan. The Knights, who opened with a 3-2 win over Bergenfield, are now 2-0 while Pascack Valley dropped its season opener, a tough one on the road against a rival with designs on making deep tournament runs.
Old Tappan has some personal goals in its sights, also, especially senior Kevin Contreras, who set the school record with 21 goals last season. He now has four in this season, which is less than a week old. He scored two against Bergenfield on the road in the opener and added a first half brace against PV.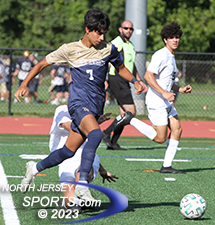 Kevin Contreras scored a school record 21 goals last season. The Old Tappan senior now has four through two games this year.
It could have been more as Contreras' first two shots drew iron. He banged one off the outside of the post nine minutes in and then got unlucky with an outward bounce off the bottom of the crossbar in the 11th minute. He kept at it, however, and gave his team the lead for good 14 minutes in with a straight line run up the middle of the field.
Running onto a ball played into his path by Saric, Contreras took a couple of dribbles, took on a defender, who he left on the turf and then ripped a skidder into the lower let hand corner. He then buried a free kick from the edge of the box inside the near post to make it 2-0 midway through the opening half.
"We just want to start racking up the Ws. We are expecting a lot out of this season, we have a lot of seniors," said Contreras, one of 13 seniors on the roster. "I had the opportunities to score and I had to put them away. On the first one I turned and saw the open space. I took it and found myself 1-v-1 with a defender and I just had to beat him. Once I did it was an easy finish. And the free kick was right there. I just had to pick a spot and put it in."
Old Tappan's third goal was again the product of a free kick, this one from a longer distance on the left side by Winston Kim. From about 45 yards out, Kim hit a low line drive into traffic and Saric appeared to get a piece of the ball on its way by to redirect it in.
In the second half the Knights showed off their ability to ping the ball around, keep possession and see out the game against a quality opponent without much fuss. There were nine seniors in OT's starting lineup, one junior and sophomore goalkeeper AJ Aiello, who was not called upon too often but won all of the aerial balls that came his way and he controlled his area like a seasoned veteran.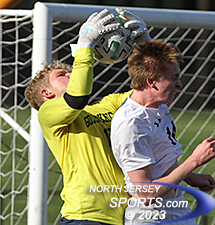 Old Tappan sophomore keeper AJ Aiello win the aerial battles on his way to a claen sheet.
"It's great playing with these older guys. They have been teaching me a lot and I am learning all the time," said Aiello. "My confidence was definitely boosted because [Pascack Valley] was not too big up top, so I was just going hard after every ball with no fear."
Public school sports run in cycles and while Old Tappan is riding the wave of experience this season, Pascack Valley is coming off back-to-back North 1, Group 3 state sectional titles. A lot of players that soaked up a lot of minutes over the last two seasons are gone and the Panthers have some work to do. It's not that the cupboard is bare in terms of experience, but more that there is no shortcut to experience.
PV needs to get some game action under its belt.
"We try not to make any excuses. This one [one the road in a league game at Old Tappan] is always a tough one for us. The fact that this was our season opener was just bad luck for us, but that is okay," said Panthers' head coach Luciano Cofrancesco. "We are a little young this year and we are trying to figure out a couple of pieces and we tried to move a couple around during this game. It's cyclical. Maybe this is a year that we kind of have to build some experience as opposed to other years where we had a couple of horses that we were able to run. The goal is always to compete in the league and build off of that."
FOR MORE PHOTOS FROM THIS EVENT CLICK HERE. TO BUY A COLLECTOR'S PRINT OF THIS STORY PLEASE VISIT 4-FeetGrafix.com.