Thursday, October 6, 2016
By Cory K. Doviak
NJS.com Editorial Director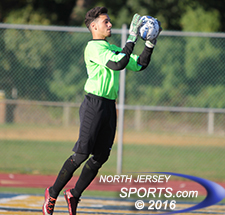 Senior Gio Glover, who did not even play high school soccer last year, played the game of his life as Lyndhurst won its first county tournament game in at least 20 years, 2-0, at Hackensack.
HACKENSACK – There are countless parts of the game that a coach will try to cover on the training ground over the course of a season. Formation, positioning, when to go forward, when to retreat, set pieces, attitude…all of those things and so much more are on any coach's agenda and how a team accepts the message and uses it on the field can often be the difference between wins and loses. But there are some aspects that a coach may never get to cover, like how often to look at the clock while trying to close out a Bergen County Tournament upset for 45 long minutes against a dangerous opponent on the road.
Before last season when it lost an early lead to Cliffside Park in the first round, Lyndhurst had not been to the county tournament since 1999. Making a second straight appearance on Wednesday against Hackensack, the Golden Bears got a goal of a set piece play late in the first half and then set about trying to protect it. How they dealt with it was up to the individual.
"It got to the point where I just had to stop looking [at the clock]. It wasn't moving anyway, so I just stopped," said Lyndhurst head coach Denis Jelcic. "I told my coaches to please not even tell me how much time was left. I was just thinking close it out, close it out, close it out."
Lyndhurst junior Vincent Ditonto, on the other hand, admitted to peaking often.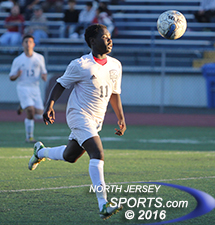 Derek Amoah and that Hackensack attack put plenty of pressure on goal.
"I admit it; I looked at the clock a lot. The thing is, when you keep looking at it the thing doesn't move," said Ditonto. "I tried to tell myself to stop looking at it, concentrate on the game and before you know it the game will be over, but that didn't work. I kept looking."
It was a tense and grueling wait in the second half, but a brilliant save by Gino Glover inside the final two minutes, the last in a long line of them, and a breakaway goal by Ditonto inside the final 30 seconds made it a little more palatable as Lyndhurst picked up a watershed win for its program, 2-0, on the turf at Hackensack High School. The reward is a date with undefeated and third-seeded Bergen Catholic in the Round of 16 on Sunday.
"It's been so long. The last time we made the county tournament before last year was 1999. The last time we won a game? I don't even know that stat but I will find out," said Jelcic. "It's been 20 or 25 years I believe. [Athletic director Jeff] Radigan told me it has been a long time since we made the tournament in back-to-back years, never mind winning a game like this. This is huge for us."
Jelcic knew his team was going to absorb some pressure against a fast and skilled Hackensack attack. He employed Ditonto as the only forward, shied away from high pressure and kept numbers behind the ball. With such a setup, the results were predictable as Hackensack, a young team that is also not accustomed to county tournament pressure, got forward and stayed there. The Comets had numerous early chances as Derek Amoah and Tajay Ledgister each hit Glover with hard shots as much as the Lyndhurst keeper saved them in the first 10 minutes and Kevin Cruz-Lanuza saw his golden opportunity whistle just wide to the left.
Vincent Ditonto on his way to scoring the breakaway goal that put the game away for Lyndhurst, which will play No. 3 seed Bergen Catholic in the Round of 16.
So it was pretty much against the run of play and at the end of a Lyndhurst counter attack when the Golden Bears were awarded a free kick about 25 yards from goal and close to the left touchline. With a little bit of training ground trickery, Leonardo Gil hit the restart short, rolling it out just a few feet to the right, and that allowed senior defender Raymond Vallenzuela to clear the wall and find the lower left hand corner. That gave Lyndhurst a 1-0 lead and just over 45 minutes to try to see it out.
The second half was more of the same as Hackensack kept the ball hemmed in on its offensive half, but just could not get one past Glover and even when it did it was thwarted. Amoah stepped in front of Glover and the left post to keep a play alive before dropping the ball off to Marlon Preciado in close. But Glover hustled back into position to make the save.
Jason Bendezu even tried to employ geography to tie the score as, with the sun setting directly into the eyes of the Lyndhurst keeper, he lofted one on target from near the center stripe. Like a centerfielder with his glove shielding his face, Glover went up to the crossbar to reel it in as the Bears played defense nearly exclusively for most of the first 20 minutes of the second half. Among the barrage of shots that Hackensack got on frame was one that did manage to elude Glover, but even that brought disappointment to the home team. Cruz-Lanuza's corner kick with 15 minutes to go was a low liner that landed right on the foot of Amoah, a sniper who has seven goals this season. Amoah volleyed it on only to see it kept out by the right shoulder of Jeff Tellefsen, the sophomore defender who had positioned himself wisely at the near post.
As Hackensack grew more desperate to find the equalizer and moved even more numbers up, Lyndhurst was able to hit the Comets with some dangerous counters. On one of them with 10 minutes to go, Ditonto won the endline on the left and rolled one across the face of goal. Adrian Baronowski let it run for Luis Yolianes, who was trailing the play and had to settle the ball with his first touch and rip it with his second, which clanged off the post.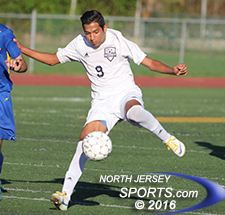 Kevin Cruz-Lanuza is one of 8 sophomores on the roster that has the Hackensack program heading in the right direction.
Lyndhurst could have salted the game with just less than four minutes left when Anthony Oliveira was dragged down by his jersey in the box, but Hackensack keeper Wily Peralta saved the penalty kick with a dive to the left. It looked like Lyndhurst would really rue that miss when, with under two minutes to go, Hackensack had what was probably the best of all of its many chances.
Preciado dispossessed a defender at the top of the box and pushed the ball wide to the left to clear some space. With a clear view of the goal, Preciado got his laces through the ball and crushed one. An exposed keeper in that situation makes that save maybe one out of 100 times and this was that one time. Glover held his ground and transferred the energy of the shot up and over the crossbar.
"[Preciado] got open and he had that shot. For me it was all about reading the hips my trainer taught me and I thank him for that. Not being scared and having the confidence to see it and react, that was the biggest thing," said Glover. "I honestly feel like I wasn't anything special. It was the whole team. We communicated well and did everything that was necessary.
Glover, senior who alternates games in net with Milton Rua, did not even play high school soccer last year. He is playing keeper this year for the first time ever, but Jelcic saw something in him and has pushed and prodded him along the winding path that led up Wednesday, when Glover was the key to Lyndhurst's first county tournament win since the early '90s or maybe even longer.
And when Ditonto scored on a breakaway with the keeper out with 30 seconds to go, Lyndhurst could enjoy what it had just accomplished.
"Honestly this feels amazing. This is the first county tournament win in a while. I don't know when the last one was and I don't know if anybody around here really knows when it was," said Ditonto. "Our coach was pumping us up and I feel great, we all feel great and we are ready for the next game."
CLICK HERE FOR MORE PHOTOS FROM THIS GAME. TO BUY A COLLECTOR'S PRINT OF THIS STORY, PLEASE VISIT 4FeetGrafix.com.