Sunday, May 27, 2016
By Rich Barton
NJS.com Staff Writer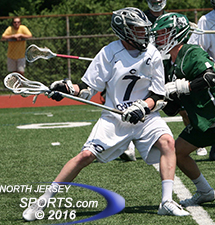 Nate Carson scored on the first possession of the second overtime to give Chatham a 6-5 win over Ramapo in the North Group 2 state sectional final.
CHATHAM – After pulling a shocking upset over Summit in the North Group 2 semifinals, Ramapo's lacrosse team was realizing its potential sooner than originally expected with a group made up mostly of underclassmen. That carried over into the section final against Chatham, a team that mirrored the Green Raiders in many ways. So much so that when the two teams clashed in sweltering 95-degree heat on Saturday afternoon, it took two overtime periods to decide who was going to be a champion and keep its dream season going.
Chatham's Will Hesblin consistently won draws all game long and senior captain Nate Carson made the most of the last one. On the first possession of the second overtime, Carson ripped a side-armed shot into the back of the net for the game-winner that gave third-seeded Chatham the North Group 2 title in thrilling fashion, a 6-5 win over fourth-seeded Ramapo on Saturday at Cougar Field in Chatham.
"This was a great game between two great teams, I'm just happy we came out on top," said Carson. "Losing to Summit in the section final last year left a bad taste in our mouth. It's a great feeling to do what we set out to do from day one."
As the state tournament progresses, teams generally tighten their rotations in an attempt to keep their best players on the field at all times. This presented a challenge right from the start with the heat being so oppressive that both teams had to go deeper into their benches with an 'all hands on deck' type of mentality.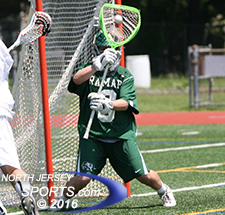 Johnny Caponi making one of his 13 saves in the Ramapo net.
Chatham set the tone with Austin Pierce finding space in front of Ramapo's zone to receive passes and score twice in the first 5:23, giving the Cougars an early 2-0 lead. The Cougars allowed just two shots over the remainder of the opening stanza but both ended up in the back of the net. Blake Eischen got Ramapo on the scoreboard with a quick shot in front and Jack Griffin scored with just 12 seconds remaining to tie the game at 2 heading into the second period.
Ramapo took its first lead just past the midway point of the second quarter on a nice move by Griffin. The freshman attack used a fake spin to freeze the defender before circling around the cage for a wraparound goal and a 3-2 lead.
Chatham controlled play for the most past throughout the first half. However, the Cougars could not solve the stellar play of Ramapo goaltender Johnny Caponi. He made saves from every conceivable angle along with three point-blank stops to keep the Cougars at bay. He could only keep them at bay for so long though with Chatham scoring in the waning seconds of the first half. With one defender on his back and another approaching, Mac Bredahl ripped a low shot inside the far post with just seven seconds remaining to knot the score at 3 going into halftime.
After not winning a single draw in the first half, the Green Raiders started to win some after the break and created some turnovers as well. That momentum eventually led to a two-goal lead. Playing a man up, Griffin scored from in close to put Ramapo back in front. Two and a half minutes later, it was Eischen's turn as the Green Raiders grabbed a 5-3 lead with 5:29 left in the third quarter.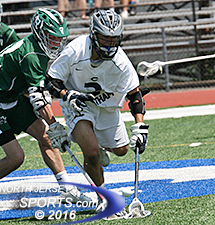 Will Hesblin won the draw that led to Chatham's double OT game-winner.
Ramapo had a chance to extend the lead but a turnover proved to be costly. The Cougars took advantage with Pierce being the beneficiary in front to trim the lead to 5-4. Just over two minutes later, it happened again with Pierce netting his fourth goal of the game with 1:29 remaining in the third quarter to tie the game for a third time, 5-5.
The Green Raiders caught a major break when a Chatham player was given a three-minute penalty for an illegal stick. That stroke of luck did not pay off as planned as Chatham goalie Matt Nestler made a key save and the Cougars eventually took possession and killed off the penalty. Ramapo was again a man up late in the fourth quarter but never got off a shot as the teams would need overtime (and then a second overtime) to decide a winner.
Both teams had a long possession in the first overtime but neither got off a quality scoring opportunity and they headed to the second. With the ensuing draw to start the second overtime being of the utmost importance, Hesblin made sure he gave his teammates a chance to win the game without letting Ramapo have touch the ball again.
"Every possession was so important and I had to do my job," said Hesblin, a junior. "On a scrappy face-off you just try to win it and get it up front to our attack guys. I just thought of that draw before the second overtime like it was another draw in practice. Stay low and stay focused. Being in a game like this and winning it, that's what we dream of and that's what makes your body tingle, to be part of something like this."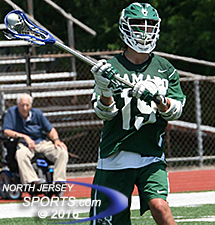 Jack Landel is the only senior attacking player on this Ramapo team and the Raiders are already looking forward to making another run next year.
Hesblin won the draw and the Cougars moved the ball around quickly until Carson finally got some breathing room for the first time all game. The senior got a little space and let one rip from 10 yards out. His shot got through traffic in front and went in to end a classic game in classic fashion with Chatham winning its first section title since 2013.
"Ramapo did a great job of defending me all game and I couldn't believe I finally had some space," said Carson said on the game-winner. "Our whole team was poised and we were ready for this moment. The final play wasn't really drawn for me but I had an opportunity and I went for it."
Nestler finished with 12 saves for Chatham (18-6). Bredahl had three assists and Matt Coleman added one. The Cougars will take on Manasquan for the Group 3 state title on Wednesday at Livingston High School with a 7:30 P.M start.
Ten of Caponi's 13 saves came in the first half for Ramapo, whose season ended with a 13-6 record. With Caponi, Griffin (three goals) and Eischen (two goals) among 28 underclassmen returning, the Green Raiders hope that a soul-crushing loss in a section final will lead to greener pastures next season just as it did for Chatham this year.
"This was a championship game and every little error had an outcome on the game," said Ramapo head coach Tom Albano. "We're disappointed we didn't close this game out but we're not just a surprise team anymore. We lose six seniors but everyone but one guy on offense (Jack Landel) is coming back. Getting that taste of how close we were will only make us better in the off-season and give us that drive that to take the next step forward next year."
CLICK HERE FOR MORE PHOTOS FROM THIS GAME. TO BUY A COLLECTOR'S PRINT OF THIS STORY, PLEASE VISIT 4FeetGrafix.com.