Wednesday, April 6, 2016
By Rich Barton
NJS.com Staff Writer
Trevor Fleet scored 66 seconds into the game to give Passaic Tech the lead for good on the way to the program's first ever victory, an 8-2 win over Saddle Brook, a fellow first-year program.
WAYNE – Starting a boys' lacrosse program from the ground up is a large undertaking for the fastest growing scholastic sport in New Jersey. High schools or towns without feeder programs are even further behind the eight-ball when it comes to getting the program off the ground. In the first two games of their first varsity seasons, both Passaic County Tech and Saddle Brook were on the wrong end of lopsided scores.
That has only driven both teams to work harder to be competitive. Both teams had a chance to be part of their first win in program history when they faced one another on Tuesday afternoon.
Trevor Fleet led all players with four goals, including a pair of third-period goals that broke the game open as Passaic County Tech picked up its first-ever win in boys' lacrosse with an 8-2 triumph over Saddle Brook in Wayne.
"We know the season is going to be a little bumpy but it feels pretty good to finally get a win," said Fleet.
PCT came out on fire with Fleet ripping a low shot from a tough angle for a lead just 66 seconds into the game. Less than a minute later, Charlie Gill found the back of the net for a two-goal lead.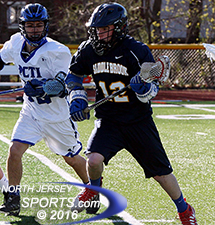 Jake Callari had one of the two goals for Saddle Brook.
Following Gill's goal, Saddle Brook settled in and had its best stretch of play during the game. The Falcons moved the ball around and got off several shots from close range before finally cashing in. Frank Alexander hit a cutting Jake Callari, who flipped one past the PCT keeper to cut the lead to 2-1, but on one crazy bounce the entire complexion of the game swung back in the Bulldogs' favor.
A long shot by Gabe Mecionis seemed to hit either a bump or a rock on the field. Once appearing to be going well wide, the ball completely changed course and went right into the open net for a 3-1 lead.
"We started to get comfortable and the bad bounce on that goal took a lot out of us," said Saddle Brook head coach Matthew Mead. "Some things didn't go our way today, but we know we're going to experience a lot of growing pains. We're learning day by day and we're trying to teach these kids how to play the right way. Ground balls equal possessions for us and we didn't get enough ground balls to gain any momentum. We're learning on the fly but I couldn't be happier with our work ethic and we'll eventually get to where we want to be."
It was Bulldogs for the remainder of the half with another hard shot from Fleet followed by one on the first possession of the second quarter from Mecionis that gave PCT a 5-1 lead. The score was the same into the third quarter when Fleet twice ducked around a defender to create space and scored for a commanding 7-1 lead.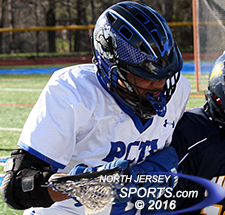 Charlie Gill scored the second goal for PCT, which is now 2-1 on the season.
"They overplayed me most of the game and I knew if I beat the closest defender to me that I could get a good shot," added Fleet. "We kept the ball in their zone a lot and when we moved the ball around we got good looks at the net."
John Mott capped the scoring for Passaic County Tech (1-2). Nick Gawin had the other goal for Saddle Brook (0-3).
There is still an uphill battle for these programs who are trying to grow as teams and gain respect one day at a time. But with the first win in program history under their belt, the Bulldogs feel that the best is yet to come.
"Our coaches believe that the talent is here for us to build a solid program and we're starting to believe that, too," said Fleet. "We feel like we have the potential to score a lot more than we have been and to win more games. We'll keep working on it and the improvement is definitely noticeable. Hopefully we keep playing this way and this is just the first of many wins this season."
CLICK HERE FOR MORE PHOTOS FROM THIS GAME. TO BUY A COLLECTOR'S PRINT OF THIS STORY, PLEASE VISIT 4FeetGrafix.com.