Hasbrouck Heights' Dan Viola and the Aviators' smothering defense kept Rutherford in check en route to a 65-52 win in on Thursday in the South Bergen Holiday Tournament at Becton Regional High School in East Rutherford.
EAST RUTHERFORD - Hasbrouck Heights' point guard Steven Faussette knows his role on the basketball court; keep everyone involved in the offense without turning the ball over along with playing good defense. However, there are times in a game where a point guard needs to be more assertive in order to keep the opposing team honest. Faussette realized that would be the case against a solid Rutherford squad that refused to go away without a fight. The junior guard took over in the second half and made all the big plays necessary to keep his team with an unblemished record.
Faussette hit a three-pointer to close out the second quarter and another to start the fourth quarter on his way to a career-high 20 points as Hasbrouck Heights led from wire-to-wire in a 65-52 win over Rutherford on Thursday in the South Bergen Holiday Tournament at Becton Regional High School in East Rutherford.
"Our guys made shots today right out the gate," said Hasbrouck Heights' head coach Mike Cebula. "Our big guy (6'6" junior Kunga Tsering) gets a lot of attention and that opens up opportunities for our other guys. But those players have to move the ball around and knock down shots like we did today. Really proud of our effort and how we closed out the game."
Despite the game being the day after Christmas and with a morning tip-off there was no rust on the part of the Aviators. Switching back and forth between 1-2-2 and 2-1-2 full-court pressure they were able to stifle the Bulldogs right from the opening tap. They forced numerous turnovers and converted them into baskets on the other end with good shot selection. Hasbrouck Heights' Jaden Castro nailed a three-pointer to cap a 17-4 to open the game.
Rutherford's Messiah Porter had 13 points and eight rebounds.
Rutherford settled down and got into their offense in the second quarter. The Bulldogs chipped away and trimmed the lead to six, 30-24, on a three-pointer by Jack Carr just before the halftime buzzer.
The lead was seven heading into the final seconds of the third quarter when Faussette took advantage of his defender going underneath screens to take away his ability to drive to the basket. The heady floor general pulled up to drill a three-pointer in the waning seconds of the third quarter. It was nearly an identical play on the first possession of the fourth quarter with Faussette knocking down another long-range shot to bump the lead back up to 13. Rutherford quickly cut it to 10 but Faussette answered with a steal and a layup while getting fouled on the play. He converted the conventional three-point play and the Aviators ran out the clock from there capping a solid performance from the opening tap to final buzzer.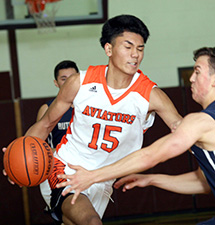 Hasbrouck Heights' Kunga Tsering.
"I felt pretty good shooting those threes today and those shots were going in today so I kept shooting them," said Faussette. "We're a team that keeps moving the ball around until we get the best open shot we can. No matter who is shooting we have the confidence that it's going to go in."
Faussette did a little bit of everything for Hasbrouck Heights (3-0). He hit four three-pointers, all in the second half and added six steals, five assists, and three rebounds. Castro finished with 15 points and Mateo Ochoa added 12.
Messiah Porter led the way with 13 points and eight rebounds for Rutherford (2-1).
With an experienced lineup on the court at all times the Aviators feel this is the year where they can make a legitimate run at being title contenders in both the NJIC-Meadowlands Division and the North 1 Group 1 state tournament.
"This is a really fun team to play for and we all help each other," said Faussette. "My teammates are great and we get along really well, that helps us on the court. We definitely feel we're ready to take the next step."
TO BUY A COLLECTOR'S PRINT OF THIS STORY PLEASE VISIT 4-FeetGrafix.com.