Thursday, December 29, 2016
By Cory K. Doviak
NJS.com Editorial Director
Justin Minaya scored 29 points for NV/Old Tappan, which improved to 5-0 on the season with a 61-50 win over Snyder in the semifinals of the Jack Reilly Tournament.
FORT LEE – Northern Valley/Old Tappan's frontcourt was already established. With seniors Justin Minaya and Kevin Eifert, returning to the starting lineup and Erik Slater, who saw a lot of playing time last year when the Golden Knights made a run to and gave Teaneck everything it could handle in the North 1, Group 3 state sectional semifinals. But with the graduation of point guard Luca Casamento, the question for this season was who would get the ball over halfcourt, get the offense organized and distribute the ball to the players who have already proven that they could put the ball in the basket on the varsity level?
Turns out, the Knights have a few guys that can and have done it through their four-game winning streak to start the season. That continued right into Wednesday night when they faced what was probably their toughest, or at least most athletic, opponent to date in the semifinals of the Jack Reilly Holiday Tournament at Fort Lee High School.
Up against Snyder, a team that was off to a perfect start of its own, senior Michael Patullo made his mark on the game without even scoring a point. When Snyder extended its defense, Patullo calmly advanced the ball up the floor and made sure his scorers got their touches. When Patullo needed a breather, Sal DeBenedetto and Brett Franklin came on and did the same job efficiently and when Old Tappan wanted to throw a change-up, Slater became the point-forward and created all kinds of matchup problems.
Old Tappan used all of its tools to hold off multiple Snyder runs to seal a 61-50 victory at Fort Lee High School where the Knights will play the host Bridgemen on Friday night for the tournament trophy.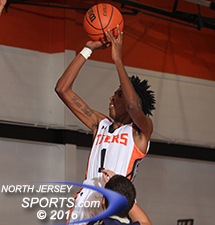 Isiah Small, Snyder's lone returning starter, finished with a game-high 31.
"Mike [Patullo] is a headsy player. He has seen a lot of pressure, he takes care of the ball, he gets us into our offense and gets things moving for us. He also plays great on-the-ball defense, which is something that people don't really pick up on all the time," said Old Tappan head coach Craig Ferraro. "Then guys like Brett Franklin came off the bench to handle the ball late tonight, Sal DeBenedetto did a great job and we are fortunate to have guys that we can rotate through those guard spots and I have confidence in every single one."
With both teams able to advance the ball over halfcourt, that opened the game up for Old Tappan's Justin Minaya and Snyder's Isiah Small to put on a show. It is refreshing when two players with Division 1 aspirations and abilities decide to stay at their hometown schools and Minaya and Small, who even guarded each other for stretches, got after it.
Small, one of those players who hardly looks like he is running hard until he winds up ahead of the pack or with the ball in an open window in the lane, went for a game-high 31 while Minaya had at least three dunks amongst his team-high 29. The difference over the 32 minutes was that Minaya had reliable No. 2 and No. 3 scorers with Eifert (13 points) using his midrange game to make the Tigers pay for having to help elsewhere and Joe D'Amico (12 points, four 3-pointers) stretching the defense from behind the arc.
"We just didn't match their intensity and get back on the defensive end. They outran us a couple of times and that is because we are young. I start two freshmen and a sophomore and I only have one guy with varsity experience," said Snyder head coach Shelton Gibbs, who lost four starters from last year's team that nearly beat Hudson Catholic in the Hudson County Tournament semifinals. "We did not guard the pick-and-roll well with Minaya because our freshman kept dropping down, we have to switch on that, but as the season goes on we will get better."
Senior Kevin Eifert finished with 13 points for Old Tappan, which improved to 5-0 on the season heading into the tournament final against Fort Lee.
Minaya's first dunk came with a free throw attached and his 3-point play 1:29 into the second quarter and an Eifert free throw gave the Knights their largest lead of the first half at 20-11 after they had held a 14-11 edge after the first period. But Small answered by scoring 8 of the next 10 points to keep Old Tappan from running away and freshman Rochavan Richbury scored in transition to get Snyder back ever at 22 with 2:46 left to play in the first half.
Minaya got free on the fastbreak to break the last tie of the game while giving Old Tappan a 28-26 lead at the break before Knights threatened to pull away again right out of the gate in the third quarter. A quick 7-0 run started by Slater, who cleaned up a mess under the basket and then a dunk and a 3-pointer on consecutive possessions by Minaya gave NV/OT a 38-29 lead and it went up by double digits when Joe D'Amico hit a 3-pointer to make it 41-31.
Small again refused to let Snyder fade as he scored four straight points and the first three of the fourth quarter to get the Tigers back to within 42-41 with 7:29 left in regulation. But when Minaya answered at the other end with a 3, Old Tappan stretched the lead again and finally made it stick. Eifert scored on a putback, Minaya tapped in a missed shot, pulled up from the baseline and used the glass from the elbow to push the lead back into double figures for good at 53-43 with 3:04 to play.
Snyder (3-1), which lost two All-Hudson County players in point guard Kenyan Goodson and center Ronald Washington to graduation, lost for the first time this season as it continues to break in a new supporting cast for Small. Richbury and Tyrique Gordon finished with 5 point apiece, Deshawn Emanuel and Nasir Smith each had 3 and Cory Manning-Floyd, the other freshman in the rotation, made a fourth quarter free throw to round out the scoring for the Tigers.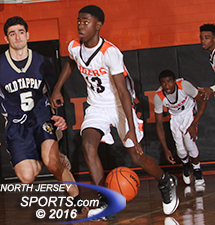 Rochavan Richbury is one of two freshmen playing heavy minutes for Snyder, which is now 3-1 on the season.
Old Tappan improved to 5-0 and will be favored to make it six straight to start the season and close the calendar year when it takes on Fort Lee on Friday. With Teaneck in flux and with Old Tappan's talent and quality depth showing up early, the Knights are making a case to be considered the top public school team in Bergen County in a group that includes Pascack Hills, Hackensack and others. If Teaneck, the defending Group 3 champion, does not get back to full strength soon, there are others looking to pick up the mantle.
"We have a lot of guys back from last year and this was our first really close game of the year, so it was the first time that experience really helped us stay poised down the stretch. We executed our game plan and did not get rattled even though we were in a tight game," said Slater, a senior who is fresh off a football season in which he helped lead Old Tappan to a second straight state final. "We felt last year like we did not play to our potential. We thought we should have gone deeper into the county tournament and definitely could have competed more for that state championship. Our goal for this year is not just to be the best public school in the county, but the best school period."
CLICK HERE FOR MORE PHOTOS FROM THIS GAME. TO BUY A COLLECTOR'S PRINT OF THIS STORY, PLEASE VISIT 4FeetGrafix.com.