Friday, December 23, 2016
By Cory K. Doviak
NJS.com Editorial Director
Nico Regus scored 8 of his game-high 36 points in the final 49 seconds of the game to take Hasbrouck Heights from a one-point deficit to a 69-62 road win at Wood-Ridge on Thursday night.
WOOD-RIDGE – It was a little weird at the beginning and wild at the end as the small school rivalry between Hasbrouck Heights and Wood-Ridge moved to the hardwood on Thursday night. Heights brought its 'Black Hole,' the fan group that was in full voice from the moment it settled into the stands, while Wood-Ridge's student section, despite being dressed in various costumes and get-ups, was almost unnoticeable. It was a 'Silent Night' theme to suit the holidays and for the first five minutes of play, it was pretty silent on the south side of the bleachers.
The plan was for the home crowd to keep mum until it scored its 10th point so when Andrew Marino scored on a drive to the basket to make it 11-11 with 2:58 left in the first quarter, the place went bonkers. It stayed that way throughout and for good reason. There were 11 second half lead changes and even more swings of momentum before Hasbrouck Heights point guard Niko Regus took over in the final 49 seconds to decide the outcome.
With his team trailing by a point after Wood-Ridge's John Whaley knocked down a 3-pointer from the corner with 1:02 to play in the game, Regus raced down the other end for a layup that gave Heights the lead back with 49 seconds to play. After Wood-Ridge committed two late turnovers, Regus closed the door by making six straight free throws in the final 33 seconds of a 69-62 victory that keeps Hasbrouck Heights (4-0) perfect through one week of the season.
"This game is always fun because you get a big crowd from both towns and it is just really exciting," said Regus, one of Heights' four senior starters. "Wood-Ridge is a great offensive team that is always looking to score. They work up and down the court really quickly, so we had to make sure that we didn't have too many long stretches where we weren't getting points. We had to keep up with them so we could be right there to win it at the end."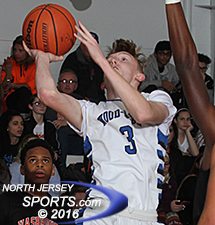 Andrew Marino, one of four juniors in Wood-Ridge's starting lineup, scored a team-high 23 points.
The game was a track meet from the start as, after a slow first three-and-a-half minutes, Wood-Ridge and, more specifically, Marino, a junior with a diverse offensive skill set, got hot. He scored nine of his team-high 23 points in the opening period. Marino's hanger in the lane gave the Blue Devils an 18-17 lead and a goaltending call that gave Matt Roncioli a bucket put Wood-Ridge in front 20-17 at the end of one.
Marino then scored back-to-back baskets, the second off a pretty feed from Roncioli, late in the second quarter to give his team is largest lead of the night at 30-23. Anthony Palmer's steal and lay-in got Heights back to within 30-26 at the break and the Aviators resumed the chase right out of the locker room as Regus nailed one of his two 3-pointers in the game to open the third quarter scoring.
Wood-Ridge was up 37-32 but missed two free throws that could have extended the lead with 4:33 left in the period. Instead, the Blue Devils found themselves trailing just 39 seconds later after James Klenk scored 6 of his 8 points on consecutive trips down the floor. Klenk grabbed two offensive rebounds, put them both back in and also turned both into 3-point plays to give Heights its first lead since the first quarter at 38-37. But nothing was settled through the first 24 minutes as Luke Vu-Nyugen's driving lay-up tied the game at 45 heading into what turned into an entertaining fourth quarter.
"Klenk had a nice little run there in the third quarter by getting some weak-side rebounds and putting them back in and making his free throws. We took the lead off of that and we need that from everybody, not just him," said Heights head coach Mike Cebula. "This is such a great rivalry, this was such a great atmosphere and it was a great game. Hats off to Wood-Ridge, they were right there every step of the way, we just had a better fourth quarter then they did."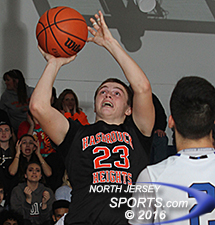 James Klenk scored 6 of his 8 points in a 22-second span in the third quarter to help Heights erase a 5-point deficit.
Actually, Heights just had a better final two minutes of the fourth quarter. Wood-Ridge led by as many as five points in the final period as Jack Barteck made four straight free throws, two of them of the technical variety, with 4:44 left to put the Blue Devils up 57-52. Heights answered with a 7-0 run with senior center Leeroy Casimir making 3 of 4 free throw attempts, Regus making a jumper from the elbow and Phil Viola's steal and lay-up five the Aviators a 59-57 lead with 2:49 left.
Wood-Ridge responded by scored five of the next seven points with Vu-Nguyen's drive tying the game for the last time at 59 and Whaley's 3 from the corner giving the Blue Devils their last lead of the night at 62-61 with 1:04 to go. Then it became the 'Regus Show' over the final 64 seconds as he scored 8 of his game-high 36 points in just that one minute-plus.
"He is a big time player and tonight he made some big time plays. He kept us in the game the whole way," said Cebula. "People have a tough time staying in front of him and that opens up a lot of things for our other guys. And then he made some clutch free throws, six in a row at the end, to seal the game. Just a great effort from a senior that has been a great player for us."
Regus thrives in this rivalry. He had 21 points in the state tournament last season when Heights knocked out Wood-Ridge in the opening round and his 36 on Thursday night left him as the only Aviator to finish in double figures. Klenk finished with 8, Casimir had 7 and Palmer, Viola and Kevin Owens all finished with 5 and Jasiah Purdie (3 points), a sophomore and the only non-senior in Heights' starting lineup, rounded out the scoring for Heights, which was 13 of 16 from the free throw line as a team in the game.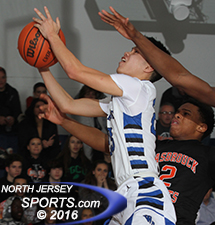 Luke Vu-Nguyen had 13 points for Wood-Ridge, which lost its first game after starting the season with two straight wins.
"We struggled a little bit at certain parts of the game, but we came together as a team late and that made the difference," said Casimir, the Aviator's senior center. "This is a big win and we want to build on it. We have a Christmas Tournament coming up [in Lyndhurst] that we want to win, we want to get to the Jambo and win a couple of games, but most of all we want to get win states and get a ring. We are off to a good start."
Despite the loss, the Wood-Ridge (2-1) is off to a solid start, too. With only one senior, Ryan Plasia, in the starting lineup, the Blue Devils are led by a solid junior class. Marino's 23 left three Blue Devils in double figures as Whaley made four 3-pointers among his 16 points and Vu-Nguyen finished with 13. Barteck chipped in with 6 and Roncioli, a transfer back to his hometown team after a stint at St, Mary, had the other two field goals for Wood-Ridge, which was 8 of 12 from the line as a team.
These are not the Blue Devils of a few years ago when the answer to an aggressive defense was to take few steps back and launch the ball from further behind the arc. This group runs a motion offense with multiple dribble hand-offs and probing cuts that make a defense guard everyone. That style should translate into a season where Wood-Ridge can make a run at a Bergen County Jamboree bid, a league title and in the North 1, Group 1 state sectional tournament.
"The effort was good tonight and we have a really good group of kids that work really hard, but I think at times tonight when we were looking for those backdoor cuts we passed the ball a little defensively and that cost us with some turnovers," said Wood-Ridge head coach Ed Rendzio. "Heights has some veteran kids like Regus, he is a very good player, and we have some kids where this was just their third varsity game. It's a fun rivalry and we will see them again. Their kids are good, our kids are a good group and they are all probably at McDonald's together right now shooting the breeze about this one."
CLICK HERE FOR MORE PHOTOS FROM THIS GAME. TO BUY A COLLECTOR'S PRINT OF THIS STORY, PLEASE VISIT 4FeetGrafix.com.