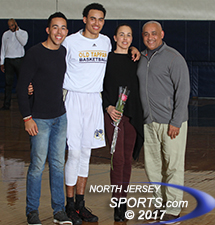 Justin Minaya with his parents, Rachel and Omar, and his brother Teddy at Senior Night in Old Tappan earlier this year. Justin accepted a scholarship to play at University of South Carolina.
OLD TAPPAN -- Growing up, NV/Old Tappan senior Justin Minaya thought he might become a professional baseball player later in life.
And why not? His father, Omar Minaya, is a well-respected member of the baseball family. He was a player, coach, scout and front office executive. Among his administrative positions are stints as the general manager for the Montreal Expos and New York Mets.
Justin got to go to spring training with the Mets and attended plenty of games during the season in his youth.
"It was so cool," he said. "I was at the Mets games every day, seeing the players before the games. [Then shortstop] Jose Reyes was my favorite, even today. I got the inside scoop on pro athletes."
But Justin started to take basketball, a sport he began playing as a 6- or-7-year old, a bit more seriously beginning in seventh grade. After eighth grade, baseball and junior football became a thing of his past.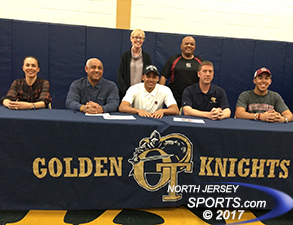 The Minaya family on Signing Day.
So May 12 he took the next step when he signed a National Letter of Intent to play basketball at the University of South Carolina.
The Gamecocks beat out 15 other schools that contacted Justin, including the University of North Carolina-Wilmington, Seton Hall, the University of Illinois and the University of Massachusetts.
"I liked the family environment [at South Carolina]," said Justin. "They're coming off a big year (making it to its first-ever Final Four) and I trust the coaches. It's the best fit for me as a player."
Justin said the time he spent observing pro ballplayers helped him prepare to compete at the next level.
"They work hard to get where they are," he said. "It was a good influence on me to see top players work hard and perform well."
Justin said that when first began playing basketball coaches Dave Passante and Nicky Franklin helped him develop his skills. But it was his late uncle, James Albright, who Justin credits the most.
"Uncle 'J' was the biggest influence," he said. "He showed me how to play. We played every day. He was my influence and motivation."
Uncle "J" was not the only positive influence for Justin.
Omar Minaya left his position as senior vice president of baseball operations for the San Diego Padres in January 2015 to take a position as senior advisor with the Major League Baseball Players Association.
This job switch allowed him to travel less, be home more and afforded Omar the opportunity to see Justin play for the Golden Knights in person.
"I wanted to be part of his overall development," Omar said of his youngest son. "He's my last [child]."
Omar's experience in all the various positions he has had in and around baseball was useful as Justin sifted through the college offers.
"Dad helped me a lot in the recruiting process," he said. "It's why he took the job [with the players association]. He sacrificed a lot to help me."
Prior to his senior high school season there was some talk about Justin transferring to a "bigger school," so he could show off his considerable talent on a bigger stage. Ultimately, however, he chose to stay with the Golden Knights.
"It was great to play with my friends for my entire life," Justin said. "There was pressure for me to go to a big school to get looked at but dad and I decided it was better to play with my friends. If I was good enough they (colleges) would find me."
Omar applauded Justin's willingness to stay at NV/Old Tappan.
"That is a credit to him that he chose to remain and finish playing with his friends," he said. "I always told him 'to be yourself and be humble.'"
"He taught me values," Justin said of his father. "He's a known figure in sports and he taught me to love sports."