Saturday, February 18, 2017
By Rich Barton
NJS.com Staff Writer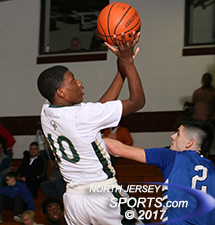 Josh Daniels and Queen of Peace shot an astounding 70-percent from the floor in the first half of a 74-47 win over Wood-Ridge in the NJIC semifinals.
EAST RUTHERFORD – Queen of Peace has shown flashes throughout the season of what it is capable of becoming, but with such a young squad, being a consistent team on both ends of the floor has been a challenge. Entering the NJIC Tournament, the first-ever edition in boys basketball, gave the Golden Griffins an opportunity to gain some valuable experience and confidence heading into the state tournament. On Friday night, they responded with a solid performance in every phase of the game.
Josh Daniels led a balanced scoring attack with 16 points as Queen of Peace pulled away with a huge second quarter surge to advance to the NJIC Tournament final with a 74-47 win over Wood-Ridge in Friday night's semifinal at Becton Regional High School in East Rutherford.
"After a little bit of slow start I thought we pulled it together and started playing at our pace," said Branan Burde, Queen of Peace's first-year head coach. "We're young so we're inconsistent at times, but when we start moving the ball and make shots the way we did in the first half we gain confidence and things start to click."
Wood-Ridge got off a quick 6-0 lead but that lead would be its last. Down a point, the Blue Devils twice had the chance to hold for the last shot of the quarter, but took rushed attempts in the final 35 seconds and the Golden Griffins made them pay for it. Justin Thompson scored on a layup then Amare Alexander nailed a 3-pointer at the buzzer to give Queen of Peace a 20-14 lead.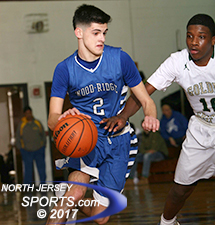 Jack Barteck scored 14 points for Wood-Ridge.
That hot streak carried over into the second quarter where the Golden Griffins could do no wrong. All seven Griffins who played in the second quarter scored, led by Daniels. He nailed a 3-pointer and scored on a pull-up jumper late in the half as Queen of Peace shot an astounding 70-pecent in the first half and took a commanding 47-26 halftime lead.
"We moved the ball until we got the open shot and we knocked those shots down tonight," said Daniels. "We didn't play our best the other night (in a loss to Dwight-Englewood) and we had to make up for it. Our defense started getting stops and we turned that into offense."
The Golden Griffins quickly put to rest any hopes for a comeback with a 7-0 spurt to essentially put the game away two minutes into the third quarter.
Daniels led four players in double-figures with 16 points for Queen of Peace (13-8). Rasheen Peppers had 14 points while Isa Brown and Ahmad Athias each added 12 points. Brown also pulled down a game-high 15 rebounds.
Jack Barteck and Luke Vu-Nguyen each pumped in 14 point for Wood-Ridge (13-9). Andrew Marino added 10 points and eight rebounds.
Queen of Peace advances to face St. Mary's in an all South Bergen final of the NJIC Tournament. With the Golden Griffins finally coming of age, they feel this is their time to shine and bring home some hardware.
"We know that we have a good opportunity in front of us and we look forward to the challenge of playing another tough team," said Burde. "I think this is the first time all season that we were really patient offensively for all four quarters. Josh Daniels stepped up big time today and when we have balanced scoring like we had tonight we're a pretty tough team ourselves."
CLICK HERE FOR MORE PHOTOS FROM THIS GAME. TO BUY A COLLECTOR'S PRINT OF THIS STORY, PLEASE VISIT 4FeetGrafix.com.