Wednesday, February 15, 2017
By Cory K. Doviak
NJS.com Editorial Director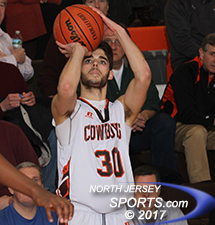 Jason Shill scored 19 points and had a huge fourth quarter steal as Pascack Hills came from 16 points back to nip Dwight-Englewood, 69-67, on the night the Cowboys named their home floor after Mike O'Brien.
MONTVALE – It would have been a night to remember no matter what. Before Tuesday night's game between Pascack Hills and Dwight-Englewood there was the kind of presentation that is not that common in high school basketball. When Board of Education members show up, when coaches (past and present) from across Bergen County file in and when alumni are there in large numbers sharing past glories, it is obvious that celebration in the air.

The occasion this time was the dedication of Michael J. O'Brien Court as the hardwood in the gym at Pascack Hills High School will be known from here forward. O'Brien, whose tenure in the greater Pascack school district goes back to the fall of 1967, was thrust into the somewhat uncomfortable role of honoree, where, before a game with so many there to share the moment, he shared his thoughts in front of a prototype of what a piece of the hardwood with his signature ingrained will look like when it is officially installed this summer.
O'Brien, a class act with a basketball and baseball coaching resume that can fill a chapter of any Bergen County record book, was visibly touched.
"It was out of the blue. They only told me about this on Sunday after the [Bergen County] Jamboree game and I am so glad they decided to tell me, they were debating, because I would have been too stunned, I don't know how I might have reacted," said O'Brien. "It was not something I ever expected mainly because my time was sort of divided between the two [Pascack] schools. Some people think of me as Pascack Hills, other people, like that front row over there, think of me from Pascack Valley. A lot of those guys here were Valley guys from the late '70s and some were from the first group that I came in with when they were freshmen in 1967-68."
Tyson Etienne scored a game-high 25 points for Dwight-Englewood.
With all of the good feelings built up over the last five decades filling the gym, there was no way that a damper could be put on the evening, but there was a slight hiccup. O'Brien's beloved Cowboys, whose bench he still sits on as an assistant coach to Kevin Kirkby, were trailed by 16 points late in the third quarter and were in real danger of suffering through a rare home blowout loss.
Dwight-Englewood and Pascack Hills were both competitive in the Jamboree quarterfinals over the weekend before bowing out to Teaneck and St. Joseph Regional, respectively, so this was a de facto Jambo fifth place game taking place just two days later. With 46 points combined in the middle quarters and seven made three-pointers in those 16 minutes, Dwight-Englewood certainly looked the likely winner.
Call it O'Brien karma, call it a little bit of Montvale Magic, or call it one of the most entertaining games of the season to date, any of those would fit the bill as Pascack Hills came all the way back. Down 12 after the third quarter and by 14 when Judah McIntrye got to the bucket unchallenged to start the fourth, Pascack Hills outscored the Bulldogs 23-7 over the final 6:59 to come away with a 69-67 victory on the newly-christened Michael J. O'Brien Court.
"That is pretty much the way I drew it up for this night to go. Nice freshman win, nice JV win and then a little drama in the fourth quarter of the varsity game. Seriously though, it is unbelievable the way it turned out," said Kirby. "It was nice. Our kids never stopped fighting. We always preach that we want to hold teams to single-digit quarters on defense and in the fourth quarter we finally held them to nine. Down 16 and we came back…what a night."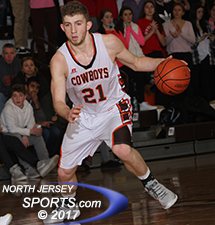 Nick Guillemain scored 11 of his 21 points during Pascack Hills' fourth quarter comeback.
Pascack Hills got off to a good enough start. Jason Shill's 3-pointer with 1:21 left in the first quarter put the Cowboys in front 16-7 and they led 18-12 after the first quarter. Dwight-Englewood got it rolling shortly after that, however, as it made five of its nine 3-pointers in the second quarter, two each by Jordan McKoy and Tyson Etienne and another by Isaiah Pean. McKoy hit one from the wing to tie the game at 22 and hit one from the corner to put the Bulldogs up 30-29. That second triple was the start of a 14-2 run that D-E closed the first half with to take a 39-31 lead at the break.
That lead continued to spread as Pean hit a 3 to make it 46-36, Etienne hit another to make it 51-38, Judah McIntyre nailed another to make it 54-40 and McKoy's jumper from the elbow with 2:14 left in the third quarter had the Bulldogs flying, up 58-42.
"The problem was defensively. We were just not getting back," said Kirkby. "We were scoring and then giving up layups on the other end and that can't happen against a team like this."
With the way the game was going for the home team to that point, it looked McIntyre had supplied the final dagger when he crossed over a defender and then pulled up for a jumper that put Dwight-Englewood up 62-49 with 6:15 to play. With the Bulldogs' sustained success at the offensive end, there was no way to know that they would score just five more points the rest of the way.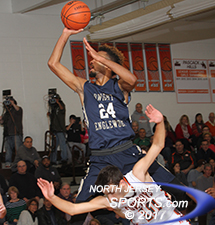 Jordan McKoy (15 points) made three of Dwight-Englewood's nine 3-pointers.
It was Shill who switched the momentum with a 3-pointer from the corner as Pascack Hills (17-3) scored eight straight points in 49 seconds to get the comeback started before Tony DeBellis banged a 3 to steady the Bulldogs momentarily, up 65-56 with 3:59 to.
But then Michael Murphy, consistent all night on the offensive side, took over. He rattled off a personal 8-0 with the final four of those points coming on an and-1 on a 3-pointer from just to the right of the top of the key. He made the free throw to take the Cowboys from down 9 to down by just one, 65-64, all by himself in the span of 2:12.
"I don't know if they got complacent with a big lead, but we never stopped and the wheels started rolling once we started to comeback," said Murphy. "I hit that 4-point play that really turned the momentum. Coach set up a play, [Nick Guillemain] set a nice screen and it just happened. It was just our night, OB's night really."
Shill popped up again with another big play as he made a steal at halfcourt right after Murphy's four-point trip and that led to a bucket by Guillemain, who spun through the lane to give the Cowboys the improbable lead, 66-65 with 1:06 left, and they never gave it back. Dwight-Englewood (19-3) turned the ball over two more times in the final minute, Guillemain made both ends of a one-and-one with 36 seconds left and Murphy made 1 of 2 from the line with four seconds left to partially offset Etienne's putback at the other end.

Dwight-Englewood's last gasp was a heave from the wrong side of halfcourt at the buzzer that was off the mark and Pascack Hills got of its newly named home floor with a win that will be remembered for a long time.
"We did not play so well in the first three quarters, but in the fourth quarter we really locked down and Coach had faith in us the whole time. We just played our best when it counted," said Guillemain. "We couldn't lose at home on 'OB Night' and I really think that played a part in it. In the moment maybe we weren't thinking about it, but in the long run this was all for OB."
Murphy (23 points), Guillemain (21 points) and Shill (19 points) combined for 63 of Pascack Hills' 69 points with Kevin Michael accounting for the other 6. Dwight-Englewood got 25 from Etienne, 15 from McKoy, and 10 apiece from McIntyre and DeBellis. Pean had the other 7 for Dwight-Englewood in game in which neither team got a single point from outside its starting 5.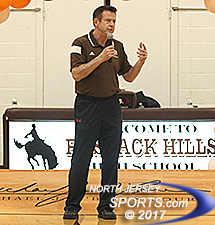 Mike O'Brien: Good dude.
EDITOR'S NOTES: A little bit more about Mike O'Brien. He became the head baseball coach at Pascack Valley in the spring of 1973 and moved over to Pascack Hills in 1984. He was the head basketball coach at Hills from 1984-1998 and is the only coach to win four straight hoops titles in the now defunct NBIL and won three state sectional titles.
After a pit stop at Ramsey, he returned to Pascack Hills as Assistant to the Athletic Director in 2001 and was inducted in to the New Jersey Basketball Hall of Fame in 2002 and continues as an assistant to Kirby in both basketball and baseball.
He was a head basketball coach for a total of 31 years; he has been an assistant for 14 and has coached for a total of 50 years, 45 of them in the Pascack school district. He is fourth on the all-time Bergen County hoops win list, and is the only public school baseball coach in county history to win league, county, state section and outright state titles in the same season. In short, O'Brien is a legend and a really good dude.
"OB means everything to us around here. He is an institution first at Valley and then at Hills. When I got here Mike took me under his wing, taught me a lot of things as a mentor and really helped me a lot with my career. There are so many people around here that can tell you the very same thing," said Pascack Hills athletic director Phil Paspalis. "He is a friend of so many for so many years."
CLICK HERE FOR MORE PHOTOS FROM THIS GAME. TO BUY A COLLECTOR'S PRINT OF THIS STORY, PLEASE VISIT 4FeetGrafix.com.