Tuesday, February 14, 2017
By Cory K. Doviak
NJS.com Editorial Director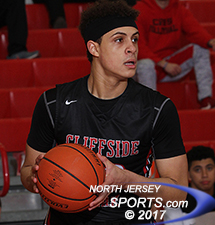 Haisel Mercedes scored a game-high 15 points for Cliffside Park, which grabbed a share of the Big North -- American Division title with a 50-42 win at Ridgefield Park on Monday night.
RIDGEFIELD PARK – As the season winds down some teams are looking for ways to remain engaged. For those not still playing in county tournaments and with the state tournament still two weeks away, this is the time where some players' minds might wander, especially if the season has not been as successful as they had hoped.
Cliffside Park had no such trouble getting up for Monday's night's road game, however. Although the Red Raiders have been a sub-.500 team for most of the season, they have taken care of business in league play and put themselves in a position to make that pay off. On the road in a rivalry game at Ridgefield Park, where a boisterous student section still shows up night in, night out, Cliffside Park had a chance to grab itself a share of the Big North Conference – American Division title.
Cliffside led by as many as nine points in the first half and by eight at halftime, but when Ridgefield Park closed the distance and even took a lead late in the third quarter, the Red Raiders needed someone to get the momentum heading back in the right direction.
That player was senior Jordan Palacios, whose 3-point play that closed the third quarter scoring broke the final tie of the game and kicked off a game-changing 13-3 run that led to a 50-42 victory. Cliffside (7-12) closed out the league season with 7-1 record, the same as Dwight Morrow with whom it now shares a league championship.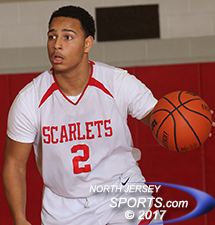 Jonas Espinal came off the bench to scored a team-high 10 points for RP.
"We have been through a rough season in some ways, but we have held on to first place in the league since the beginning of the year," said Cliffside Park head coach Sean MacIsaac. "For us to close the league season and to win the title, or to share it at least, is big. Winning helps a lot of things. I am happy for these kids. They have dealt with a lot this year and they fought through it. This core of kids believed that they could get this done."
Cliffside was a Bergen County Jamboree qualifier last season, but four of the five starters from that team graduated, a couple of other players decided not to come out for the team this year and that left a start-from-scratch type of situation. It also left plenty of minutes out there for players willing to put in the time and the Raiders have gotten measurably better as the season has played out.
"We had other aspirations and other goals that we tried to set and we weren't able to do it, but if you watch us practice, these kids have been pretty consistent with their effort. They are working real hard and I am pretty happy with the end result of being able to get this game," said MacIsaac. "A kid like Mulhadi Said stepped up huge, a kid like Haisel Mercedes stepped up huge, Jordan Palacios played great tonight and Willie [Toro] has been our leading scorer and our captain. He didn't start tonight because he came down on his wrist against Pascack Hills and is a little banged up, but he came in and played a good floor game."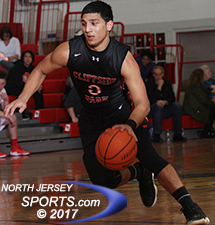 Walled Kuyani scored all 5 of his points in the fourth quarter for Cliffside.
Ridgefield Park shuffled its lineup to give its five seniors a chance play as one cohesive group, but the Scarlets fell behind early. After Matt Reber scored the game's first two points on a pair of free throws, Cliffside answered with a 10-2 run and then extended it to 13-2 when Mercedes hit a 3-pointer to start the second quarter and push CP's up to 13-4. Two Said free throws gave Cliffside its first double digit lead of the night, 22-12, with 3:04 left in the first half before it settled for a 24-16 advantage at the break.
The key for Ridgefield Park was to get its partisan home crowd back in the game and that happened right after the break. Mekhi Eden short jumper in the lane got Ridgefield Park going and back-to-back 3-pointers by Chanz Martinez and David Feliz finished off a 10-2 run that got the Scarlets even at 26. Another Feliz 3 with 2:42 left in the third gave RP its first lead since the opening minute at 29-28 and there was a tie at 32 before Cliffside retook control.
Palacios' 3-point play gave the Raiders a 35-32 lead heading into the fourth quarter. Ridgefield Park was down just one at 36-35 when Alex Willoughby hit a second chance 3-pointer with 6:53 to play, but there were 10 straight points scored at the other end before the Scarlets made their next basket. Palacios' fastbreak layup with 4:30 left capped the 10-0 run that put CP 45-35 and pretty much ended all suspense.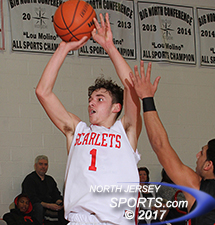 David Feliz hit two third quarter 3-pointers for Ridgefield Park.
"We had to contest every shot, we had to get out on their shooters and we to make them earn every one of their 3-pointers. They made some, but we did a pretty good job on defense," said Palacios. "It feels great. We have had a little bit of a shaky season, but we won the league and I don't care that we are sharing it. It doesn't matter to me and it feels good to win."
Mercedes (15 points), Palacios (14 points) and Said (12 points) all finished in double figures, Walled Kuyani added 5 and Toro had 4 points for Cliffside Park, which has four more regular season games before starting the North 2, Group 3 state sectional playoffs on the road against Orange.
Jonas Espinal (10 points) and Feliz (8 points), who both came off the bench, were the high scorers for Ridgefield Park, which dipped back below .500 for the season at 10-11.
"I am always proud of the effort and our kids played hard," said Ridgefield Park head coach Chris Gaskin. "Congratulations to Cliffside Park for getting a share of the league. Sean has done wonders with that program, but I am proud of my guys and the season is not over. We have been playing pretty well lately and I expect my guys will get right back to work tomorrow and be ready to go for the rest of the season."
CLICK HERE FOR MORE PHOTOS FROM THIS GAME. TO BUY A COLLECTOR'S PRINT OF THIS STORY, PLEASE VISIT 4FeetGrafix.com.