Sunday, February 12, 2017
By Cory K. Doviak
NJS.com Editorial Director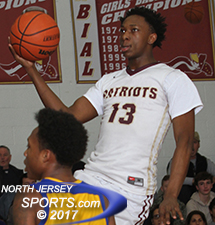 Justin Hodge scored 15 of his team-high 17 points in the second half, which is now back in the Passaic County Tournament semfiinals after a 61-49 win over Paterson Charter on Saturday.
WAYNE – Not that anyone is really counting, but how many days has it been since Wayne Hills, as the No. 1 seed for the first time in school history, lost to rival Wayne Valley in last season's Passaic County Tournament semifinal round? Oh, wait…maybe somebody is counting.
"I put the number 356 on the board today," said Wayne Hills head coach Kevin Grimes. "That is how many days it has been since we lost to Wayne Valley in the semifinal."
That loss, as disappointing as it was 356 days ago, is now the fuel for where this year's Patriots are trying to go. Facing Paterson Charter in Saturday's county quarterfinal matchup, Wayne Hills just needed to string together four good quarters to get right back to where this whole thing started.
As it turned out, three good quarters were enough as Wayne Hills built a 16-point lead at the break withstood a furious Paterson Charter charge that lasted for the whole of the third quarter and then pulled away late to earn its way back to the semifinals with a 61-49 victory in Wayne. The Patriots, the No. 3 seed, will play No. 2 Kennedy in Paterson in the Final 4 next Saturday.
The first quarter was back-and-forth until it ended in a 10-10 stalemate before Jason Modak's putback for the first points of the second quarter got Wayne Hills going. That basket sparked a 19-3 second quarter run that put the Patriots up 29-13 at the half. Not only were the points coming in bunches, but Wayne Hills also held Paterson Charter without a field goal for the final 9:09 of the first half and just three total points over that same span.
Ramir Davis scored a team-high 17 points for Paterson Charter.
"Defense is always the propeller for us. When we defend, we win. That second quarter; if we could do that for an entire game we can be a scary team," said Wayne Hills junior Patrick Gilmore. "We have been excited for this opportunity for weeks, for months and we did not want to let it slip by."
Paterson Charter, a Group 1 program and the No. 11 seed which upset Group 4 and No. 6 Passaic Tech just to reach the quarterfinals, really had nothing to lose when it got back on the court in the third quarter and went after it. The Lions pushed the tempo, made the game a scramble and got pretty close to getting back in it.

After scoring just 13 points through the game's first 16 minutes, Paterson Charter scored 21 points in the third quarter alone. Ramir Davis scored the last four points of a 13-3 run that got the Lions back to within 41-34 heading into the final period.
"We didn't play hard enough at the beginning and that left us having to fight hard just to get back in it against a team that is really good," said Paterson Charter head coach Jerry Wimberly, whose program is in only its fourth year of existence. "We are Group 1 team in here against a good Group [3] team and we put ourselves in a tough spot by falling behind by so much early. For us to get back in it against a sensational team like that says a lot about our kids."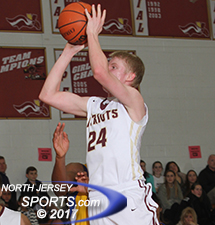 Patrick Gilmore scored 9 points for Wayne Hills, the No. 3 seed that will face No. 2 Kennedy in the semfinals.
Needing a way to stem the Lions momentum, Wayne Hills turned to its lone senior starter and Justin Hodge took over late. After being held to just two first half points and to just seven through the first three quarter, Hodge got aggressive on the offensive end to start the fourth and scored four straight points to open it. Hodge got all the way to the basket for a layup and then was in the right spot to grab Joey Belli's save under the basket and converted to make it 45-34 with 6:20 left in the game.
Paterson Charter had one more run left in it, however, and four straight points by Sadiki Miller, who gave the Lions a spark off the bench got it started. He banked in a jumper from the foul line and then made two free throws to kickoff a 10-4 spurt capped by Davis' step-back 3-pointer that took Paterson Charter back to within two possessions at 49-44 with 3:44 to play in the game.
But Wayne Hills has one of the best point guards in North Jersey and Belli stepped up to steady his team. He scored five straight points in a nifty reverse layup and then made three of four free throws with 1:06 left in the game to all but ice it. In all, the Patriots made 14 of 20 as a team from the line with all of those attempts coming in the second half. They also made 10 of 13 free throws in the fourth quarter and 7 of 8 inside the final minute.
Hodge scored 15 of his team-high 17 points after the break and 10 in the fourth quarter. Belli also did most of his damage in the final period when he scored 9 of his 13 points. Justin Will (10 points) made three second quarter 3-pointers and a fourth quarter free throw to make it three Patriots in double figures. Gilmore finished with 9 points, Modak had 6, Joe Cerone (4 points, 6 rebounds) was effective off the bench and Matt DeFiore's first quarter field goal rounded out the scoring for the Patriots.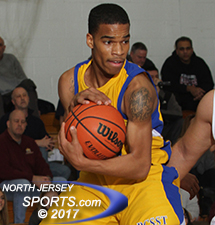 Dazmir Staton had 13 points for Paterson Charter, the No. 11 seed, which was coming off an upset of No. 3 PCT.
Forty of Paterson Charter's 49 points came out of the hands of three players as Davis scored 15 points in the dizzying second half to finish with 17 points, Dazmir Staton added 13 Clarke had 12. Miller scored all five of his points in the second half and Joseph Collazo and Omar Morrison split the other four points from the Lions, who made it all the way to the North 1, Group 1 state sectional final last season and can now set their sights on making it back at the least that far again this year.
"We had a tough schedule this year. We have played a lot of Group 4 teams. We played [Montclair] Immaculate, we played American History and other to hopefully get ready for the Group 1 tournament," said Wimberly. "It's a learning curve that we hope leads to success in the state tournament and games like the one we played today are great preparation."
Wayne Hills' goals are more immediate. The Patriots have waited a long time, 356 days, to put themselves back into this county tournament position.
"It's a great position to be in and it is exactly where we want to be. We are going to be playing a great team in Kennedy and it is going to be a big challenge and a fun game to play in," said Belli. "The past two years our county run has ended in the gym at Kennedy, so we want to take the next step forward this year and get to the championship game."
CLICK HERE FOR MORE PHOTOS FROM THIS GAME. TO BUY A COLLECTOR'S PRINT OF THIS STORY, PLEASE VISIT 4FeetGrafix.com.