Friday, February 3, 2017
By Cory K. Doviak
NJS.com Editorial Director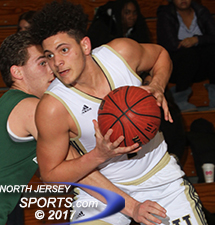 BJ Saliba, Jr. was one of three Hackensack players to finish in double figures as the Comets started a busy four-day stretch with a 61-47 win over Ramapo on Thursday night.
HACKENSACK – When pen is put to paper to map out the arc a season is supposed to take, many coaches would hope that it would look something like the one Hackensack is riding right now. After an up and down start, the Comets are playing their best basketball right now as preseason goals are just starting to appear within reach. Hackensack has won nine of its last 10 games with the only hiccup coming against non-public power Don Bosco Prep, it controls its own fate in terms of a league title, it is a healthy squad, a tight-knit one and it is also pretty busy.
The Comets started a stretch of three games in four days all against quality opponents by scoring 14 of the final 18 points of the fourth quarter to down Ramapo on Thursday night, 61-47, in Hackensack. Next up is a visit to Elizabeth on Friday night and then an early morning matchup against Pascack Valley in the Round of 16 of the Bergen County Jamboree on Sunday.
All three games have their own subplots as the win over Ramapo kept Hackensack on track for its first league title in three years. If the Comets win out against Ridgewood, Paramus and Indian Hills, then the league championship is theirs. They will play Elizabeth in the Dunn Center with an eye on what they hope will be a deep state tournament run. The Group 4 state semifinals are played there. And Pascack Valley's importance is obvious as Hackensack tries to go deep in the Jambo as well.
Sophomore KC Hunt finished with a team-high 21 points for Ramapo.
"Time off is not good for us. My guys are in great shape and I do not think that playing a lot hurts us. Being stale and not being out there and focused on game situations might hurt us at this time of the year," said Hackensack head coach Aaron Taylor. "Two games in a row and then a Saturday practice to fine tune for Pascack Valley I think is what we need. We haven't got out of the [Jambo] Round of 16 in two years, so this group is hungry and we will be ready to go."
Hackensack's offense was not exactly ready to go at the outset against Ramapo. Settling too much for contested or too-deep jumpers in the halfcourt, Ramapo held Hackensack to one shot per possession for the most part and was able to make enough shots of its own to keep the pace of play in its favor. The game was tied at 11 after the first quarter and neither team had more than a one-point lead in the second quarter until Jason Oppler hit a runner and Peter Gostkowski tapped in a miss in front of the buzzer for a quick 4-0 run that gave Ramapo a 21-18 lead at the break.
Ramapo extended it advantage to seven points twice in the third quarter. A putback and free throw by sophomore KC Hunt and a 3-pointer from the wing by John Whooley made it 27-20 two minutes into the second half and Oppler and Hunt hit back to back buckets to make it 31-24 with 3:53 left in the period, but while all of that was going on, Hackensack's Razeyah Surrell was just heating up.
The junior, who was not in his usual starting role, came off the bench and took a while to get going. He scored just three first half points and was an afterthought in the early halfcourt sets.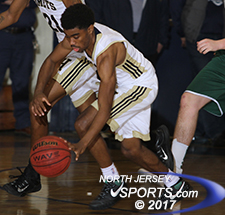 Mykel Swanston scored 10 of his 14 points after halftime for Hackensack, which will play Elizabeth on Friday night and Pascack Valley in the Jambo on Sunday.
"Razeyah came out with a lot of energy in the second half so we really tried to get him the ball. He is a great free throw shooter and we got them in the bonus and double bonus pretty early in the second half," said BJ Saliba, Jr., Hackensack's junior guard. "We just wanted to keep pounding it down into him and keep letting him do what he does down low. He's got crazy energy. He's like our Dennis Rodman."
Surrell scored eight points in the third quarter including the first two of a 10-0 run that gave Hackensack the lead for good. His two free throws with 1:24 left in the third quarter put the Comets up 33-31; they led 36-33 at the end of the period and then pulled away in the final four minutes. Surrell scored 19 of his game-high 22 points after halftime.
"I didn't start so it took me a while to get going, but once I got warmed up I just went under the basket and did my job, which is to clean up any messes that my team might make," said Surrell. "We talked about it at halftime, about throwing the ball inside and it worked for us. So we went with that, stayed with it, took the lead and kept up the intensity."
The added offense was welcomed, but it was at the defensive end that Hackensack really turned the game in its favor. Trapping the corners and the wings out of the zone allowed the Comets to create turnovers and hurried shots that turned into favorable numbers going the other way.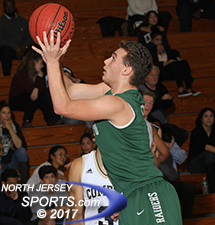 Jason Oppler scored 12 points for Ramapo, which will play Pascack Hills in the Jambo on Saturday.
Hackensack led 44-41 with 3:53 to go right after Hunt hit a 3-pointer from the corner, but Mykel Swanston was fouled at the other end, the start of the double bonus and the parade to foul line. Swanston made both to kick off the 14-4 run that the Comets closed the game with to make the final score not reflective of the game's competitiveness.

Swanston scored 10 of his 14 points in the second half and made 8 of his 9 second half free throw attempts for Hackensack, which was a combined 21 of 31 from the stripe, 20 of 27 in the second half and 13 of 18 in the fourth quarter. Saliba (14 points), Swanston and Surrell all finished in double digits for the Comets while Toren Portee scored all 6 of his after halftime. Atiba Taylor's only points came on a deep first half 3-pointer, but he made his mark on the game with 7 assists and in the many traps he helped spring on the defensive side. Grant Freemeyer made a first half field goal and Bryce Drakeford made a free throw for Hackensack, which is now 13-5 on the season.
Hunt (21 points) and Oppler led the way for Ramapo, while Gostkowski (6 points) and Whooley (5 points) also chipped in for the Green Raiders, the No. 11 seed, who will play No. 6 Pascack Hills on Saturday in a 2:45 p.m. start at Northern Highlands High School.
CLICK HERE FOR MORE PHOTOS FROM THIS GAME. TO BUY A COLLECTOR'S PRINT OF THIS STORY, PLEASE VISIT 4FeetGrafix.com.