Tuesday, January 31, 2017
By Rich Barton
NJS.com Staff Writer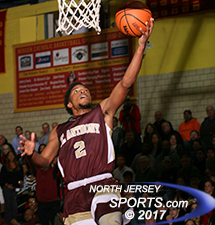 RJ Cole led all players with 23 points, five assists, and three steals for St. Anthony, which came back to beat Bergen Catholic, 61-58, in overtime on Monday night in Oradell,
ORADELL – Last season St. Anthony guard RJ Cole often laid low and did his best to blend in on an extremely talented team to allow other teammates to shine as the Friars finished the season undefeated and as the No. 1 ranked team in the country. But as the only holdover from that squad this season.
Cole now has to be more aggressive during crunch time of big games. One of those opportunities came on Monday night against a Bergen Catholic team determined to prove it can not only play with but also beat the elite teams in New Jersey. The Crusaders had their chances to put the game away but Cole simply refused to let his team lose.
Cole finished with a game-high 23 points as the Friars battled back from a seven-point deficit to force overtime. Nigel Marshall threw down a vicious left-handed dunk with a minute to play in the extra session and St. Anthony won a hard fought 61-58 victory over Bergen Catholic in Oradell.
"We've been in a few of these games and lost them. It feels good to win a game like this in this type of environment," said Cole, who will play at Howard University next year. "This win showed what we can do when we work together and stick together through some tough times."
St. Anthony and Bergen Catholic have met in each of the last three seasons with the Friars winning by double-digits in all of them, including a 23-point win last year. The Crusaders made it clear early that this game was going to be different. Big men Thomas Binelli and Zach Freemantle stepped out and each nailed 3-pointers in the first quarter to set the tone before Columbia University-bound guard Gabriele Stefanini scored inside to give Bergen a 14-12 lead after one.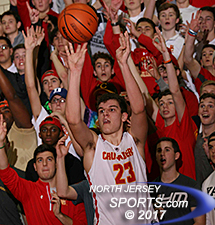 Thomas Binelli gave Bergen Catholic its last lead with this 3-pointer from the corner.
The Friars did a good job of keeping Stefanini and fellow Division 1-bound guard Taj Benning (Fairfield University) in check throughout the first half. Bergen Catholic needed a spark and got one from Justin Regis. He scored all eight of his points in the second quarter, including a steal and 3-pointer just before the halftime buzzer that put the Crusaders on top heading into the locker room, 26-24.
The halftime intermission did little to cool off the Crusaders. They did what most teams rarely do against a team coached by Bob Hurley: they scored on four straight possessions. Binelli and Stefanini knocked down back-to-back 3s before Binelli hit a step back jumper to give Bergen its largest lead, 41-34, late in the third quarter.
"We knew they had guys who can really shoot and they got hot in the third quarter," added Cole. "We were down but we had to stay poised and get back in the game. It starts with just buckling down and playing defense. I had to step up and be a leader, especially on the defensive end. We got a few stops and a few baskets on the other end to get over the hump."
The BC lead was five points near the midway point in the fourth quarter when a big swing occurred. The Crusaders had a 2-on-1 fast break but got called for travelling. Cole made them pay by laying one off the glass and in while getting fouled. He hit the free throw to convert the 3-point play that trimmed BC's lead down to two, 49-47.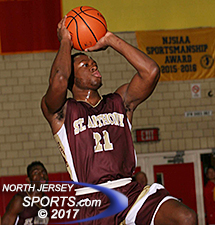 Nigel Marshall threw down a vicious left-handed dunk with a minute to play in the extra session.
The Friars took their first lead since early in the first quarter on a basket inside by Marshall, 52-51, with 2:29 to play. Binelli answered right back with his third 3-pointer of the game from the corner to put BC back in front. St. Anthony's Ithiel Horton responded with a tough, contested runner off the glass with just over a minute to play to tie the game. The Crusaders held for the last shot, but Benning's attempt was off the mark and the two teams needed overtime to decide a winner.
"We had our chances, especially in regulation, but we gave away too many possessions and that caught up to us," said Bergen Catholic head coach Billy Armstrong. "We had too many turnovers in the first half (13), and we didn't kick it out enough on our drives to the basket in the second half."
With the score still tied and less than two minutes remaining in OT, Cole blocked out the raucous home crowd to knock down both ends of a one-and-one. Marshall followed with the play of the game, taking off from outside the paint and powering down a dunk to make it a two-possession game before a charging foul on Stefanini with 46 seconds left appeared to be the last stand for BC.
He atoned for his miscue immediately by batting the ensuing inbounds pass off of Cole to give the Crusaders the ball. Stefanini then hit a tough fadeaway jumper to keep them in the game. After Marshall made one of two free-throws, Bergen Catholic had one last shot to force another overtime. Stefanini got a potential game-tying shot off over two defenders from beyond the arc but it did not go down and St. Anthony escaped with a much-needed close win.
"When you play a team like St. Anthony's it all comes down to the little details. It's tough to take because we feel are program is at a point where we don't look at this as a moral victory," said Armstrong. "Hopefully this will drive us and help us down the road with Northern Highlands tomorrow and another big game against Don Bosco on Friday."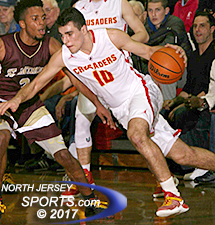 Gabriele Stefanini scored a team-high 15 points for Bergen Catholic.
Cole led all players with 23 points, five assists, and three steals for St. Anthony (13-3). Marshall and Horton added 11 and 10 points, respectively. Ogeheneyole Akuwovo finished with a game-high 13 rebounds, nine of them on the offensive glass.
Stefanini finished with 15 points and Binelli had 11 to lead the way for Bergen Catholic (14-3), which is the top seed in the Bergen County Jamboree and will face 16th-seeded Bergen Tech on Sunday.
After three losses by less than six points over the past two weeks, the Friars are excited about the big win to get back on track; almost as excited as Hall of Fame head coach Bob Hurley is to have a leader like RJ Cole running the show for his team.
"Last year, RJ was a great spoke in a very good wheel; this year, he is the wheel," said Hurley, New Jersey's all-time leader in wins by a wide margin. "As he goes, we seem to go. The modern kid isn't really used to going into a game like this in an atmosphere like this. I thought we handled the adversity pretty well and Cole becomes better as the game goes on. We have talent and hard working kids, but let's face it we're pretty much running through one dude.
"I thought Bergen Catholic was very aggressive and they shot the ball really well. We just tried to stay in it and wear their legs down to the best of our ability. After a tough one-point loss to St. Raymond (NY) bouncing around in our head, this is a good win for us heading into another big game against Newark East Side on Thursday."
CLICK HERE FOR MORE PHOTOS FROM THIS GAME. TO BUY A COLLECTOR'S PRINT OF THIS STORY, PLEASE VISIT 4FeetGrafix.com.