Sunday, January 29, 2017
By Cory K. Doviak
NJS.com Editorial Director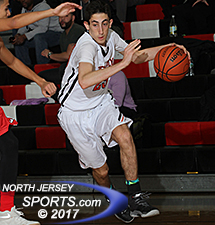 Max Weiner made three first half 3-pointers to get Tenafly going on the way to a 54-41 win over Elmwood Park in the opening round of the Bergen County Jamboree on Saturday in Bergenfield.
BERGENFIELD – Head coaches are always trying to find the right motivational tool to fit the occasion. Having won four straight games to clinch its spot in the Bergen County Jamboree, Tenafly head coach Jeff Koehler wanted to reinforce the message that just making it into the field was not the end goal. Sure, it is an accomplishment, especially with only one returning starter and only one senior in the starting lineup, but the idea is not only to be included, but also to win once the tournament starts.
So what was the audio/video choice for the Tigers' first round matchup against Elmwood Park on Saturday at Bergenfield High School?
"It was Boys of The Fall with Sean Peyton, the coach of the New Orleans Saints, and it is just about how these Friday nights are just flying by and we all think that we are can be high school students forever and continue to have these moments," said Koehler. "The whole point of the show is that you have one opportunity and you have to seize the day. Instead of looking ahead at what comes next, just do it now. This is the moment and you have to seize it now."
The message obviously got through as, 2:52 into the game, Max Weiner hit a 3-pointer to open the scoring and Tenafly never gave the lead back in a wire-to-wire, 54-41 victory that moves the 15th-seeded Tigers into the Round of 16. Because the back half of the next round is always played at Tenafly High School, the Tigers will have a home game, a slight advantage they will certainly need as next up is No. 2 Don Bosco Prep, a Jambo finalist last year and a real contender this time around.
Time to expand the playlist Coach Koehler?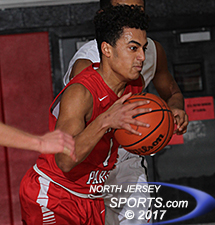 Elmwood Park's Kevin Perez finished with a game-high 22 points.
"Oh yeah, it is definitely going to be Hoosiers and maybe Miracle with Herb Brooks, too," said Koehler. "To get to play in our gym in the Jamboree…that is the pinnacle of coaching at Tenafly. Just to be able to be on our home court and go up against a program like Bosco, that is what it is all about."
Neither team could really get it going early on Saturday as Elmwood Park did not score its first points until Grant Rodriguez hit a step-in jumper with 3:22 left in the first quarter. Tenafly made only three first quarter field goals, all of them 3-pointers and two of them by Weiner, but still managed a 9-7 lead heading into the second period. It was the 3-pointer that Weiner hit to open the second stanza that seemed to get the rest of his team going.
That shot kicked off a 12-2 run that pushed Tenafly's lead into double digits at 21-9 and it led 23-13 at halftime.
"We really wanted to get our defense going because when we do that we know that our offense will follow. Max was hot in the first half and he carried us until we could get going," said Johnny Angbazo, Tenafly's sophomore forward. "This is a team sport and everybody contributes. That is the way we play and everybody on this team just wants to do whatever they can to help us win."
Angbazo scored 8 of his 12 points in the third quarter when Tenafly really broke the game open. After Kevin Perez got all the way to the basket for a layup to start the second half got Elmwood Park to within single digits for the last time at 23-15, Angbazo scored in the post to start an 18-4 run that pushed the Tigers' lead to 40-19 heading into the fourth quarter.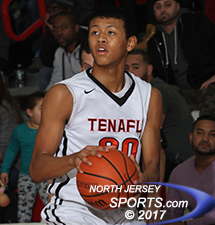 Sophomore Johnny Anbazo finished with 12 points for Tenafly, which will face No. 2 Don Bosco Prep in the Round of 16 next Sunday.
Tenafly led by as many as 26 at 48-22 in the final period before pulling back on the reigns and holding the ball for long stretches without attacking. Elmwood Park made it a respectable final by closing the game on a 15-4 run, but by that time the issue had already been decided.
Perez led the Crusaders with 22 points, but 12 of them came in the fourth quarter. Grant Rodriguez scored all 7 of his points in the first half, Elias Valdez and Alan Sanchez scored 5 each off the bench and Justin Lopes had the other two points for Elmwood Park.
Weiner finished with a team-high 20 for Tenafly, which had its usual even distribution. Angbazo's 12 points were followed by 9 from Eric Berschadsky, the sophomore who got his second varsity dunk off of two feet on the baseline in the fourth quarter. Antonio Bonilla, who was slowed by early foul trouble, finished with 8 points and point guard Alec Kaufmann had the other field goal for the Tigers, who know that the next step in the Jambo is mighty large, but one they are looking forward to taking.
"Since the beginning of the year our goal is to play at home in Tenafly in the Jambo against whoever it is," said Berschadsky. "It just so happens that now that we got there that it is going to be against Don Bosco. We are very excited to play them and anything is possible. This is like March Madness and we have all seen what can happen there."
CLICK HERE FOR MORE PHOTOS FROM THIS GAME. TO BUY A COLLECTOR'S PRINT OF THIS STORY, PLEASE VISIT 4FeetGrafix.com.