Saturday, January 21, 2017
By Cory K. Doviak
NJS.com Editorial Director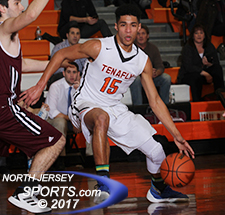 Junior Antonio Bonilla, the lone Tenafly starter with meaningful varsity experience coming into the season, scored 14 points in a 53-35 win over Park Ridge on Friday that moves the Tigers to within one game of automatically qualifying for the Jambo.
TENAFLY -- Don't know much about the Tenafly boys basketball team? Not many in North Jersey did either before the season started and, a couple of days before the Bergen County Jamboree field is selected, it is time for an introduction.
The Tigers have won three straight games and have one more to go before the Jambo cutoff. They are 9-4 on the season after a 53-35 win over Park Ridge on Friday night and a win over Ridgefield Park on Tuesday would make them an automatic Jambo qualifier. They might even be in already as 9-5 against a Big North schedule makes them an attractive at-large candidate.
But who are these Tigers?
"This was my JV team from last year. The last two years we graduated 24 seniors and, basically, in each of the last two years the top eight [in the playing rotation] were seniors," said Tenafly head coach Jeff Koehler. "I had Tony Bonilla with me last year and Max [Weiner] would have played, but he got hurt early in the season. Everybody else is basically up from last year's JV team."
Bonilla and Weiner, two juniors, are joined in the starting lineup by a pair of sophomores, Eric Berschadsky and Johnny Angbazo, and senior Alec Kaufmann, who waited his turn to run the point. Together they form an athletic group that present tough match-ups for defenders. Because so many of them can handle the ball and all of them are willing to defer to the open shooter, Tenafly can spread a defense out and then attack from multiple angles.
"All of these guys except Tony were guards when they were freshman or in eighth grade. They were all guards and they were able to handle the ball and I am pleasantly surprised with how much they all grew," said Koehler. "We have very athletic, very well-rounded guys and in three or four games this year we have had four guys in double digits and that is the key to our season. In the beginning I don't want to say we were a little selfish, but I kind of let things go a little bit to let them grow into their roles. Now we are playing unselfishly and we are looking for the extra pass."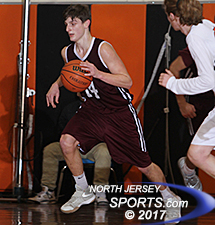 Park Ridge senior Shane Kiley scored a game-high 18 points.
All five of Tenafly's starters made at least one first quarter field goal as the Tigers ran out to a 14-2 lead on Park Ridge and never looked back. Weiner scored all eight of his points inside the first five minutes of the game before backing off and becoming more of a facilitator as he finished with six assists. Weiner scored the first two points of the game with a floater in the lane, followed that up with a 3-pointer to make it 5-0 and hit another trey with 3:13 left in the opening quarter to make it 12-2.
"We all just try to get each other the ball. We don't care who scores. We want to do it as a team," said Weiner. "We expect good results. We have a lot young guys, but we are a good team and we are not really surprised with [what our record] is right now."
Tenafly was up 20-7 after the first quarter and 32-17 at the half against Park Ridge (2-10), another team with a whole new cast of characters. The Owls were the Group 1 team that could last season as they qualified for the Jambo and were the No. 1 seed in the North 1, Group 1 state sectional tournament. But that was nine seniors ago, and there is a brand new group on the floor this year taking their place. With such a deep and talented group cycling through there were not many minutes last season for the guys who have taken their place.
That is life in Group 1 hoops.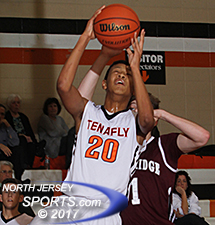 Johnny Angbazo, one of two sophomores in Tenafly's starting lineup, finished with 13 points.
"It is a tough challenge this season and it was really tough challenge tonight against Tenafly. That is an excellent team, we knew that because we scrimmaged them and they killed us by like 40 points. So this was a chance to see how far we have come and we are getting better. We handled their pressure at times and we did some good things," said Park Ridge head coach Adam Kaplan. "Our record is not where we want it to be, but we still have a chance to qualify for states and in Group 1 anything can happen. We are not giving up on this group at all. The boys are working hard and they are having fun, so we keep going and see what we can accomplish."
Park Ridge has one particularly accomplished player in Shane Kiley. A senior who did not see all that much playing time last year behind that deep senior class, Kiley has blossomed. He rebounds, runs the floor and can finish around the basket or with a steady midrange game. He had 18 of the Owls' 35 points on Friday night. Tommy Morgan finished with 7, Cole Triano had 5, Devin Conkling made a 3-pointer and Mike Mastrangelo made two free throws to round out the scoring for Park Ridge.
Tenafly had three players finish in double figures and Berschadsky led the way with 16. Bonilla added 14, all in the first three quarters, and Angbazo had 13. Weiner did his damage early and Kaufmann (2 points) made his impact on the game through distribution and taking care of the basketball.
So now it comes down to one game for the Tigers. While many other Big North teams are hovering around the .500 mark and hoping that the Jambo committee gives them the nod, there is no such doubt in Tenafly. If the Tigers beat Ridgefield Park on Tuesday, they are in.
"The Jambo has been the goal since the beginning of the season and we have been working towards it all year long. It means a lot to us. This is a brand new team. We have all new guys like Alec Kaufmann, Johnny [Angbazo] and myself and [Koehler] always tells us that it has never been done before here where a bunch of new guys come in and make the Jambo," said Berschadsky. "I think we have surprised a lot of people because we have a lot of underclassmen. A lot of people didn't think of us as a team that could make it, but we have one win to go and then we will be in the Jamboree."
Editor's Note to head coach Jeff Koehler: Eric Berschadsky is the winner of the egg bagel.
CLICK HERE FOR MORE PHOTOS FROM THIS GAME. TO BUY A COLLECTOR'S PRINT OF THIS STORY, PLEASE VISIT 4FeetGrafix.com.