Wednesday, January 18, 2017
By Cory K. Doviak
NJS.com Editorial Director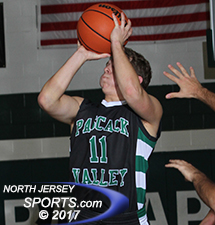 Matt Vasel scored a game-high 19 points, including four 3-pointers, for Pascack Valley, which held off Ramapo, 55-48, on Tuesday night. After a 1-5 start, the Indians are now 5-5 on the season.
FRANKLIN LAKES – At the beginning of the season, Pascack Valley's boys basketball team was like the guy at the start line at the Olympics who has visions of a gold medal and then proceeds to trip over the first hurdle. With four of its five starters back from a team that finished strong last year despite being hobbled by injury, the Indians garnered some preseason hype and were hoping to justify if with a flying start out of the games. And then they opened the season at 1-5.
"It's not like we selfish in that we were dominating the ball and not sharing it, but it was that we all wanted to do so much to help this team win and in the beginning of the season it was like we were all trying to do too much," said PV senior Legend Dominguez, who is now in his third season as a varsity point guard. "The difference between our team now and our team then is the distribution of the ball. Now we have some much faith in each other and now we have so much hope."
What Pascack Valley also has for the first time all season record that is not in the black. With a gritty 55-48 win on the road at Ramapo on Tuesday night the Indians are an even 5-5 on the season and riding the momentum of what is now a four-game winning streak.
Pascack Valley took the lead for good on a play that is not seen all that often. Tied at 14 with less than one second (:00.2 actually) after Ramapo's Andrew Cucura made two free throws, Matt Domville took the ball out under the basket and threw a baseball pass into the forecourt. Because the rule is that a player cannot possibly get off a catch-and-shoot in less than :00.3, Dominguez had one do-or-die opportunity to tip it volleyball-style and redirect the ball's path. He did that to give the Indians their first lead of the game and one that they would never give back even if it was anything but comfortable over the final 24 minutes.
The Indians went up 32-23 on a Michael Lin free throw with 33 second left in the first half before KC Hunt scored three straight points in the final four seconds to get the Green Raiders to within 32-26 at the break. The third quarter, however, was all Pascack Valley as it out scored Ramapo 10-1 in the period. Matt Vasel's 3-pointer from the wing and Alex Lin's lay-up on which he finished through contact gave PV a 42-27 lead heading into the fourth quarter.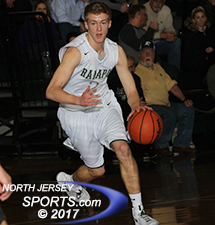 KC Hunt, one of four sophomores in Ramapo's starting lineup, finished with a team-high 27 points.
It was not like Ramapo couldn't find shots against PV's zone, which it ran almost exclusively, it just could not make many. After Brian Andreasen got all the way to the hoop for the first points of the fourth quarter, Ramapo was down 44-27 with 7:39 to play in a game where not much was falling for the home team from behind the arc. John Whooley made a 3-pointer with 3:20 to go in the first quarter and Ramapo did not make another one until Jason Oppler connected 58 seconds into the fourth.
"It seems like everyone is playing us zone and, to be honest with you, if we don't make a shot then we are going to see it every game from here on out," said Ramapo head coach Joe Sandberg. "We have to get other guys involved and run offense, but we are settling too much for 3s, we are not making many and teams are going to continue to zone us."
It was not going to be the 3-ball that got Ramapo back in it, but creating chaos certainly did the trick. By turning up the pressure, shuttling players in and out to give away some fouls and contesting for every rebound on both ends, Ramapo went from 17 down at 44-27 to down to trailing by just one point, 49-48, with 38 seconds left to play.
Kyle Hroncich got the 19-5 run started by flipping in a layup and then Oppler finally got a 3 to fall. Hunt completed a 3-point play, Oppler scored off the offensive glass and Hunt got a steal and made two free throws as Ramapo chopped 10 points off its deficit in just 2:20.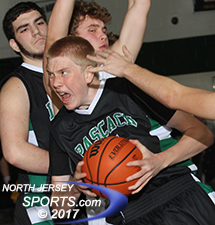 Alex Lin, one of PV's four senior starter, finished with 14 points for the Indians, who have now won four straight.
Pascack Valley righted itself momentarily when Alex Lin made two free throws with 3:53 left to bump the lead back up to 49-40, but Ramapo got right back at it as Whooley made two field goals with 15 seconds of each other. Visali Ecanopoly then converted a Hunt steal and assist into a bucket that made it a one-possession game at 49-46 with 2:50 to play.
There was some attrition, however, as Ecanopoly rolled his ankle coming down after the made basket and Oppler, the only junior in a Ramapo starting lineup that features four sophomores, fouled out on a charging call with his team down by just two, 49-47, with 1:33 to go.
Ramapo did manage to get the ball back with no damage done, however, and had a chance to tie with 38 seconds left, but only made the front end of the one-and-one and then the free throw parade started at the other end of the floor. Pascack Valley stepped to the line six times in the final 28 second and made all of them with Alex Lin knocking down the first two and Vasel making the next four to seal the Indians an all-important road win.
Vasel (19 points, four 3-pointers), Alex Lin (14 points, two 3s, 4 of 4 FTs) and Dominguez (11 points), three experienced seniors, all finished in double figures for PV. Brian Andreasen (6 points) provided quality minutes off the bench as PV was forced to go smaller due to foul trouble, pretty much start to finish, for Domville (4 points), the senior starting center. Ramapo had three double digit scorers as well in Hunt (17 points), Oppler (12 points) and Whooley (11 points).
Now fully recovered from the rough start, the Indians are making a late push for a Jambo spot. When strength of schedule is factored in against a Big North schedule in which there is no such thing as an easy win, Pascack Valley has a pretty good case to make.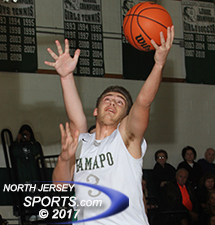 Junior Jason Oppler scored 12 points for Ramapo, which fell to 6-5 on the season.
"I am so happy for the kids because the first thing we put on the board tonight was do we have the guts to get this done tonight in a tough environment against a very well-coach team. I am ecstatic that we were able to fight through some foul trouble and show some resolve at the end. They brought their guts tonight," said PV head coach Al Coleman. "The biggest difference between now and the start of the season is that we are caring for one another. We've turned the corner and we know we still have a lot of work to do. But I will say this, if we are not in the Jambo then it's a…better yet, I will leave it at that."
Ramapo, now 6-5, is a worthy Jambo candidate, too. A young team who is showing both its talent and its inexperience not only game by game, but within them as well. Case(s) in point…On Tuesday night they scored one point in the third quarter and 21 in the fourth; and last week they lost in Franklin Lakes to Indian Hills and then turned around and handed Old Tappan its first loss of the season, the same Old Tappan team that then went on to beat Teaneck on the road.
There is parity in Bergen County public basketball at present, there are a lot of players with the bruises to prove it, and it is going to be an interesting selection and seeding meeting with the Jambo committee gets together to discuss its options one week from today.
"It's been up and down, but the competition is so even throughout that you have to show up every night. With a young team, if they don't understand that then you find yourself down by 15. But PV is a good team, Al does a great job and, like us, they are playing for their lives," said Sandberg. "We have four more games [before the Jambo cutoff] with one of them being Teaneck, a tremendous challenge on Thursday, but I think the county committee has to look at our two leagues and see that we are just beating up on each other every night. Everyone is beating everyone and I hope they take that into consideration because if we are not one of the best 24 teams in Bergen County then, well, I don't know…"
CLICK HERE FOR MORE PHOTOS FROM THIS GAME. TO BUY A COLLECTOR'S PRINT OF THIS STORY, PLEASE VISIT 4FeetGrafix.com.