Saturday, January 14, 2017
By Cory K. Doviak
NJS.com Editorial Director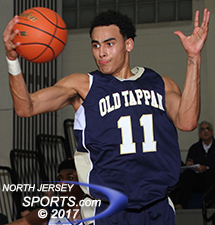 Justin Minaya scored a team-high 21 points for NV/Old Tappan, which found a way past an old nemesis in a 56-52 win on the road at Teaneck on Friday night.
TEANECK – No matter the long-term implications or short term consequences; no matter the state of each team's active roster on Friday night and no matter what those rosters will look like a month from now, the bottom line is that Northern Valley/Old Tappan needed to find a way to beat Teaneck in a one-off boys basketball game. Teaneck, the defending Group 3 state champion, has ended each of Old Tappan's last two seasons, both times in the state playoffs in the same gym and six times in the last two years when regular season matchups are taken into account.
"Our season ended in that locker room last year. When we were sitting there after that last game we told the kids, and a lot of them returned, that we would be back here and that we would get another shot," said Old Tappan head coach Craig Ferraro. "The kids have been waiting and working hard for the moment when they got to lace up their sneakers again in that locker room and then go back in there after a win. We knew it would be a special moment if we could make it happen."
It was not easy and it was not decided until the final four possessions of a back-and-forth fourth quarter, but by getting two defensive stops on Teaneck's last two offensive trips that counted and making four straight free throws in the final 20 second to break the game's final tie, the Golden Knights got their win.
Behind 22 points from senior Justin Minaya, including those last four free throws, and 21 from senior center Kevin Eifert, Old Tappan changed the paradigm with a 56-52 win on the road in Teaneck that moves the Knights up a spot in the Bergen County public school pecking order.
"This is really huge game, huge to get this win in this gym tonight," said Minaya. "We were coming off a bad performance and a loss in the Ramapo game, so to bounce back with a win like this does a lot for us. It can help us in the future, too, because we are trying to win a league title and get up as high as we can [with our seed] in the Jambo. Huge…no other way to say it."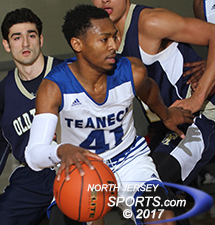 Ja'Quaye James scored a team-high 20 points for Teaneck.
Old Tappan's problems against Teaneck in recent years has been slow starts and the Knights could not afford one this time around not only because what it would have meant on the scoreboard, but also in how it could have shaken their confidence. Instead, Eifert hit a 15-footer from the corner on his first shot of the night, one that signified that he was going to be a reliable scoring option all night long.
Eifert made his second shot, too, a 3-pointer from the top of the key that made it 9-6. There were four first quarter ties, but Old Tappan never trailed in the period. Michael Petullo's 3 from the corner and Erik Slater's steal and layup gave the Knights a 16-11 lead after one. Eifert made two free throws to give Old Tappan its largest lead of the first half at 20-13 before Teaneck had enough of letting the Knights walk the ball up the floor.

The Highwaymen pushed forward, turned the game into a bit of a scramble and got right back in it. Ja'Quaye James hit a 3-pointer with 3:41 to go in the second quarter to tie the game at 24 and made all three free throws with 2:59 left as Teaneck closed the half with a 12-4 run that gave it a 31-28 edge at the break.
But unlike Teaneck teams of the past, this one does not have the kind of depth that can sustain fullcourt pressure for 32 minutes. Playing their last game without Leondre Washington, who will become eligible on Monday after sitting out 30 days due to transfer rules, and still without Jawuan Daniels, whose status and return date, if any, is still unclear, Teaneck had to acquiesce to a game played largely in halfcourt sets.
Not that the absences of Washington and Daniels are an excuse as Old Tappan's depth is being similarly tested. Senior Chris Baker is out for the season with a broken thumb and senior Joe D'Amico, one of the Knights' best 3-point shooters, injured his shoulder early in the second quarter on Friday night and did not return.
Old Tappan senior Kevin Eifert was a perfect 10 of 10 at the free throw line and finished with 21 points.
That left each team with two primary scorers each and two of them were matched up against each other for most of the night. Minaya, a small forward by stature, asked for the assignment of guarding James, the quintessential point guard, and was granted the opportunity. It was a give and take as Minaya was able to close out to make James shoot over him, but also trailed in the paint when James made his drives. But overall, Minaya's length was a factor in both circumstances and they basically cancelled each other out. James had a team-high 20 while Minaya had the game-high 22.
"Last year Ja'Quaye had a 40-point game against us, a huge game and in my mind I thought I could guard him, but I had to cover Jawuan Daniels, who wasn't playing today," said Minaya. "When I saw that he wasn't playing, I asked if I could guard Ja'Quaye. He still had however many points he had, he is a good player, but I tried to make it hard on him."
A key point in the game came midway through the third quarter, especially when the final four-point margin is taken into account. Old Tappan ripped off eight straight points to take a 40-33 lead with six of them coming on one trip down the floor. Eifert went hard to the basket in transition and was fouled. A Teaneck defender, who did not agree with the call, slammed the ball off the floor and was assessed a technical foul. Eifert made all four free throws and then put back a missed shot on the bonus possession.
Six of Eifert's 21 points game in that span of 18 seconds and he was efficient all night long. He was 5 of 7 from the field, 10 of 10 from the free throw line and the Knights' primary rebounder in a physical game in the paint. He was locked in.
"Making my first two shots was a definite confidence booster for me and it carried over. I just had to stay focused, especially defensively. Ja'Quaye was one of our major concerns. We had to get in the gaps, help Justin on him and then close out on the shooters on the drive-and-kick," said Eifert. "This win gives us a lot of confidence going into next week. We have a tough schedule, we have Bergen [Catholic], so winning one like this on the road is big for us."
Adrian Baucom scored 19 points for Teaneck, which fell to 7-4 on the season.
Old Tappan (9-1) looked relatively comfortable up 48-41 with 5:35 to play in the game after Slater made two free throws, but it is never going to be easy to close out a team like Teaneck. The Knights proceeded to miss two free throws and a layup and James made them pay both times to draw the Highwaymen back to within 48-45 with 4:04 left.
Old Tappan committed a costly turnover when I tried to make a long pass against pressure and again it was James who was the beneficiary as he made two free throws with 3:14 left to make it a three-point game at 50-47. After an Old Tappan 3-pointer rattled out, Cory Gordon made one free throw and after the Knights missed another layup, Jayden Dawson made both ends of the one-and-one. All of a sudden, the game was tied at 50 with 2:19 to play and Teaneck even took a lead, 52-50, when Adrian Baucom followed in a missed shot.
Old Tappan got the game tied with two free throws with 1:25 left and it looked like Teaneck was going to hold the ball for the last shot in a make-or-overtime situation, but with 42 seconds to go, the Highwaymen pulled the trigger on a half-contested three that bounced out. Minaya got all the way to the rim on the next possession to give Old Tappan the lead back with 20 seconds left and, after another Teaneck miss from long range, he made two free throws to finally get the Golden Knights the win that they came for.
James (20 points) and Baucom (19 points) led the way for Teaneck, which fell to 7-4, albiet against a beefed up out-of-league schedule, in its final game before it gets Washington back in uniform. Dawson finished with 8 points, Korey Pettie made a field goal and Gordon's fourth quarter free throw rounded out the scoring for the Highwaymen, who shot 15 of 17 from the free throw line as a team with James going 8 of 9.
Minaya and Eifert combined to score 43 of Old Tappan's 56 points. Slater (10 points) also got into double figures and Petullo had the other three points. Brett Franklin did not score, but nor did he turn the ball over often as his ability to bring the ball up and set the offense allowed Old Tappan to get into it sets and the Knights were a combined 18 of 21 from the free throw line.
Old Tappan's unblemished record went out the window with the loss to Ramapo on Tuesday, but the Knights are firmly back on track now with a signature win on the road.
"Our guys showed so much poise. Teaneck plays so hard and they can apply so much pressure that they make it hard to do anything," said Ferraro. "Justin stepped up on both ends, Brett Franklin did a good job taking care of the ball, Erik Slater was awesome all game in doing the little things and Kevin knocked down some shots and was a monster on the boards all game long. Everybody chipped in and that is what it took."
CLICK HERE FOR MORE PHOTOS FROM THIS GAME. TO BUY A COLLECTOR'S PRINT OF THIS STORY, PLEASE VISIT 4FeetGrafix.com.