Wednesday, January 4, 2017
By Cory K. Doviak
NJS.com Editorial Director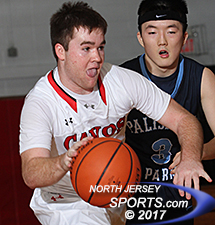 Senior Aidan Diverio made 5 of his 6 free throws in the fourth quarter to help Emerson seal its sixth win in seven games, a 47-44 triumph over Palisades Park on Tuesday night.
EMERSON – There are going to be games where a solid small school team is going to win comfortably and others where it will run up against an opponent that has too many advantages to overcome. The difference between a good season and a great one comes down to those games in the middle, the ones that are going to be decided by a couple of points or a couple of possessions either way.
Emerson is winning the close ones and is off to a 6-1 start after a 47-44 win over Palisades Park on Tuesday night.
"When you can win the games that are going to be decided by five points or under, and you come out ahead in most of those games, then you are going to have a good season," said Emerson head coach John Ziemba. "But for us right now, we are 4-0 in those kinds of games and if you keep that up then you are going to have a real good season. Sometimes it is ugly out there, but the kids just keep at it and if you keep winning games like this then maybe you end up with a season that it a little different than you thought it might be."
Emerson's start is a little surprising, to say the least, because it lost six of the top eight in its rotation from last season to graduation and lost senior Remy Meyer, who was to be the Cavos' top returning scorer, to a broken arm before the season even began and he will not be back. That means that senior guard Aidan Diverio, the son of Don Bosco Prep head coach Kevin Diverio, and sophomore John Dime to carry much of the offensive load this season and they certainly did against Pal Park. The inside/outside duo combined to score 36 of Emerson's 47 points and 7 of its 11 in a fourth quarter that saw the Cavos trailing by a point to start.
"I feel like we are better than we play sometimes. We dig ourselves some holes that we seem like we are always trying to get out of and it was like that again tonight," said Diverio. "It got a little chippy at the end, but we hit some free throws at the end to keep us in the lead."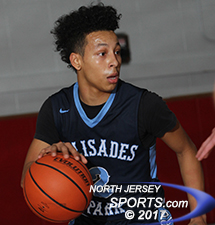 Freshman point guard Christopher Rodriguez scored a team-high 19 points for Pal Park.
Pal Park is also playing short-handed as it awaits the return of Will Taylor, who has not yet played this season as he recovers from a knee injury. Taylor is one of the best players, if not the best, in the league when healthy, and his return is eminent, but without him and another starter, senior Jonathan Yi, who missed the game with an illness, offensive options are not exactly in abundance right now for the Tigers.
Much of the weight has fallen on freshman point guard Christopher Rodriguez, a raw talent who had the ball in his hands most of the time. The Tigers shot the 3-ball well in the first half, in fact so well that that they barely bothered from inside the arc. Pal Park made eight first half field goals with seven of them of the long range variety as both Rodriguez and Derek Oh made three 3s apiece. The Tigers had two different five-point leads in the first half, the first with 2:43 left in the first quarter after Christian Rodriguez scored their lone two-point field goal off the offensive glass. The game was tied at 12 after the first quarter, but Oh gave Pal Park an 18-13 lead with a 3-pointer 1:24 into the second.
Emerson grabbed its first lead with a four-point spurt as Diverio made a 3 and Dime scored from the short corner to make it 22-21. Diverio hit another 3 to kick off an 8-0 that bridged the second and third quarters. Emerson led 26-24 at the break and Diverio knocked down another triple 1:42 into the second half to give the Cavos a 30-24 edge, the largest lead for either team in the game.
Pal Park answered right back with an 8-0 run to grab the lead back. Saro Barsamyan scored consecutive field goals and Christopher Rodriguez got all the way to the basket to make it 30-all and the largest lead for either team over the final 12:47 was a scant three points.
Sophomore John Dime kept Emerson in the game early as he scored 13 of his team-high 19 points in the first half.
Pal Park led 37-36 heading into the fourth quarter and went in front for the last time at 39-38 with 6:34 to go. There were ties at 41 and 42 before Dime got free on the fastbreak to put Emerson back in front for good, 44-42, with 1:50 remaining. That was Emerson's final field goal in the game; in fact the final field goal for either team, but the Cavos came up with some clutch plays to keep their noses in front.
Emerson made only 7 of 13 free throws in the fourth quarter, but junior Erick Degelmann hustled one of those misses into a positive. With Emerson up 44-43 with 14 seconds left, it missed the front end of a one-and-one opportunity, but Degelmann got himself involved with the rebound and get after it until he could secure his team an extra possession, which turned into two Diverio free throws with eight seconds left. Pal Park made just one of three free throw attempts in the final five seconds and saw another one wiped out by a lane violation.
Christian Rodriguez (19 points) and Oh (13 points) combined to score 32 of Pal Park's 44 points. Barsamyan added 6 and Christopher Rodriguez had the other five for the Tigers, who shot just 8 of 17 from the free throw line and just 5 of 11 in the fourth quarter.
Pal Park fell to 3-5 with the loss, but is about to get healthy and could be poised to go on a run once Taylor hits his stride. A Jambo berth might be a long shot at this point, but it is not yet an impossibility and the Tigers figure to improve markedly between now and the cutoff.
Derek Oh made three of Pal Park's seven first half 3-pointers and finished with 13 points.
"Our kids play hard and when we get a full squad I don't think there are going to be a lot of Group 1 teams that are going to want to play us down the stretch once we get everything together," said Pal park head coach John Wiseman. "We lost seven seniors from last year, so we have young guys coming up and some injuries. We have a freshman point guard, who is very talented, but who nobody has ever played with and there are a lot of adjustments that have to be made. We are going to have to go on a nice run here soon to get where we want to be, but when everything comes together I really believe that we will be a team to reckon with."
Dime, the sophomore forward, is already a crafty interior player who get put the ball on the floor in tight spaces and finish with either hand. He had 19 points to lead the Cavos and Diverio, the son of a successful coach who plays like one, added 17. Alex DelPino made two second half field goals, Pete Durocher, Brian McCormick and Nick Minck all added two points and Degelmann got on the score sheet with a fourth quarter free throw for the Cavos, who might be exceeding expectations so far but are not satisfied just yet.
"We are 6-1 and we are fighting hard. We always feel like we can come back in games, we have been doing it all season so far. We are making big shots, playing good defense and making the right decisions," said Dime. "You have to have the mentality that you are going to win close games. If you think in your mind that you are going to lose when you are in a close game, then you are going to lose. We are staying positive and that has worked so far."
CLICK HERE FOR MORE PHOTOS FROM THIS GAME. TO BUY A COLLECTOR'S PRINT OF THIS STORY, PLEASE VISIT 4FeetGrafix.com.