Wednesday, January 4, 2017
By Rich Barton
NJS.com Staff Writer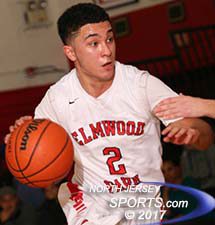 Grant Rodriguez scored 17 points for Elmwood Park, which improved to 5-2 on the season with a 64-56 win over Rutherford on Tuesday night.
ELMWOOD PARK – Playing in the small school-centric NJIC makes qualifying for the Bergen County Jamboree no easy task. With most, if not all, of the at-large bids generally going to larger programs from the Big North, an NJIC school generally needs to meet the .650 winning percentage by the cutoff to earn entry. Elmwood Park knows the rules of the game all too well and knows that getting an at-large bid when strength of schedule is factored in is a long shot.
After a fourth-quarter collapse against Fair Lawn dropped them to 5-2, the Crusaders knew if they had any hopes for a Jambo bid that they needed to bounce back against a Rutherford team looking for a signature win of its own.
Grant Rodriguez was red-hot from beyond the 3-point arc in the first half. He hit on all three of his long range attempts in the second quarter as Elmwood Park used a 16-4 surge to take control before holding off a milestone performance from Rutherford point guard Domenic Mignone for a 64-56 win on Tuesday night at Elmwood Park High School.
"We knew this game was going to be tough, but we had to get this win," said Rodriguez.
Mignone came into the game just 25 points shy of 1,000 for his career. The senior came out hot hitting 5 of 7 from the field in the first quarter as the Bulldogs trailed by only two, 19-17.
Rutherford senior Dom Mignone scored a game-high 28 points for Rutherford, including the 1,000th of his career.
The second quarter was a different story as the Crusaders clamped down defensively and used long-range shooting to widen the gap. Forcing three consecutive turnovers led to a big run to close the first half. Rodriguez knocked down a 3 from the corner followed by one from Elias Valdez before Rodriguez curled off of a pick and drilled his fifth 3-pointer of the half to give Elmwood Park a commanding 35-21 halftime lead.
"We communicated better defensively in the second quarter and started getting stops," added Rodriguez. "When we play good defense that really gets our offense going. We just moved well without the ball and if I'm open I'm going to shoot it. I think the key was how patient we were and how we kept moving it until we got the open shot."
Mignone tried to get the Bulldogs on track early in the third quarter with a steal and a two-handed dunk to slice the lead to 10. After a scoreless first half, EP's Kevin Perez became more aggressive going to the basket. He scored twice on drives during an 8-0 spurt to bump the lead back up to 18.
The Bulldogs looked to have finally grabbed momentum when James Dolaghan threw an alley-oop pass that Mignone laid in for his 1,000th career point. It was not only a great milestone for Mignone, but it cut the Rutherford deficit to seven, 53-46, with still 4:29 to play.
Could it be another fourth-quarter meltdown for the Crusaders? Nope. The Crusaders showed poise down the stretch and made sure their once comfortable lead did not dwindle any further. Kadean Dennis had a big 3-point play following the stoppage of play to honor Mignone's 1,000th point and Perez hit several clutch free throws in the final two minutes to secure the victory.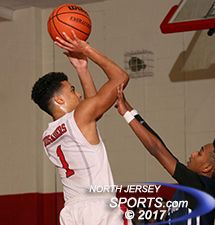 Kevin Perez scored 11 points for Elmwood Park, which bounced back from a disappointing loss against Fair Lawn.
"Coach (Kevin) Tuohey always tells us how basketball is a game of runs and he emphasizes how we have to keep our cool no matter what," said Perez. "When we take care of the ball and play good defense then good things happen."
Rodriguez led a balanced scoring attack with 17 points for Elmwood Park (6-2). Figueroa, Perez, and Dennis had 12, 11, and 10 points, respectively. The Crusaders also got solid play off the bench from Justin Lopez with eight points on 4 of 5 shooting.
Mignone led all players with 28 points for Rutherford (3-4). Nicky Nunziato had seven points with Jack DeBari and Lawson Fisher each chipping in with six points.
With a big win over a league rival and the Fair Lawn loss now well in the rear-view mirror, Elmwood Park has its sights on a second straight Jambo berth.
"We have to come into every game with the urgency like we did tonight if we're going to make the Jambo," said Rodriguez. "It all starts with practicing the way you want to play. I think we're starting to play to our potential. Now it's about having the mindset of believing that we're a good team. We can't stop working though and we need to get better every day."
CLICK HERE FOR MORE PHOTOS FROM THIS GAME. TO BUY A COLLECTOR'S PRINT OF THIS STORY, PLEASE VISIT 4FeetGrafix.com.