Monday, February 20, 2012
By Cory K. Doviak
NJS.com Editorial Director
Joel Hernandez scored 11 points for Teaneck, which knocked off Tenafly, 60-36, in the Jambo semifinals. The Highwaymen are one win away from a third county title in the last four years.
MAHWAH – This is getting ridiculous. Teaneck's boys basketball team is in the midst of one of the most dominant runs in the history of Bergen County boys basketball and through its first three games of this season's Bergen County Jamboree, the defending champion has really yet to break a sweat. The latest showcase of the Highwaymen's dominance came on Sunday in a 60-36 semifinal conquest of Tenafly on the campus of Ramapo College and, taking a more broad view, the numbers are even more impressive.
Teaneck, the top seed, will play No. 2 Don Bosco Prep in a rematch of last year's final on Thursday night looking for its second straight county championship and its third in the last four years. The Highwaymen are now 24-0 on the season, they have not lost a game against a Bergen County opponent since opening night of last season and have won 52 of their last 55 games overall with their last loss coming back on March 10 of last year in the Group 3 state semifinal.
Tenafly is busy rewriting its own program's record book as it was making its first appearance in the Jambo semifinals since 1955, but the Tigers were up against a Teaneck juggernaut that was not interested in even entertaining the idea of an upset after the first quarter.
"We have been in a lot of tough games over the past two years and the core [of the team] is still here. We are confident in big games and this is the time of the year we have been waiting for all season," said Jerome Smart, who is in his second season as Teaneck's head coach and is 7-0 in Jamboree games. "The kids are excited now and we want to go out and show how good we are."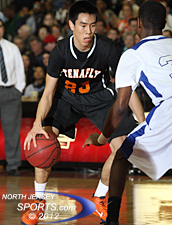 Kyle Hioki's early 3-pointer gave Tenafly a 5-4 lead.
And the Highwaymen are pretty good. The next time an opponent exposes a weakness will be the first time this season as Teaneck can run the floor, execute in the halfcourt, pound the ball inside, light it up from outside and play tenacious defense for a full 32 minutes. To Tenafly's credit, it played the deck that was stacked against it and came up with a few black jacks to stay competitive in the first quarter.
Kyle Hioki's three-pointer gave Tenafly a 5-4 lead and four straight points split between Marco Baratta and Hioki gave the Tigers a 9-8 advantage with 1:00 to go in the opening stanza. But Shaakir Lindsey, far and away the quick point guard in Bergen County, hit a three-pointer to put the Highwaymen back in front, 11-9, heading into the second quarter and they never looked back. An 8-0 run consisting of three-pointers by Siddiq Patterson and Chris Jones and a Devaunte Locadia layup created by a drive-and-dish by Lindsey put Teaneck up 20-11. Jones and Lindsey then combined to split the points in another 8-0 run that Teaneck used to close the first half and head into the locker room with a 32-15 advantage.
"I am just having fun out there with my teammates. We look forward to the Jambo every year, we are looking forward to playing Bosco in the final we weren't going to let anything stop us. We can't wait to be out here again on Thursday night," said Lindsey, whose ballhandling skills are Globetrotter-esque. "We haven't taken a game off all year. We try to play up to our fullest potential every game and make it a habit. We don't take anything for granted. We didn't take Tenafly for granted and we won't take Bosco for granted either."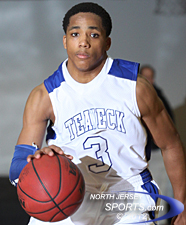 Junior point guard Shaakir Lindsey leads a Teaneck offense that is efficient as it is explosive.
Proving that point, Teaneck kept its focus in the third quarter and emphatically put the game away. The lead passed 20 points for the first time on a Jones basket that put his team up 43-22 with 3:19 left in the third quarter and it was up to 49-24 when the fourth quarter rolled around. Teaneck led by as many as 30 points twice in the fourth quarter before dialing it back.
Marco Baratta (10 points) was Tenafly's high-scorer. Chris Orozco finished with 8 points, Hioki added 7, Yaniv Cohen scored 6 points off the bench and Ari Zigouras and Steve Sobo each made field goals for the Tigers.
Jones led all scorers with 19 points, Lindsey made all 5 of his free throw attempts and finished with 17 and Joel Hernandez's 10 points gave Teaneck three double-digit scorers. Patterson chipped in with 7 points and Neville Fincher (3 points), Marcus Fulmore and Locadia had Teaneck's other three field goals.
If there is one negative aspect to Teaneck's dominance this season, and this is a stretch, it may be that the Highwaymen have not played in many close games this season. They haven't had many opportunities to work on late-game situations, although Jones shot that down that theory pretty convincingly.
"It doesn't really matter that we haven't played a close game in this tournament because we get tested every day in practice," said Jones, a senior whose partial list of college suitors includes the likes of Pitt, Colorado, Nebraska, UCONN, LaSalle and others. "We have so many good players on this team and we get after it every day in our gym. And, believe it or not, the starting five loses a lot."
FOR MORE PHOTOS OF THIS EVENT OR TO BUY A COLLECTOR'S PRINT OF THIS GAME STORY, PLEASE VISIT 4FeetGrafix.com.