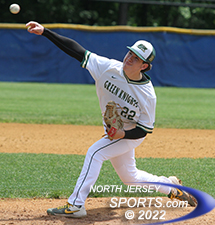 Senior Casey Knuckles threw a 3-hit shutout for St. Joseph Regional, which blanked Ramapo, 1-0, to reach the Bergen County Baseball Tournament final.
DEMAREST – It was one of the most unique games in the history of the semifinal round of the Bergen County Tournament, but rather than an epic story with a whole bunch of plot twists, it is really more fitting of a short form essay, maybe even something in the 140-character social media style.
The game lasted just one hour and 22 minutes (less than 12 minutes per full inning). There were only 135 pitches thrown, not by one player or one pitching staff, but 135 pitches total..the combined sum of both starting pitchers who each went the distance. St. Joseph Regional had four hits in the game, none for extra bases, while Ramapo got three hits, all in the same inning, all in a row and none for extra bases.
With only the slightest difference in the final lines by the two dominant starting pitchers, the outcome was decided by the slimmest of margins, an unearned run scored by Julian Rondon in the bottom of second inning that stood up for the however brief duration of fourth-seeded St. Joseph Regional's 1-0 win over No. 9 Ramapo at Northern Valley/Demarest on Sunday.
St. Joseph will face off against No. 3 Northern Valley/Old Tappan, a 6-2 winner over No. 2 Ramsey in the county final on Monday morning also at the Home Office of Bergen County Baseball, but more on that later.
Back to the first game of the double-header and that decisive second inning. Rondon reached on a one-out single, stole second, went to third on a ball that found its way to the distance backstop and scored on a perfectly executed bunt by Felix Gonzalez, SJR's junior catcher and No. 9 hitter. To sum up the rest of the Green Knights' offense in the game, they got a two-out single from Ryan Foody in the third and back-to-back singles to open the bottom of the sixth but could not push anything else across against Ramapo' starter Niko Logothetis, who threw just 63 pitches in his six-inning complete game effort.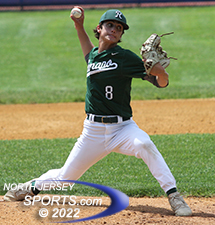 In two weekends against Don Bosco Prep and St. Joseph Regional, Ramapo's Niko Logothetis allowed 0 earned runs in 13 innings.
The rest was up to senior right-hander Casey Knuckles, who was in complete command from his first pitch on. Knuckles threw first pitch strikes to 16 of the 22 batters he faced to put Ramapo's hitters in a defensive posture all game long.
"Slider, man, slider. First pitch slider. I was snapping it off right at their head," said Knuckles, who does not have a knuckle ball in his repertoire. "The scouting report was that they couldn't hit inside pitches. I thought they were just going to take the inside pitch at first, but they were swinging away at it so I started snapping the slider at their head and let it break over the zone."
Ramapo had just one baserunner through the first three innings before mounting its lone real threat of the game in the top of the fourth when Payne Teel, JT Psirogianes and Jake Lopez all singled in succession to load the bases with no outs. Knuckles then got a strikeout and an 7-5-2 double play to end the threat in a cloud of dust at home plate.
Matt Bedrin, the courtesy runner for Teel, might have beaten the play with his head first slide behind the tag of Gonzalez, but there is no replay in high school baseball, the play stood as called and Knuckles (7 IP, 0 R, 0 ER, 3 H, 6 K, BB) retired the next nine in order to close out the complete game win.
"All year [Knuckles] has been going like three or four innings, but he was ahead of everybody today with strike one," said SJR head coach Mark Cieslak. "We reversed pitched a little bit. He was throwing strikes, which was nice and it was his game right to the end there."
Logothetis, who shutout out top-seeded Don Bosco Prep in last weekend's quarterfinal round, was the definition of a tough-luck loser in this one. He allowed just four hits, walked only one, struck out three and exited the tournament have thrown 13 consecutive innings without allowing an earned run against two non-public school powers.
"Obviously we are upset about losing, but I told the kids at the end of the game to not forget what we did. We got to the Bergen County semifinals as a public school, the first time for Ramapo since I think 2011 and that is an accomplishment in and of itself," said Ramapo co-head coach Mike Esposito. "A true test of our character is going to be our resolve. This hurts, but then we are going to have to regroup and go chase a ring in the [North 1], Group 3 [state sectional] bracket."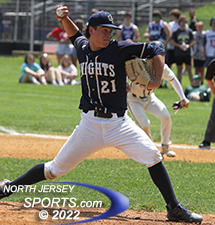 NV/OT's Alex Kranzler picked up his third win of this county tournament with 6 1/3 innings of quality work against Ramsey.
SJR will be chasing a ring on Monday morning when it squares off against Old Tappan, which again rode the right arm of junior Alex Kranzler to victory. The Golden Knights' first batter of the game, James Keating, beat out a bunt single and score on a Lou Mosca sacrifice fly three batters later that gave NVOT the early lead.
Kranzler (6 1/3 IP, 2 R, 0 ER, 4 H, 7 K, 4 BB) threw 113 pitches in another quality outing to pick up his third win of this year's tournament.
"I was just trying to make sure that I could get ahead and I am not scared to use any pitch in any count," said Kranzler, who has de-committed from the University of Missouri and has reopened his recruiting. "I have a lot of confidence out there and I go right after every batter."
Old Tappan tacked on an unearned run in an inning kept alive by a two-out single by freshman Kai Ross, who never expected to find himself playing second base in a Bergen County Tournament semifinal. With starting second baseman Max Nasjletti out with an illness and is back-up, Rocco Pierorazio injured while trying to beat out a base hit in the second inning, Ross was option No. 3. His single in the fourth kept the line moving for Alex Gioffre, who forced an errant throw on a ground ball as Elan Ofeck came around to make it 2-0.
"I was honestly very nervous. I have not really played much at second base at all this year," said Ross, primarily a pitcher, who got into the varsity dugout on days when his primary team, the freshmen, did not have conflicting schedules. "It was a good experience and I am kind of glad that no one really drilled one at me."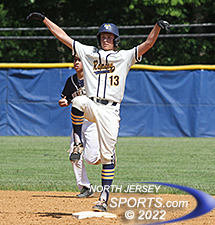 Ramsey's William Kirk after his fourth inning RBI double.
Ramsey, the No. 2 seed, got even with a pair of unearned runs in the fourth with Anthony Pallone and William Kirk picked up the RBIs before OT went back in front for good in the top of the fifth with Keating (2-for-2, 2 R, RBI, SAC) again the catalyst. Old Tappan's leadoff hitter who bunted for a hit and a single in his first two at bats, roped a triple to and scored on Faybel Ventura's sac fly to make it 3-2.
The Knights batted around and tacked on three more in the top of the sixth and Keating retired two of the three hitters he faced in relief to secure the save to Old Tappan, which is heading to the county final for the first time since 2013 and is looking for just its second county championship in program history.
"It means that we have a good team. To get to this point you have to put things together and we scrapped," said Old Tappan head coach Tim Byron, who was also the skipper when Old Tappan won its lone county championship in 2004. "We are not a power-hitting [team]. We make good contact, we keep the ball in play a little bit and it works."
FOR MORE PHOTOS FROM THIS EVENT PLEASE CLICK HERE. TO BUY A COLLECTOR'S PRINT OF THIS STORY PLEASE VISIT 4-FeetGrafix.com.