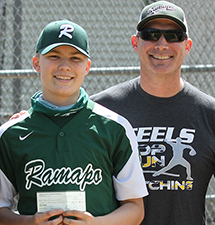 Charlie Landers and his father Mark in 2021.
FRANKLIN LAKES – The spring high school sports season was in full bloom on Monday afternoon. Behind the baseball field's first base dugout was a varsity softball game. Behind the third base dugout was a busy track & field meet and between the white lines was Ramapo's home opener, a baseball game against Paramus that Charlie Landers would have loved to have been a part of and in so many ways he was.
Every Ramapo player was outfitted for the game in a T-shirt that said Ramapo Baseball on the front and 'Landers' with his favorite No. 7 on the back. Landers was honored before the game for his work ethic, his bravery and his strength in the face of what turned out to be insurmountable odds.
Fifteen year old Charlie Landers, a sophomore at Ramapo High School, succumbed to cancer last month after a long and valiant fight.
His family -- his father Mark, his mother Lisa and his sister Annie – were on hand on Monday as the Landers rejoined their Green Raiders baseball family to celebrate the life of Charlie, whose passion, pass-time and source of strength was the game of baseball.
"Charlie never wanted to be identified as the kid with cancer. He just wanted to be one of the boys. Last year, even though he was in the midst of treatment, he was able to play with the freshman team and it meant everything to him" said Mark Landers. "At times he struggled and didn't necessarily live up to his standards, but it meant everything for him to be out there and it really got him through his treatment. Any time we would ask him what he wanted to do when he got better, it was always about just coming out and playing baseball.
"The tribute here today, the fact that everyone is wearing his number gives us comfort that he is here and he is here with us. He is going to be with these boys and he will be forever."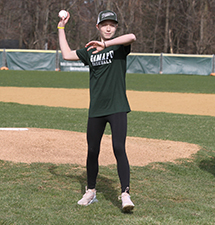 Annie Landers threw out the ceremonial first pitch on Monday, a strike.
Annie Landers threw a strike with the ceremonial first pitch and the varsity team took a picture on the mound making the No. 7 sign with their fingers, a gesture that will be ever-present this season as the Raiders honor their fallen teammate. When JT Psirogianes doubled in a run in the bottom of the second inning against Paramus his first move was to signal back to the dugout with his index fingers down and thumbs extended, a pair of '7s' in homage to Landers.
It has been a tough year for the close-knit community that is Ramapo High School sports. There are not too many places in North Jersey that put as much sweat equity into athletics from youth leagues of recreation and travel to the high school level where the Raiders compete for championships in just about every sport in every season.
In many ways, athletics are the ties that bind the community together in times of tragedy.
"It was tough. It was the first time Charlie's parents, his family was back at the field and our kids were waiting. There was a big build up to get the chance to celebrate and honor Charlie. He is a true inspiration to our kids and the lessons we learned from him we are not just going to carry on into any one game. It goes far past that," said Garrison Ward, Ramapo's co-head baseball coach and a 2003 graduate. "Unfortunately in the last few years at Ramapo we have dealt with a lot of loss. I graduated in '03, I started helping coach in 2008, I have been around the program for 14 years and a lot of the reason is because of the family environment, that sense of brotherhood that we will all come together to support each other. The way the community rallies around each other is amazing and we all want to be there for the Landers family."
Four years after the passing of Ben Landel in his senior year in 2018, the hash tag #BenStrong still floats around Ramapo's social media. There is a banner attached to the stands honoring the memory of Drew Gibbs, the head football coach who was lost suddenly in November. There is a movement now toward renaming the place that he toiled on so successfully for so many years as Drew Gibbs Field.
Mike Mancino was the assistant principal at Ramapo High School for six years before assuming the role as athletic director when Ron Anello retired at the end of December. Mancino assumed control just two months after the loss of Gibbs, an icon in New Jersey football, and two months before the loss of Landers, a good kid who just wanted to play baseball with his friends.
"I knew Charlie as a member of a class that I oversaw as an [assistant principal]. I did see him a lot, we did interact and I got to know his mom and dad very well over the course of last year. What Coach [Ward] said was right. Charlie wanted to be out here, he wanted to be in the building, he wanted to be a part of the community and every chance he had he took advantage of it," said Mancino. "The one piece, being here six years, that is quite evident is that in times of need the school community, the three FLOW (Franklin Lakes, Oakland and Wyckoff) towns rally together, they put aside whatever else might be going on and they do what is right for the kids. It is nice to be a part of that family-type atmosphere when things are going bad and right now our focus is on supporting the Landers family and making sure we do everything we can to honor and celebrate Charlie."
TO BUY A COLLECTOR'S PRINT OF THIS STORY PLEASE VISIT 4-FeetGrafix.com.