Saturday, June 4, 2016
By Jim Avitabile
NJS.com Correspondent
Waldwick won its first state sectional championship since 2011 with a 5-2 win over Wood-Ridge in the North 1, Group 1 state sectional final on Friday.
WALDWICK -- The strategy was right out of the handbook. With one out and two runners in scoring position there was an open base in the bottom of the fifth inning of Friday's North 1, Group 1 state sectional final. Down by just one run at that point, the right play for Wood-Ridge was to intentionally walk the hitter to load the bases to set up a force everywhere and hopefully turn a double play to escape further trouble.
It was a no-brainer strategy wise, but that is not always the way said 'next hitter' might see it. It was hard for Waldwick's Joey Parsons not to take it personally. He was the next hitter and he came up with the bases loaded as the batter that Wood-Ridge chose to pitch to.
"I thought it was the right play too because I don't feel I have been doing as well at the plate lately as I should have been, but it I will say that it did pump me up for sure," said Parsons. "Once they walked Spencer [McNamara] to get to me I knew it was up to me and I knew I was going to get that hit."
'That hit' was a was a two-out, two-run single in the bottom of the fifth that gave Waldwick the first multi-run lead of the game. He turned a slight 3-2 advantage into a 5-2 lead and the Warriors went on to win their second state sectional title in the last five years by that same score. Waldwick will now play Bloomfield, the North 2 champ, in the Group 1 semifinals on Tuesday in Belleville.
"This is a great group of kids. I spoke with you guys earlier this year when we were 4-3 and I told you that this group was going to get better. They worked their tails off, they come at 6 a.m. to hit, they do anything I ask them to do," said Waldwick head coach Frank Clark, whose team has now won 20 of its last 22 games. "They make my life a joy, they really do."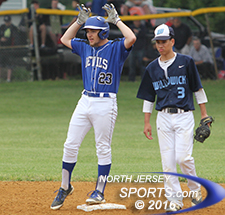 Joe Batcho standing on second after his third-inning double got Wood-Ridge even at 1.
Waldwick never trailed but it could never really pull away either, which was why Parsons hit so important. Wood-Ridge fell behind a run on two different occasions but got right back even in its next at bat both times.
Waldwick traded two outs for a run when, with the bases loaded and no outs, Wood-Ridge turned a 4-6-3 double play. Nick Pronti (6 IP, 5 R, 5 ER, 8 H, 3 K, 4 BB), Wood-Ridge's junior right-hander, induced a pop-up to get out of that inning with no further damage and his team promptly pulled back even in the top of the third spurred by Christian Leone's lead-off double. Chris Mussante bunted Leone up a base and Joe Batcho (1-fo4-4, RBI) doubled down the rightfield line to make it 1-1.
Waldwick had a real chance to blow the game open in the fourth, but again had to settle for a single run which came with one swing of the bat. John Apgar (3-for-3, HR, 3 R, 2 RBI), who had a perfect day at the plate in addition to throwing four quality innings as the Warriors starting pitcher, opened the frame with a line drive that just cleared the fence and the glove of Waldwick centerfielder Anthony Lattarocca. That made it 2-1 and walks issued to the next two hitters opened the door for a potentially big inning.
The Warriors had first and second with no outs, but once again Pronti wriggled out of trouble with a short fly ball, a pop-up and a grounder handled by first baseman Shian Tanaka limited the damage to just that single run. Ryan Moore, the starter and winning pitcher in Waldwick's semifinal triumph over Cresskill on Tuesday came on in relief and he was greeted by Leone (2-for-3, 2 R), who single back through the middle and moved again via a Mussante sac bunt.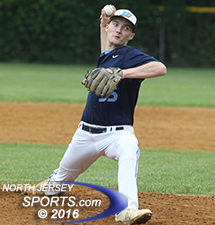 John Apgar allowed just one run in four innings to get the win and also hit a home run for Waldwick, which will play Bloomfield Tech in the Group 1 semis.
A throwing error on ground ball hit by Batcho that travelled about 70 feet left enough time for Leone to traverse the 180 feet he needed to tie the game at 2, but Waldwick turned a 3-6 double play against the next hitter to end the inning.
Waldwick rallied for the three big runs in the bottom of the fifth to go ahead for good and Moore (3 IP, 1 R, 0 ER, 3 H, 1 BB) was stingy down the stretch. He stranded two on in the sixth and worked around a lead-off error and a two-out single in the seventh to close the door on the Warriors first section title since 2011.
In the semifinals it was Apgar (4 IP, 1 R, 1 ER, 4 H, 1 K, 0 BB) who came on to save the win for Moore. This time it was the opposite as the two right-handers have given the Warriors exactly the kind of 1-2 punch that it takes to go deep in the state tournament.
"This means everything. We have worked so hard and I remember dreading waking up a 6 o'clock to go to 6:30 in the morning practices. I hate waking up early, I am sure everyone does, but it paid off and it got us to where we are now," said Apgar. "I knew this was the biggest game I was going to pitch this season and the biggest game I have pitched in my life, so I just tried to do my best to get my team the win and that is what happened."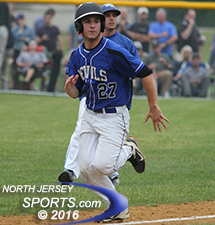 Christian Leone scored both runs for Wood-Ridge.
What also happened is that Wood-Ridge's brilliant season also ended. It has been a steady build under the direction of head coach Michael Carcich right up to the point where the Blue Devils were in a 2-2 game in the fifth inning of a state sectional final.
Sure there is disappointment with the outcome, but not in the season that included a spot in the Bergen County Tournament and a league championship, the first in a long time.
"We hit the ball hard a bunch of times but they went right at people. We had some good at bats, I think we only struck out two times, but when you hit it right at someone and they make the play there is nothing you can really do," said Carcich. "Tip your cap to Waldwick. I thought we let a run or two get away from us, but we are not going to talk about the negatives just the positives. I am really proud of these kids. They showed a lot class. They are the best team that I have ever coached so far and if it is the best team I ever coach I am good with that. It was season of many firsts for us; unfortunately this was the one thing that we could not get to go our way."
CLICK HERE FOR MORE PHOTOS FROM THIS GAME. TO BUY A COLLECTOR'S PRINT OF THIS STORY, PLEASE VISIT 4FeetGrafix.com.