Friday, June 3, 2016
By Cory K. Doviak
NJS.com Editorial Director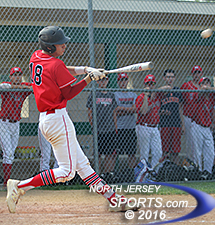 Andrew Keenan teeing off on his first-inning, three-run homer that put Northern Highlands in the lead for good in a 6-4 win over Ramapo in the North 1, Group 3 state sectional final.
FRANKLIN LAKES – The baseball season builds to this. It starts off in the raw dampness of early April with games played in front of only a few hardy fans and devoted parents. It progresses quickly as teams build up state and county tournament resumes in the matter of just few weeks and it continues to grow into the kind of spectacle that was Thursday afternoon's North 1, Group 3 state sectional final.
A championship was on the line, there was not an empty space in the parking lot at Ramapo high school, fans lined the fences down both lines and in the outfield and filled the stands, including the top row of the football stadium bleachers that offered a birds-eye view. The weather was picture perfect, the rivalry is an old one and the game delivered. It felt like a state sectional final should and stayed that way until the final out.
Northern Highlands took a four-run lead in the top of the first inning and, with junior right-hander Zach Breznin on the mound, it seemed like the outcome was just about done and dusted. Ramapo, however, closed to within one run on two different occasions, had the bases loaded with two outs in the bottom of the seventh inning and even barreled up on the final swing of the game, but when the ball landed in the glove of rightfielder Kieran Flynne, Highlands could start a celebration that was a long time coming.
With the 6-4 win, Northern Highlands, the No. 8 seed, won its first state sectional championship since 1985. The Highlanders will play the winner of Friday's game between Cranford and Somerville in the Group 3 state semifinals on Tuesday.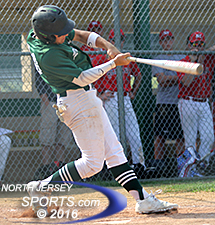 In his final high school game, Ramapo's Greg Latushko added two more extra base hits, drove in a run and scored one.
"The last one was in 1985 and my JV coach, Mike Healy, was actually the coach of that team. I went over to him before this and asked him for some of that 1985 luck and it worked. Thirty-one years is a long time, so this means a lot and one other thing…" said Northern Highlands head coach Paul Albarella, pointing to a small pair of initials embroidered into the right side of his hat, "One of our assistant coaches, Lou Dovidio from Ramsey, passed away from cancer [in March] and he has been with us in our hearts. That is who this 'LD' on the hat is for and we are doing this for him."
Highlands wasted little time in getting to work as Tyler Shetler-McAvoy led off the top of the first inning with a single, promptly stole second and scored easily on a triple into the right-centerfield gap by Matt DiPasupil. Highlands had a lead just three batters in and then cooked up another rally. Evan Knutzen reached on a fielder's choice, Dreznin singled and then Andrew Keenan unloaded a three-run home straight down the left field line to give NH a 4-0 lead in the opening inning.
Keenan's blast was big and so was the bat flip that settled into the netting just to the first base side behind home plate.
"I didn't mean to do it that bad. I was just excited. It was a big game and I have been watching too many MLB highlights on the internet. I didn't mean any disrespect to Ramapo. They are a great team, we have a good rivalry and I was just really excited to get one over the fence," said Keenan. "They knocked us out of the states last year and we really wanted this one."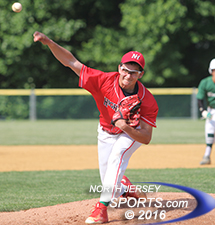 Junior Zach Dreznin went the distance on a six-hitter and also went 2-for-2 at the plate for Northern Highlands.
On most days with a four-run lead and with Dreznin on the mound, they would already have had it, but Ramapo started chipping away in the bottom of the second with Matt Valente and Alex Pazos (1-for-4, RBI) supplying inning opening singles and AJ Ferrara adding a walk to load the bases with no outs. Dreznin recovered to strike out two of the next three batters and Ramapo had to settle for an RBI walk drawn by Jared Marzocco that made it a 4-1 game.
Ramapo got right back after it in the bottom of the third when freshman KC Hunt pulled a triple just inside the first base bag and down the line and score on a grounds-rule double by Greg Latushko, probably the hottest hitter in the state playoffs coming in. Valente then hit a ground ball to second base to move Latushko up a base and Pazos did the same to score him to make it 4-3.
The Raiders were unable to make the one-run deficit stick, however, as three straight walks loaded the bases for Highlands with no outs in the fourth. Valente was moved from first base to the mound and found a way to keep his team in the game. With all of the traffic on the basepaths and with no margin for error, he traded an out for a run on a groundball hit by Alex Wiener and then gave up nothing else as Highlands could only extend its lead by one to 5-3.
Starting with the two runner-advancing grounders to second base that scored the Ramapo run in the third, the Green Raiders actually had five straight batters all hit ball to the right side and DiPasupil was up to all of them, going a perfect 5-for-5 and recording five straight assists. When Steve Moran finally broke that string with a chopper over third base and into left field, he set up the Green Raiders for another run. Moran stole second and scored from there on the lone error committed by either team in the game to make it 5-4 heading to the fifth.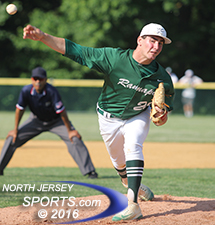 Ramapo senior Matt Valente threw four quality innings in relief.
Highlands stole a run, the only one it could scrape against Valente (4 IP, 1 R, 1 ER, 3 H, 2 K, 2 BB), for some insurance in the sixth. Kieran Flynne doubled into the gap leading off and moved to third on a one-out groundball by pinch hitter Greg Lomuti. That brought up Shetler-McAvoy (1-for-2, R, SB, 2 BB), who Ramapo was rightfully weary of pitching to. He had the first inning single and was robbed of extra bases on a running back-handed grab by Latushko just in front of the fence in the left centerfield gap in the second. He was intentionally walked in the fourth and then again in the sixth. Not one to sit still, Shetler-McAvoy took off with the hopes of forcing a run down that would last long enough to allow Flynne (1-for-2, R, SB) to score from third.
It worked.
"Coach told me to watch for the here-and-there and I just wanted to make something happen. As soon as I saw [Valente's] leg go up I moved and as soon as I saw he was stepping off the mound I stopped in my tracks," said Shetler-McAvoy, Highlands' senior centerfielder. "I signaled to Kieran to break for the plate and I broke for second hoping they would make the throw. They did and that was a big run."
That gave Highlands the two-run cushion it took into the bottom of the seventh, which looked like it might be uneventful after Dreznin (7 IP, 4 R, 3 ER, 6 H, 4 K, 4 BB) got the first two outs. But then Hunt (1-for-3, 3B, R) drew a walk, Latushko (2-for-4, RBI, R, 2 2B) came up with his second extra base hit of the game and Valente (1-for-3, R) drew a walk on a 3-2 pitch to load the bases.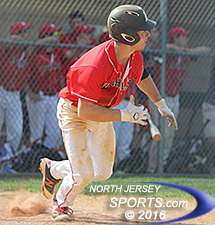 Highlands' Tyler Shetler-McAvoy had a hit, a stolen base and a run scored, put another ball to the wall and then was intentionally walked in his final two at bats.
With the Highlands outfield playing no-doubles, a base hit would likely have tied the game, while any kind of out would end it. It was the latter as Flynne took a couple of steps back to grab a well-hit flyball to right and there was nothing left but the celebration on the mound.
Dreznin, the junior who transferred back from Bergen Catholic, did it for just this reason.
"Northern Highlands is not really known for its baseball, but this was the year where we thought we could come out and do some damage. Our pitching staff is loaded, we have a great line up and for the school this is huge. It puts us back on the map," said Dreznin, who has already committed to play at Notre Dame. "It definitely means something more because it is my hometown team. I loved Bergen Catholic and all, but there definitely is a difference here. I love it. I love all of these kids here. They have all become my brothers and this is unbelievable."
It was a tough way to go out for Ramapo, which had a roster full of 14 seniors, including six of the nine in Thursday's starting lineup.
"Every year you say the same thing…you are going to miss the seniors and you mean it, but this is a special group of seniors. The last three years we have not played up to expectations and before this season I challenged this group of seniors, there are 14 of them, and they rose to the challenge," said Ramapo head coach Mickey Hunt. "I can't be happier for the year, but I am not happy for today. I wish we could have gone further. These guys needed a championship, they deserved a championship, but looking back it was a great season and they have laid the groundwork for the next three years. We have a pretty good group coming up, so hopefully those guys do something special and keep this group in their mind."
It its Highlands that has the championship, however, and it has no intention of stopping here.
"We have a lot of good sports programs at Highlands and it was tough walking into the gym and seeing that we only had one championship in baseball. When we came in four years ago we knew that this was what we wanted," said Keenan, Highlands' senior first baseman. "We are happy that we get to put 2016 up on that banner, but we are not done yet. We'll celebrate this for a day or two and then we will go out and try to win the Group [3 state title]."
CLICK HERE FOR MORE PHOTOS FROM THIS GAME. TO BUY A COLLECTOR'S PRINT OF THIS STORY, PLEASE VISIT 4FeetGrafix.com.