Wednesday, June 1, 2016
By Cory K. Doviak
NJS.com Editorial Director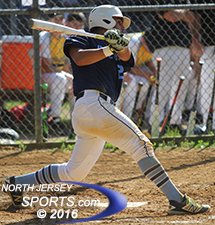 Sergio Diaz smoked a double during Waldwick's seven-run outburst in the bottom of the fourth inning that made the difference in an 8-1 win over Cresskill in the North 1, Group 1 state sectional semifinals on Tuesday.
WALDWICK – In innings one through three, Waldwick was held to just one hit and scored only by trading two outs to get the runner home from third. In innings five and six, the Warriors went three up, three down both times. But that leaves one inning unaccounted four and it is the one that decided Tuesday's North 1, Group 1 state sectional semifinal against Cresskill.
Waldwick racked up seven hits, scored seven times and sent 11 hitters to the plate in the bottom of the fourth to break open what was shaping up as a pitcher's duel. Instead, Waldwick the No. 3 seed, cruised through the latter innings on the way to an 8-1 win and the sectional final. The Warriors are looking for their first state sectional title since 2011 and will host the championship game for the first time in program history. Wood-Ridge, the No. 4 seed, will be the visiting team on the scoreboard in Waldwick on Friday.
"It's going to be a great day. The kids are pumped. It's going to be the first sectional final game ever played here in Waldwick," said the Warriors' head coach Frank Clark. "The kids are very excited about. We all are."
There is a real homefield advantage at Waldwick and not always for the obvious reasons, the short porch in rightfield and the shallow gap in right center. Yes more balls go over the fence, but those that don't change the angles of baseball. Brandon Williams, Cresskill's first hitter of the game, hit a line drive screamer that would have split the outfielders and been a sure extra base hit. Instead, it hit the fence just below the yellow piping, was retrieved quickly by centerfielder Nick D'Annibale and thrown in fast enough to hold Williams to a single. The next Cresskill hitter, Marty Lucibello, directed a base hit down the right field line that he thought was a sure double, but because of the dimensions, Williams was held at second and Lucibello was tagged out between the first two bases after a brief rundown.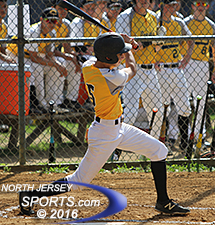 Marty Lucibello had three hits for Cresskill, which had pulled two straight road upsets to reach the semifinals.
Instead of two extra base hits and a run in the opening inning, Cresskill, a team that came in brimming with confidence off of two consecutive playoff upsets, had a runner thrown out on the base paths and two consecutive strikeouts end the top of the first inning with no damage done. Waldwick starter Ryan Moore stranded another runner in scoring position in the second with a strikeout and then got a lead to work with in the bottom of the inning.
Sergio Diaz's (1-for-2, 2 R) leadoff walk and a Spencer McNamara (2-for-3, RBI) single put runners on the corners with no outs. Cresskill then turned a 6-6-3 double play with shortstop Trevor Romeo making the tag and the throw, but Diaz raced home to make it 1-0. Both defenses were airtight through the first three innings as Cresskill turned two double plays and got a diving catch by rightfielder Noah Kim and Waldwick threw out two runners on the bases. But in the bottom of the fourth, Waldwick put the ball in play and Cresskill was not as efficient.
An infielder held on to a ball too long, which allowed John Apgar to reach on a leadoff single. Diaz followed with a sizzling double and McNamara went up the middle for an RBI single that made it 2-0. Joey Parsons (1-for-3, RBI, R) then got everything he could have asked for from his at bat when he got down a safety squeeze but that got the run home and turned into a base hit. Moore's bunt also turned into a single when no Cougar covered first base. With one out and the bases loaded, Steve Contreras (1-for-3, RBI) drove in a run with a single and then Anthony Ayala's routine flyball was dropped. Two more runs scored to make it 6-0 and Dave Mann finished off the rally with a two-run double to make it 8-0.
From there, it was pretty much all over.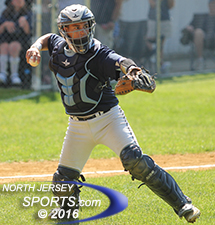 Waldwick catcvher Dave Mann had a hit, 2 RBI and picked a runner off of first.
"When you get to this time of the year you can't make one mistake, let alone three or four. A good team like Waldwick is going to take advantage of that every time," said Cresskill head coach Donnie Merritts. "Even in the first inning we had a baserunning blunder and you can't do that. I think if we run the bases a little better early, maybe this is a different baseball game."
A comeback from any deficit was going to be tough with the way Moore, the senior right-hander, was throwing the ball. He worked five scoreless innings and did not walk a batter. He gave up six hits and struck out eight before turning things over to Apgar, who threw the final two innings.
"We play in a park that doesn't give you a lot of easy hops and where it is not easy to keep the ball on this side of the fence. You have to keep the ball low, that is key, and I threw more off-speed stuff today than I usually do," said Moore. "David Mann is my catcher. He keeps me sane, he's coming to college with me next year (at Stockton). I can get hot-headed out there, so he keeps me calm. Every ball I throw in the dirt he blocks and he keeps guys honest at first base. He picks guys off and he gets outs for me."
Cresskill, the No. 12 seed, which took a long road trip in the opening round and beat Belvidere with a late-inning rally and then knocked off No. 2 Verona on the road in the quarterfinals, got its lone run in the sixth. The Cougars loaded the bases with a Lucibello (3-for-3, R) single, a Romeo (1-for-3) double and a walk drawn by East Assogna (1-for-2) ahead of a sacrifice fly lifted to leftfield by Jason Naccarella (1-for-2, RBI). Williams and Ryan King had the other two hits for the Cougars, who closed their season and their surprising state tournament run with a 19-8 record.
And this just may be the beginning for Cresskill, resurgent under Merritts and losing just three seniors to graduation.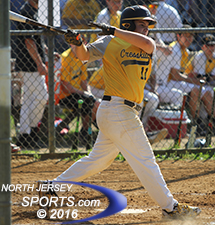 Jason Naccarella drove in the run for Cresskill, which finished the season with a 19-8 record.
"I looked in the gym today when we were taking batting practice and the last time they won a sectional championship was 1995. This might be as far as the program has been in the state tournament since then. These kids should be proud of themselves, it's a heckuva an accomplishment. I don't think anyone in the county or anywhere thought we would be 19-8," said Merritts. "It's not fun to lose especially blowing up like that in one inning, but I love every one of these kids and this was a great season. I am proud of everything we have done. We made the county tournament, which we hadn't done in eight or nine years. This is a positive, that is what we are taking out of this season. We have three seniors (Romeo, Assogna and Ryan Glynn) and we will miss them, but we should be back here and even further next year."
Waldwick is going further as it ran its record to 23-5 heading into Friday's showdown for a state sectional title against Wood-Ridge.
"This is the first time ever going to the final for me. I saw it in 2011 when the team won a section and it is something I have always wanted to be a part of," said Diaz, the Warriors' senior third baseman. "We've made it one step further every year I have been here. Last year we made it to the semifinals and lost, so this is a great feeling and to be doing it with these guys…I am a captain and I am so proud of everyone."
CLICK HERE FOR MORE PHOTOS FROM THIS GAME. TO BUY A COLLECTOR'S PRINT OF THIS STORY, PLEASE VISIT 4FeetGrafix.com.