Sunday, May 29, 2016
By Cory K. Doviak
NJS.com Editorial Director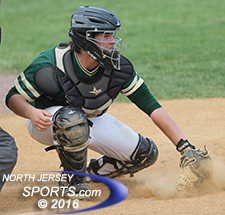 Junior Collin Musto threw out two would-be basestealer, made a diving catch of a bunt and drive in a run on a suicide squeeze to help top-seeded St. Joseph Regional reach the Bergen County final with a 10-7 win over River Dell.
DEMAREST – In the current climate of high school sports in North Jersey, River Dell was an interloper in the Bergen County Baseball Tournament semifinals. The lone public school remaining and the only school in the Final 4 that does not play in the Big North Conference United Division, the Golden Hawks, who entered the tournament as the No. 12 seed and had to win a play-in game just to make it into the main draw, might have been expected to take a whooping before exiting out the side door in their matchup against top-seeded St. Joseph Regional on Saturday.
And then River Dell had four hits and scored three times in the top of the first inning.
"We didn't just want to be the token public school in with the big boys and not show that we could play," said River Dell head coach Brandon Flanagan. "We have 18 guys from two little towns in Bergen County and I think we showed we could play with some pretty good teams."
But before thoughts of an upset could really take hold, St. Joseph struck back with four runs in the bottom of the first facilitated by two River Dell errors. What could have been a disaster for the top-seeded favorite instead morphed into the turned point in SJR's 10-7 victory that puts it into Sunday's Bergen County final against No. 3 Bergen Catholic, which eliminated two-time defending champion Don Bosco Prep in the other semifinal. Game time for the county championship is 2:00 p.m. at Northern Valley/Demarest High School.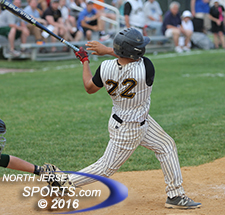 River Dell catcher Steve Yellin went a perfect 3-for-3 and drove in two runs.
"It was big for us to come back right away because they certainly got the jump on us," said Mark Cieslak, who is taking his team to the county final in his first season as St. Joseph Regional's head coach. "I definitely did not want to fall behind like that, but I feel like we are going to be okay against lefties. I know [Brian] Rosen is a great pitcher and he has been great in this tournament, but we hit lefties pretty good and I was confident that we would be able to put the ball in play."
Rosen, River Dell's senior starter, has indeed been great in this year's tournament. He gave up just one run in nine innings pitched in a round of 16 upset against No. 5 Ridgewood and did not allow any earned runs in six innings against Paramus Catholic in last weekend's quarterfinal round. Rosen caught the first batter he faced on Saturday to look at a called strike three, but the Knights starting putting the ball in play right after that and the Hawks' defense gave way.
Back-to-back errors set SJR up for a big first inning and it was not about to waste the opportunity. Devin Ortiz (0-for-3, BB, 3 R) took two bases on the first errant throw, went to third on a wild pitch and scored when Justyn Henry Malloy's ground ball was not handled. Matthew Cocciadiferro (2-for-3, 2 RBI, R) drew a walk that was followed by consecutive RBI singles by Matt Alaimo (1-for-3, 2 R, RBI, SB) and John Mesagno (2-for-4, 2 RBI, R). That brought up Collin Musto, a junior who shares time behind the plate, and he made the first of his many contributions to the victory. He got down the perfect squeeze bunt to plate Alaimo to give the Knights the lead for good at 4-3 just one inning in and they made it 5-3 in the second on Cocciadiferro's two-out single that scored Austin Bodrato, who had singled and stole second.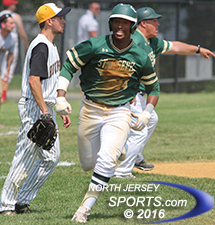 SJR's Justyn Henry-Malloy scored two runs and drive in two others.
"Falling behind just motivated us. We have had some first innings like that before and we were always able to get those runs back," said Cocciadiferro, SJR's senior rightfielder. "We have confidence in each other and we mesh well as a lineup, so we are never out of a game."
In a game with a total of 10 errors, five by each team, Musto stood out. He threw out two runners trying to steal and made a diving catch on a bunt attempt to personally account for an inning's worth of outs when none came easily. Musto cut down the first would-be base stealer in the top of the third and the Knights extended their lead in the bottom of the inning.
Ortiz drew a walk leading off and scored when Henry-Malloy smacked a down just inside the third base bag and down the line. Mesagno and pinch hitter Connor Kolich added RBI singles to extend the Knights' lead to 9-3.
"Collin Musto, Collin Musto, Collin Musto…he did a great job for us. Threw out two kids trying to steal, dove for a bunt and got down a perfect squeeze. He had a great game today," said Cieslak. We used everybody today. We put a pinch runner [Ricardo Bustamante] in and he scored from first, we put a pinch hitter [Kolich] in and he got a base hit RBI, Nick Cantone hasn't pitched in a while and he came in and slammed the door. Everybody did a little piece today."
Cantone's transition from centerfield to the pitcher's mound became necessary in the top of the fifth when River Dell was again able to string some hits together. St. Joseph starter Joe Neglia (4 1/3 IP, 7 R, 3 ER, 8 H, 5 K, BB) had faced the minimum nine batters in the second through fourth innings, but an error on a ground ball hit by Nick Covo (1-for-3, R) leading off the fifth opened the door to a rally.
Mike Fasano scored twice and drove in a run for River Dell, which finished the season with a 21-9 record.
Rosen (1-for-4, R) singled, Mike Fasano (0-for-2, 2 R, RBI) reached on an error that plated a run and Steven Yellin (3-for-3, 2 RBI, BB), the Hawks' junior catcher who reached base in all four of his plate appearances, whacked a double to left that scored Fasano. Joe Alvarez, Yellin's courtesy runner, scored on a double by Julian Smith (1-for-4, RBI), the last batter that Neglia faced.
River Dell had crept to within 9-7 with still two runners on and one out, but Cantone got the second hitter he faced to bounce into an inning-ending 5-4-3 double play and he worked two more scoreless frames after that to notch the save.
It didn't come easy, however. The Knights picked up an unearned run in the bottom of the sixth to extend their lead to 10-7, but River Dell, down to its final turn at bat of the season after having been eliminated from the state playoffs on Thursday, still had plenty of life. An error and a Yellin single brought the tying run to the plate with no outs. Cantone struck out the next batter and induced a weak ground ball before issuing his only walk to load the bases with two outs. The Hawks were one gapper away from tying the game, but Cantone blew a fastball by the final hitter of the game.
"I knew if I got in [to pitch] today that I would come in to a tough spot. My coach told me there might be an opportunity for me to pitch today following Joey [Neglia], because that is the way we usually do it," said Cantone. "My fastball is my best pitch, my go-to when I need a strike or a strike out, but I have confidence in my curveball or my change-up when needed and I felt good today."
Cantone certainly looked good as he sent St. Joseph Regional (22-3) into Sunday afternoon's county final.
"I would just like to come to Demarest one time and play a clean game. Maybe it will happen tomorrow and we are going to need to play a good game because we will be up against a good opponent," said Cieslak, whose team swept the regular season series against BC. "Bergen is a good team with a good lineup right down the line one through nine and they are going to be pumped up after beating Bosco today. We'll be ready though. If our guys can't get up for this game then they just can't get up."
CLICK HERE FOR MORE PHOTOS FROM THIS GAME. TO BUY A COLLECTOR'S PRINT OF THIS STORY, PLEASE VISIT 4FeetGrafix.com.