Sunday, May 29, 2016
By Cory K. Doviak
NJS.com Editorial Director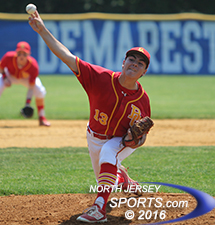 Andrew DeRubertis through 5 2/3 innings without allowing an earned run for Bergen Catholic, which is heading to the Bergen County final for the second straight year after a 4-2 win over two-time defending champion Don Bosco.
DEMAREST – The Bergen Catholic/Don Bosco Prep rivalry is hotly contested in every sport and the stakes only go up the longer a season goes. The two baseball teams split the regular season series at a game apiece and when they parted ways the last time it was understood that nothing had yet been decided.
"They have a great team over there, we have a good bunch of guys and you know every time we see each other we are going to be playing for something big," said Bergen Catholic head coach Bob Muggeo "We beat them the first time, they beat us the second time, but [Don Bosco head coach] Mike [Rooney] and I had a conversation and he said that the third and fourth times mean more than the first and second."
Round three came on Saturday in the first of the two Bergen County Tournament semifinal games played on Saturday at Northern Valley/Demarest High School and there was a lot on the line. Bosco was the two-time defending county champion, Bergen Catholic was the runner-up last season but there would be room for only one of them in Sunday's championship game.
Behind five-and-a-third quality innings from starting pitcher Andrew DeRubertis, who did not allow an earned run, a clutch hit by John VanDeMark and some other good situation hitting, it is Bergen Catholic that earned the spot with a 4-2 win. If there is a Round 4 it will be in the Non-Public North A final as Bergen and Bosco are on opposite sides of that loaded bracket, but for now BC has more pressing matters.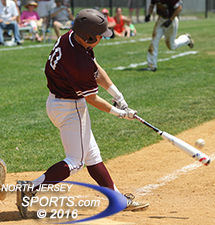 Zach Miraz connecting on the two-run single that got Bosco to within 3-2 in the bottom of the third inning.
Before last season the Crusaders had not been to a county final since 1999. Now they are going for the second year in a row and will play St. Joseph Regional, a 10-7 winner over River Dell, for all the marbles.
Bergen Catholic led the whole way as the first batter of the game came around to score. Connor LaSpina drew a leadoff walk, went to third on a double sprayed to right field by David Lamanna and scored on Sonny Ulliana's sacrifice fly. Of the six runs scored in the game, that was one of the two that were classified as earned as miscues hurt both teams in the third inning.
The Crusaders were the first beneficiary. Lamanna hit a one-out single and went to third when Ulliana's groundball was thrown away. VanDeMark followed with a two-run single through the right side of the drawn in infield to make it 3-0.
DeRubertis had little trouble through the first couple of innings and the Crusaders turned a 6-4-3 double play to end the second, but the defense was not quite as tight in the bottom of the third. Justin Cavegn beat out and infield single to open the frame and Tommy Courtney was gifted a base when his ground ball was not fielded. Adam Frank then singled to load the bases before Zach Miraz got the Ironmen right back in the game with a two-run single.
The extra out not only cost DeRubertis two unearned runs, but also a bunch of extra pitches. He needed 30 to get through the first two innings but needed 42 to get through the third alone. He didn't let it faze him, however, as he worked around a two-out error in the fourth and got another 6-4-3 double play to end the fifth.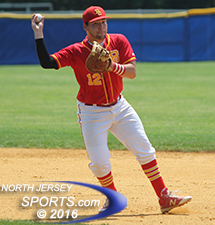 John VanDeMark had three hits and two RBI for BC, which will play St. Joseph for the county title.
"The mindset was to keep the ball down. This is a smaller field, so no matter what pitch I was throwing, fastball or off-speed, I was trying to keep the ball down and get some ground balls," said DeRubertis (5 1/3 IP, 2 R, 0 ER, 6 H, 4 K, 2 BB), a junior right-hander. "It worked when we got those double plays to get out of innings."
Don Bosco Prep starter Vitaly Jangols (5 2/3 IP, 4 R, 2 ER, 6 H, 4 K, 1 BB) settled in nicely as well. He stranded two runners in the third and the last two outs of that frame set off a string of seven in a row that only ended with VanDeMark's (3-for-4, 2 RBI) two-out single in the fifth. But in the sixth, two straight errors to start the inning put BC in business again and Vin Martin cashed the chance with a sac fly that made it 4-2.
DeRubertis handed the ball to Bryan Hallenbeck with one on and one out in the sixth and Hallenbeck (1 2/3 IP, 0 R, 0 ER, 1 K, 0 BB), another junior right-hander, retired all five hitters he faced to close out the win.
Lamanna (2-for-4) and VanDeMark were the only two BC hitters with multiple hits, while Frank (2-for-4) had two hits and Kyle Ebert (1-for-1, 2 BB) reached safely in all three of his plate appearances for Bosco/ But it is BC that is heading to the county final for the fourth time in program history are now just one win away from the program's second county championship.
"We were young last year, but now we are back in the county final with pretty much the same group of guys. It is nice to be back again because that is what we wanted since this time last year," said Ulliana, BC's senior catcher. "We are counting on the experience of what happened last year helps us tomorrow and we go finish it off this time."
CLICK HERE FOR MORE PHOTOS FROM THIS GAME. TO BUY A COLLECTOR'S PRINT OF THIS STORY, PLEASE VISIT 4FeetGrafix.com.