Friday, May 27, 2016
By Cory K. Doviak
NJS.com Editorial Director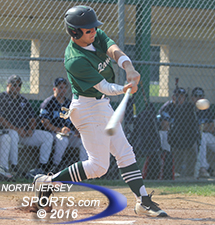 Greg Latushko hit his seven home run of the season for the second time in two days and this time it counted as Ramapo advanced to the North 1, Group 3 state sectional semifinals with a 6-2 win over Wayne Valley on Thursday afternoon.
FRANKLIN LAKES – Playing in a late season independent game on Wednesday to stay sharp in the midst of a state playoff run, Ramapo senior Greg Latushko should have had his seventh home run of the season. By all accounts, he hit one out over the left field fence or at least where the left field fence was supposed to be. But when Don Bosco Prep's outfielder got to said fence, he ran through it and all three objects – the player, the ball and the wall – toppled over in a heap. The umpires ruled it to be a grounds-rule double and Latushko's impressive stat sheet took an undeserved minus 1.
"The leftfielder was going back and he ran into the fence. The fence fell over, then he fell over and the ball landed next to him on the other side," said Latushko. "I don't know how [the umps] saw it, but they called it a double so it was a double."
It didn't take Latushko to get that one back as, on Thursday in the sixth inning of the North 1, Group 3 state sectional quarterfinals, Latushko put one far enough over the centerfield wall that that even the best of gatecrashers would have been left helpless. That homer, a two-run shot and officially the seventh of Latushko's season, put the finishing touches on the Green Raiders' 6-2 victory that puts them into Tuesday's sectional semifinal against Montville. As the No. 2 seed, Ramapo will be the host.
"It's nice to be able to play after Memorial Day for once. It has been a long time. We have some good teams left, but we are playing and that is a good thing," said Ramapo head coach Mickey Hunt. "We have been playing some good ball the last week or two, so we'll just try to keep it going."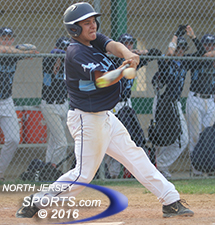 Kevin Woll was a perfect 4-for-4 at the plate for Wayne Valley.
The first inning was the difference on Thursday as Ramapo starter AJ Ferrara worked around a one-out single to throw up a scoreless frame and then had a hand in giving himself a lead to work with in the bottom of the inning. Frankie Aiello drew a leadoff walk, freshman shortstop KC Hunt followed by pulling a single into right field to send Aiello to third and Latushko then hit a flyball to left that was plenty deep enough to score the game's first run. A Matt Valente single was followed two batters later by Ferrara's two-out, two-run double that he also pulled into right field for a 3-0 Ramapo advantage.
From there, Ferrara managed the lead by limiting potential damage. He gave up a hit to Tyler Walther leading off the top of the second and walked the next batter, but then struck out the next two and got a groundball to escape trouble. Wayne Valley got its first run in the top of the third, but again it could have been more. Alex Kokos singled leading off and Woll singled before being erased on a fielder's choice that left runners on the corners with one out. Jake Blumenstyk got Indians on the board with a single, but, with two-one and one out, Jared Marzocco grabbed a pop-up in the skinny space between the third base line and the boundary fence and Ferrara got a strike out to get off the hill with his team ahead 3-1.
That was the theme as Ferrara (6 IP, 1 R, 1 ER, 9 H, 6 K, BB) gave up nine hits and two walks, but he battled through by stranding 10 runners on base in his six innings of work.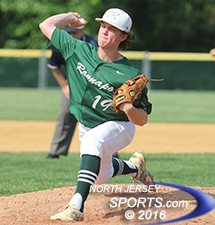 Ramapo junior AJ Ferrara gave up just one run in six innings to pick up his fifth win of the season without a loss.
"It's fun coming out here hyped up and hoping to throw a good game. I didn't have my best stuff, my curveball was pretty non-existent, but I figured out a way to work around it. I took advantage of the hitters' aggressiveness with my change-up and it worked," said Ferrara, a junior right-hander who improved to 5-0 on the season. "[Pitching coach Joe Spafford] came out a couple of times and told me just to relax and have confidence in my pitches, have faith in my mechanics and go from there. That is all I tried to do."
Ramapo's offense was opportunistic. Its three first inning runs came on a sac fly and a two-out base hit and it manufactured another one in the third. KC Hunt, the throws-right, bats-left freshman shortstop who has been moved up to the No. 2 spot in the order, singled to lead off the third inning, went to second on a wild pickoff throw and to third on a wild pitch. He was there when Wayne Valley centerfielder Connor Olaya made the defensive play of the game. Olaya turned his back to home plate on a deep fly ball to centerfield hit by Alex Pazos and then laid out fully to haul the ball in. The home plate, it looked like Olaya might dive headfirst into the wall, but he landed a couple of feet short and Pazos had to settle for a sacrifice fly and a run batted in.
Hunt, who came around to score on all three of his plate appearances, also walked leading off the fifth in front of Latushko, who then deposited his no-doubter over the centerfield wall to make it 6-1. Wayne Valley loaded the bases in its final turn at bat and Olaya hit a one-out sacrifice fly for the Indians second run, but Kiran Incantalupo, who came on to work the seventh, got the final out on a groundball to send Ramapo into the semifinals.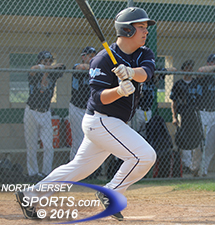 Jake Blumenstyk had three hits and drove in a run for Wayne Valley, which finished the season with 16-11 record.
Wayne Valley made a good run of it at the end of the season. The Indians lost a host of talented seniors from last year's team that won the Passaic County Tournament and got better as the year went along. They blanked Garfield, 10-0, in their state tournament opener and had their chances against Ramapo.
"The last couple of weeks we have been playing pretty well and today we hit the ball well, just not enough with runners in scoring position. We had 12 hits, I think they only had six hits, but they did what they had to do," said Wayne Valley head coach Jeff Hoover. "We went 10-5 over our last 15 games and we had a nice run to close out the year. We went 16-11 against a tough schedule and in a tough section and we battled right to the end."
Kokos, a three-year starter at shortstop and a stand out in three sports (soccer and hoops), went 1-for-4 with a run scored and finished his career with 112 hits. Woll, who threw the first four innings on the mound, also did it at the plate with a perfect 4-for-4 day and Blumenstyk was 3-for-4 with an RBI and a fifth inning double that should have knocked in a run, but bounced over the fence for a grounds-rule double that forced Woll to hold up at third.
Ramapo improved to 18-10 on the season heading into the semifinals against sixth-seeded Montville, a 3-2 winner over Indian Hills. KC Hunt (2-for-2, 3 R) had the only mutli-hit game for the Raiders, but they made the other ones count. Latushko, who will play football at Coastal Carolina next year, was 1-for-2 with the homer and he drove in three and Ferrara's lone hit knocked in two. Matt Valente (1-for-2, R) and Evan Mooney had the other two hits for Ramapo, which is hoping to keep the season going for as long as possible.
"Going into this game all of us seniors were saying how we didn't want this to be our last game. We didn't want it to end here on our home field and now that we got this 'W' we hope there is a lot more baseball ahead of us," said Latushko, one of a close group of 14 seniors on this year's roster. "When we saw the bracket first come out we said that we thought it was open for anyone. There is no real powerhouse, but there are a lot of good teams. We have shown that we can beat anyone, but we have also had some bad times and lost some games we probably shouldn't have. We are playing well now at the end of May and we hope we can carry it over into June."
CLICK HERE FOR MORE PHOTOS FROM THIS GAME. TO BUY A COLLECTOR'S PRINT OF THIS STORY, PLEASE VISIT 4FeetGrafix.com.