Sunday, May 22, 2016
By Cory K. Doviak
NJS.com Editorial Director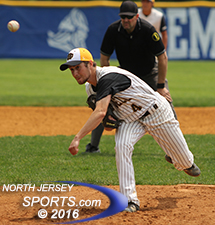 Brian Rosen did not allow an earned run in six quality innings as No. 12 River Dell reached the Bergen County semifinals with a 6-2 win over Paramus Catholic on Saturday in Demarest.
DEMAREST – Brian Rosen did not get to pitch all that much last season because he was stuck behind two workhorses that ate up most of the innings, especially in the postseason as the Golden Hawks got as far as the Bergen County Tournament quarterfinals and the state sectional final. Rosen spent most of his time as a valued member of the outfield because of his ability to track balls and his strong throwing arm.
River Dell head coach Brandon Flanagan promised Rosen he would get more innings this season and he became more important to this year's staff when Tommy Daugherty had Tommy John surgery in July.
"I told him at the end of last year that he was going to be in our top three and to use the offseason to work on his pitching," said Flanagan. "He has certainly come along."
"He has certainly come along," is now in the running for biggest understatement of the year Rosen has blossomed into a certifiable ace. Last week he gave up just one run in nine innings of brilliant baseball as River Dell upset No. 5 Ridgewood in the Bergen County Tournament's Round of 16 and, in the quarterfinals on Saturday at Northern Valley/Demarest, he was at it again. Rosen through six quality innings without giving up an earned run to lead the 12th-seeded Golden Hawks to a 6-2 victory over Paramus Catholic and into the county semifinals for the first time since 2013.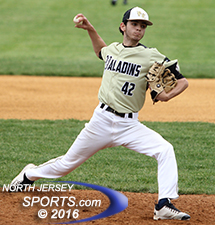 Paramus Catholic junior Jeremy Torres did not allow an earned run in his six innings of work.
In 15 innings over the last two Saturdays against quality competition on the big stage, Rosen has given up one earned run and nine hits while striking out 14 and walking six.
"It feels great because I wanted to come through for my team out here. We all work so hard throughout the year to be able to play in these types of games and you just want to put it all out on the line in these situations," said Rosen, a senior left-hander who will join the student body at the University of Michigan next year. "To be honest, I couldn't command [my curveball] as much as I did last week, so I kind of had to adjust a little bit. I tried to keep them off balance, hit my spots, try to make sure that they just couldn't sit back on a specific pitch and then just let my teammates do the work for me."
Rosen worked around a two-out walk in the top of the first inning and then was handed a lead to work with in the bottom of the inning. Garrett deMarrais reached on a one-out, two-base error, went to third on Mike Fasano's groundout and then scored on a wild pitch. It was one of the few mistakes that Paramus Catholic starter Jeremy Torres (6 IP, 6 R, 0 ER, 7 H, 4 K, 2 BB) made in the game as he did not allow an earned run either, but he was in an early hole that the Paladins could never really dig out of.
In fact, for a while it looked like the game might end with the 1-0 score as the first four-and-a-half innings flew by. Rosen gave up a leadoff single to Justin Ayala in the second but then retired the next three hitters. Eric Fernandez drew a two-out walk in the top of the third and Matt Goehrig followed with a single to left, but the inning ended right there as River Dell leftfielder Steve Sargenti cut down the runner trying to go first to third. Rosen induced a lazy fly ball to centerfield with two one for the last out of the fourth and got a pop-up and a weak ground ball for the final two outs with two on in the fifth.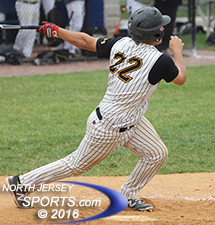 Steve Yellin ripped a bases loaded single to drive in the first run in River Dell's five-run fifth inning.
River Dell had just as tough a time mounting a rally against Torres, the junior right-hander that pitched 20th-seeded Paramus Catholic to its upset of No. 4 Mahwah in the Round of 16. The Paladins got an outfield assist of their own when Fernandez, the leftfielder, cut down a runner trying to score from second to end the second and shortstop Jason Ortiz turned a line drive up the middle into an inning ending double play when he threw behind the runner who was moving on the pitch to end the third.
River Dell was finally able to box Torres into a corner in the fifth when Conor McGorry was hit by a pitch leading off. Torres struck out the next two hitters, but deMarrais (1-for-2, 2 R) drew a walk and an error on a routine ground ball kept the inning alive for Steve Yellin, the junior catcher. With nowhere to put him, Torres was forced to go after the Hawks' clean-up hitter and Yellin (2-for-2, RBI) delivered a shot up the middle that made it 2-0.
"I just wanted to hit a strike. I always have a problem swing at balls, I am too aggressive sometimes, but with the bases loaded I knew I had to look for a pitch I could hit and not expand the zone," said Yellin. "It was a little low, but I went down and golfed it a little bit. I was just trying to do anything I could to get that run home."
Julian Smith (1-for-2, RBI, R) followed with a run-scoring single and then Rosen (2-for-3, 2 RBI) capped the rally with a rip back up the middle to score two and make it 6-0.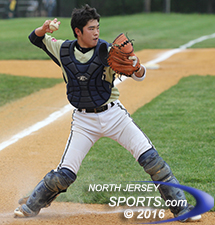 Yuki Sakurai drove in one of the two Paramus Catholic runs.
Paramus Catholic got both of its runs in the top of the sixth when Andrew Brito drew a one-out walk and scored on an outfield error that allowed Kevin Niland to motor all the way to third. Yuki Sakurai then picked up an RBI single, but it was not enough for the Paladins, who went down 1-2-3 in the seventh in front of Tom Lavalle, who slammed the door for River Dell.
"We had our opportunities, but we had three costly errors. Jeremy Torres pitched a great game and we fought really hard, but we can all this way just to go down like this and it is a little disappointing. It was routine plays we didn't make and we didn't execute when we had the chance to push some runs across," said Paramus Catholic head coach Scott Luna, whose program had not been this deep in the county tournament in quite some time. "This was the first time since 1995 that we went this far. This program was pretty dead for a long time, but we are in a good spot right now. We will only lose two seniors from the starting lineup, so we hope to be back here next year."
So now it is off to the semifinals for River Dell, the lone remaining public school, where it will face top-seeded St. Joseph Regional in a 1:30 p.m. start at Demarest.
"We don't come out here looking at the name on the jersey of the team we are playing. We just to come out and play baseball and games can go either way," said Smith. "We are proving to ourselves and to other people that public schools can stand up to the private schools. It all comes down to how well you play that game on that day."
CLICK HERE FOR MORE PHOTOS FROM THIS GAME. TO BUY A COLLECTOR'S PRINT OF THIS STORY, PLEASE VISIT 4FeetGrafix.com.