Wednesday, May 18, 2016
By Cory K. Doviak
NJS.com Editorial Director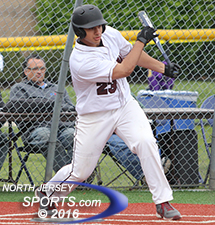 Jason Modak's grand slam in the bottom of the sixth inning finished off Wayne Hills' 13-2, six-inning win over West Milford in the Passaic County Tournament final on Tuesday.
WAYNE – First of off, West Milford's efforts in this year's Passaic County Baseball Tournament should be acknowledged and appreciated. With a young team with seven new starters, the Highlanders came from the No. 10 seed to the championship game for just the fourth time in the history of the program and did it at least a year ahead of schedule.
That being said, this year's tournament was top-seeded Wayne Hills' to lose from the outset and there was no way that the Patriots were going to let that happen on Tuesday afternoon inside the cozy confines of the diamond behind the Passaic County Technical Institute.
With a thick senior class, many of whom will be playing at the Division 1 collegiate level next year, Wayne Hills plowed through the top half of the bracket and rolling right into the final full of confidence. Senior right-hander Austin Phillips worked around a one-out single by Jimmy Rauth to hang a zero up in the top of the inning and Dan Abate, Wayne Hills' senior shortstop and leadoff hitter, got the offense going with a bang. He ripped a line drove home run over the short porch in right to give the Patriots the lead before they made their first out and they never even got a chance to make their last one.
With the bases loaded in the top of the sixth, Jason Modak brought the festivities to an abrupt halt. The sophomore three-sport standout pulled his hands in and pulled the last pitch of the game well over the fence in left centerfield for a walk-off grand slam that finished off Wayne Hills' 13-2 victory and its first county championship since 2009.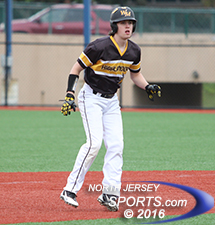 Jimmy Rauth had three of West Milford's six hits in the game.
"It feels great. We ended it the right way and gave these senior what they deserve," said Modak, who also starred for the Wayne Hills football team that reached a state final and the hoops team that had one of the best seasons in program history. "I have been extremely lucky to have these kind of opportunities this whole year, but that is what happens when you and everyone around you works hard and pays attention to the details."
The details were that Wayne Hills went on to take control of the game in that top of the first inning Joe Curcio singled with one out and stole second, scored on an error and the Patriots really made the extra out hurt when Dan Colon whacked a two-run homer to left that made it 4-0.
"We had to stay humble after that first inning. It was way too early in the game to start thinking that it was over, especially in this park, and our coach always tells us, 'More, more, more," said Abate, who will play at Monmouth University next season. "As players we just do what the coaches say and we come every day to practice willing to work and get better. We execute on the little details that and as a result we have found some success.
West Milford starting pitcher Cal Egan recovered by catching the next two hitters looking at called strike 3s, but four runs in arrears just an inning in was a tough place to be for a Highlanders team trying to pull another upset.
Certainly it was going to be tough against a thrower like the Marist College-bound Phillips, who gave nothing away. Phillips retired nine of the first 10 hitters he faced and did not walk a batter in a stellar six innings in which he struck out seven.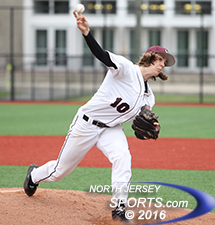 Austin Phillips went the distance without allowing an earned run for Wayne Hills, which improved to 21-4.
"Same game plan as always since the beginning of the year. I just came out looking to throw strikes so the defense could do their thing behind me. It has worked all year, so why change it now?" said Phillips. "I tried to work low in the zone, keep the ball on the ground and not in the air. I wanted to give my infielders the opportunities to make the plays because this is a small ballpark and anything can happen when the ball goes in the air."
With Phillips (6 IP, 2 R, 0 ER, 6 H, 7 K, 0 BB) in control every run that Wayne Hills tacked on made the outcome more of the foregone conclusion. The Patriots got one in the third and despite the defensive play of the game made by West Milford second baseman James Morrell. Joe Simone (2-for-3, 3 R, RBI, 2 SB), who was all over the base paths, singled leading off, stole second and went to third on a groundout by Colon (1-for-4, HR, R, 3 RBI), who will play at Indiana State, Larry Bird's alma mater, next year. That forced the Highlanders' defense in, which gave Morrell little time to react to Modak's hard one-hopper toward the middle of the field. Morrell dove headlong to his right, gloved and got the out at first, but Simone scored anyway to make it 5-0.
Simone, a Rider University commit, and Curcio (3-for-4, 3 R, 2 SB), the No. 3 and No. 4 hitters in the Patriots' lineup, combined to go 5-for-7 with six runs scored and four stolen bases, were at it again in the fifth. Curcio, a senior heading to LIU-Brooklyn, singled leading off and stole second, Simone singled him home and then stole second himself. Dylan Habeeb then split the gap for a run-scoring double that made it 7-0.
West Milford broke up the shutout in what turned out to be its final turn at bat in the top of the sixth. Jimmy Rauth (3-for-3, R, 2B), the only Highlander to have a multi-hit game, hit a one out double to left center and went to third on a groundball out. Phillips got the short flyball that should have got him out of the inning unscathed, but when it was dropped Hauth scored from third. Sean Keleman then hit a double to put two runners in scoring position and Zack Messler then brought home West Milford's second run with a single back through the box.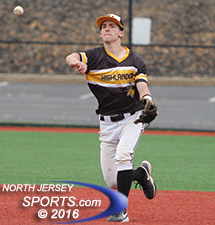 Sean Keleman had a double during West Milford's two-run rally in the sixth.
But the momentum ended right there, or at least on a Andrew Easse's off single in the bottom of the frame as the Patriots dug into the West Milford bullpen. Abate (3-for-4, HR, 2 2B, RBI, R) followed with his second double of the game, Brian Marcus executed the suicide squeeze to perfection for an RBI and got a bonus when the throw to first went awry. Curcio then collected his third hit of the game (all nine spots in the Wayne Hills order had at least one), Simone walked and then Modak ended sparked the celebration with one swing of the bat.
West Milford fell to 10-8 on the season with the loss, but walked off the field having made a gritty tournament run and will return next year with a little more in the way of big game experience that might come in handy.
"What they have accomplished is something that only three other teams [in West Milford program history] ever did. Unfortunately now we are now 0-4 in this championship game. The 10-seed thing I really did not read much into that. We had some quality wins over some of the upper seeds in this tournament during the season and the difference between 10 and 2 was really not that much," said Jordan. "With a team that has seven new starters and a lot of youth, we have a lot to look forward to and this experience can only help."
In the other dugout, the experience of this year's Passaic County Baseball Tournament was one to savor for Brian Gelalia, who paid his dues as an assistant before landing the head gig at Wayne Hills before last season.
"It's a special group. There are 14 [seniors] and we knew that last year we might take our lumps at times to try to get this group ready to go and they have done everything we have asked. They are a fun group, they are an exciting group, but they are all such a mature, hard-working group," said Gelalia. "I sometimes feel like I am coaching college kids sometimes with the way they conduct themselves, the way they carry themselves, the way they care about each other. They really do try to represent their school, themselves and their families real well and to be able watch them get to celebrate today, for me it is just a special moment."
CLICK HERE FOR MORE PHOTOS FROM THIS GAME. TO BUY A COLLECTOR'S PRINT OF THIS STORY, PLEASE VISIT 4FeetGrafix.com.