Friday, May 13, 2016
By Cory K. Doviak
NJS.com Editorial Director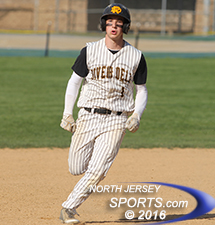 Tom Daugherty had Tommy John surgery in July, but was back by opening day for River Dell, which improved to
16-5 on the season with a 13-2, 5-inning win over Dumont on Thursday.
DUMONT – High school sports are a one-shot deal. There is no red-shirting, no eligibility exceptions of any kind. Four years and out, no questions asked. That cold hard fact was certainly on the mind of River Dell's Tom Dougherty in the summer before his senior year after he heard the words that no baseball player at any level wants to hear: Tommy John surgery.
It was July, the minimum recovery time if everything went as well as possible, is nine months and the start of the baseball season was April 1. Do the math.
"I decided to get the surgery right away and forgo football season because I knew I had at least a chance to play baseball. I set my mind to April 1, I said it over and over, and I went to [physical therapy] four times a week," said Dougherty, who would have been a starting linebacker on the River Dell football team that made it all the way to the North 1, Group 2 final and got to play at MetLife Stadium. "I read all the stories about people's experiences after they got the surgery and I surrounded myself with people who could help me get ready."
River Dell head coach Brandon Flanagan never had a doubt.
"When he called me in July, I could tell he was dying inside. I knew he was going to miss football season and that was going to be hard for him, but he made a decision. They told him nine months to a year and it was about nine months to April 1," said Flanagan. "He started training for marathons just to do something while he was rehabbing, that is the kind of kid he is. He said he would be back, that was his goal and I pretty much figured he would."
Dougherty will attend the University of Rhode Island in the fall and still has not made up his mind on whether or not he might try to walk onto the baseball team there, so all of the work, all of the pain was so he could have one final season of high school baseball with no promises as to what might come next.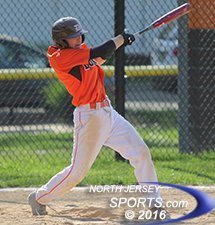 Frank Deane scored one of Dumont's two second inning runs.
Dougherty did make it back for April 1, he has been available every day since the start of the season and is the Golden Hawks' everyday rightfielder. On Thursday he had a hit, drew a walk and scored two runs as River Dell beat Dumont, 13-2 in five innings to improve to 16-5 on the season.
"It has always been a dream of mine to play [in college] and I might try out, but for now it is all about this team and this season," said Dougherty. "We are leaving our hearts on the field every day and there is a lot of team spirit going on around here. I am a senior, we have a lot of seniors this year, so everyone is fully invested in winning it all and making the best of our last year."
Thursday's game was as much a mental test as it was a physical one. Both River Dell and Dumont had won Bergen County Tournament play-in games on Wednesday, they are both scheduled to play in the Round of 16 on Saturday and both took the all-hands-on-deck approach to cobbling together pitching staffs for the game.
With guys like Dougherty in the dugout, there was no way the Hawks were going to give less than max effort even if the game they were playing did not mean as much in the grand scheme of things than the one it had played one day earlier or would play two days later.
"The biggest thing was staying focused. We know we have a big game on Saturday, but we were up for Dumont. The first time we played them we lost a heartbreaker and it was big for us to put the pedal to the metal early," said River Dell's Brian Rosen, who threw the first inning in the by- committee approach and also had two hits, an RBI and two runs scored. "The way we can hit, it is pretty impressive when we are firing on all cylinders and we came ready to play even though it was not a playoff game. We still really wanted to win."
The outcome was decided early, in the top of the second inning to be exact, as River Dell sent 13 men to the plate and scored eight times to take a 9-0 lead. Both of Rosen's hits, a leadoff triple to the fence in rightfield and a two-out, run-scoring single the second time around, came in that second inning as Hawks sprinkled the little things into mix of hard hit balls all over the yard.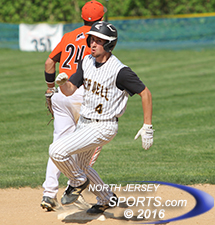 Brian Rosen was one of three River Dell hitters to have two hits in an 8-run second inning.
Julian Smith, Rosen and Mike Fasano (2-for-3, 2 RBI, 2 R) hit triples to the base of the rightfield wall with Fasano's knocking in two runs. Steve Yelin (1-for-4, 2RB) and Connor McCorry each drove in runs with outs, the first one a grounder to short with a runner on third and the infield back and the second a sacrifice fly to center. David Estevez (2-for-3, RBI, 2 R) got down the perfect squeeze bunt to plate a run and he beat the play at first base to boot. Dougherty also turned a sac bunt attempt into an infield single and Nick Covo (3-for-3, 2 R, RBI and Garrett deMarrais (2-for-3, RBI, R) each had two hits in the inning with each scoring a run and driving in another in the frame.
Rosen and Pat Cahill each threw an inning apiece and Mike Walker (3 IP, 0 R, 0 ER, 3 H, 2 BB) went the last three to pick up the win for River Dell. Dumont scored both of its runs in the bottom of the second inning when Frank Deane dashed home on a throwing error and Ryan Foley stroked a two-out, run scoring single back through the middle.
River Dell, the No. 12 seed, kept its momentum rolling heading into its Bergen County Tournament Round of 16 game against Ramsey in a 10:30 a.m. start at Northern Valley/Demarest, while Dumont (16-4) will have to rediscover its mojo as it heads to Emerson High School to take on No. 6 Northern Valley/Old Tappan. Staff ace Daniel Raglievich is rested and in line to make that start.
"It was tough to swallow. We wanted to come out here and have a good showing, but I just don't think we were mentally into the game. We were down in terms of guys that could pitch here today with Raglievich set to go on Saturday and River Dell is really good hitting team," said Dumont head coach Jay Cannici. "We were really up yesterday in the county tournament, today we kind of went through the motions and they know that that is not acceptable. We have to reset and get ready for Old Tappan, who we have had great battles with in the county tournament in the past. I think we are 2-2 against each other since I have been here and we are going to play well fundamentally and play a lot better than we did today and I think we will."
CLICK HERE FOR MORE PHOTOS FROM THIS GAME. TO BUY A COLLECTOR'S PRINT OF THIS STORY, PLEASE VISIT 4FeetGrafix.com.