Thursday, May 12, 2016
By Cory K. Doviak
NJS.com Editorial Director
Freshman Frank Venezia went the distance and allowed just two earned runs as Lyndhurst, the No. 19 seed, beat No. 14 Wood-Ridge, 12-4, in the opening round of the Bergen County Baseball Tournament.
WOOD RIDGE – It is not often that that there is a tangible way to measure the affect that experience gained during the course of a season has on a young player. Usually it shows up in subtle ways; looking for a certain pitch in a certain count, throwing to the right base in a given situation or simply just being able to control emotions when things get tight are some of aspects of the game of baseball that might be learned without anybody really noticing. But for Lyndhurst freshman Frank Venezia, the growth in his game stuck out like a sore thumb in front of a buzzing crowd in Wood-Ridge.
In his first-ever varsity start back on April 5, Venezia, a right-hander with a snapping curveball, was staked to a 10-1 lead against Wood-Ridge but was unable to hold it in what eventually turned into a stunning 11-10 loss. Now five weeks later, Venezia took the ball on the same mound against the same opponent in his first-ever Bergen County Tournament start and found himself in almost an identical game situation.
This time he had an 11-1 lead and the intangible that is varsity experience on his side. Venezia just kept throwing strikes and finished what he started. Venezia fought off fatigue in the late innings and turned in a complete game victory as Lyndhurst, the No. 19 seed, advanced to Saturday's Round of 16 with a 12-4 victory over No. 14 Wood-Ridge.
"The first game when we played them was my first game ever pitching in a high school game and I was a lot more nervous. This time I had a lot more confidence that I have picked up over the course of the season," said Venezia. "It was exciting. It was such a big game and just knowing that my coach had the trust in me to put me out there is great. It was all new to me. It's the first time I have ever pitched in such a big game and I was excited and nervous all at the same time."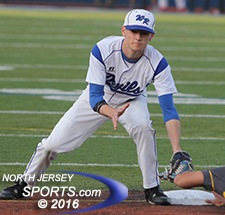 Ryan Marrone had three of Wood-Ridge's nine hits, including a solo home run in the bottom of the sixth inning.
It looked for a while like nerves and whoever controlled them better would play a part in the outcome of the game as Venezia and Wood-Ridge starter Joe Batcho were locked in an early duel. Batcho faced just one over the minimum through the first three innings with the lone blemish coming on an error as the opening three frames flew by. Venezia got two pop-ups for the final two outs of the first inning to strand a runner in scoring position and then used his defense to get through the next two innings unscathed.
With a runner on second and two outs in the bottom of the second, Lyndhurst third baseman Nick DiTommaso made a sparkling play. He slid toward the foul line and over it well beyond the bag and then, from his knees, threw across the diamond for the final out of the inning. In the third, Wood-Ridge got the leadoff runner on with Anthony Traino's single back through the box and got aggressive on the basepaths with the top of the order coming up. With Traino in motion, Vin Dorio grabbed a weak line drive and the Bears' second baseman turned it into a 4-3 double play. Centerfielder Evan Kelly then robbed Batcho of a two-out base hit with a sliding catch to get Lyndhurst into to hit in a still scoreless game.
Vin Dorio got Lyndhurst's first hit of the game, a double to right-center leading off the top of the fourth but was on the verge of being stranded right there as Batcho got the next two outs, but then Venezia helped himself with a clutch hit, a single that scored Dorio (2-for-3, 3 R, 2 RBI, 2 2B) just ahead of a strong throw to the plate by Wood-Ridge leftfielder Chris Musante. Ryan Donahue (1-for-3, RBI, BB) followed with another run-scoring single as Lyndhurst took a 2-0 lead and established a recurring theme. Through innings four through six, the Bears had seven two-out hits and six of them drove in at least one run as they broke the game open.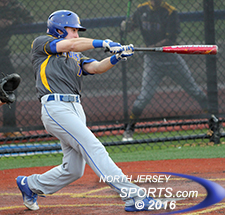 Vin Dorio had two doubles, two RBI and three runs scored for Lyndhurst, which will host Bergen Catholic in the Round of 16 this weekend.
"That is baseball right there. I tell these guys all the time that it is the little things that are going to win it. Small ball helped us out, we had a successful squeeze in there, but the clutch hitting is just the persistence of our team," said Lyndhurst head coach Pat Auteri. "You can't teach that, you either do it or you don't and our kids just kept fighting. We have been fighting the last couple of weeks to play that 'A' game and I think tonight we finally saw it. That play at third that Nick DiTommaso made really got us charged up because I thought we came out a little nervous. He makes that play to get us back in the dugout and that set the tone."
Lyndhurst sent eight to the plate in the fifth inning with DiTommaso (2-for-4, 2 R) again coming through with a lead-off double. Max Vigliotti (2-for-3, SB), the Bears' No. 9 hitter, got more than he bargained for when his sacrifice bunt turned into an infield single and a first-and-third, no-out situation. Evan Kelly hit a sac fly, Nick Carnevale got down the squeeze bunt for an RBI and Matt DeMarco (2-for-4, 4 RBI, 2 R, SB) capped the four-run outburst as Lyndhurst took a 6-0 lead.
"You get to play a lot more relaxed when you are playing with a lead and it certainly helped to have Frankie out there pitching as well as he was," said Dorio. "He was getting us easy chances on defense, and we just had to make the routine plays and then get right back in and hit."
Wood-Ridge finally got on the board in the bottom of the fifth with an unearned run that scored on Batcho's two-out double, but Lyndhurst got right back at it in the sixth to push the game to the edge of the mercy rule. Dorio and DeMarco each had two-out, two-run doubles as the Bears scored five runs after the bases were empty with two outs to take an 11-1 lead.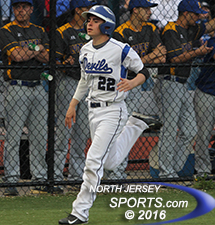 Anthony Traino had two hits and scored a run for Wood-Ridge.
Keeping in mind what happened the first times the two teams met, there was a glimmer of hope for the Blue Devils as Shian Tanaka (1-for-4, HR, RBI, R) and Ryan Marrone (3-for-4, HR, RBI, R) hit back-to-back home runs to almost the same exact spot in straight away centerfield and they picked up another run on a sacrifice fly lifted by Joe Pronti to make it 11-4, but Venezia (7 IP, 4 R, 2 ER, 9 H, 5 BB, 3 K) settled back in and close it out.
"Obviously we were looking for a better game and a better outcome, but when you step on the field against a quality team you can't make any mistakes and you have to execute. That is what they did better today. They had a bunch of two-out hits in big spots," said Wood-Ridge head coach Mikey Carcich, whose team is still locked in a league title race with St. Mary. "We had runners on in each of the first three innings and we couldn't scratch across a run. We are definitely a better team when we have a lead, but tip your cap to the kid Frank Venezia. That is a freshman out there and he showed a lot of composure. He was dropping his curveball in for strikes and they were the better team today."
Lyndhurst tacked one on in the top of the seventh and the game ended on a 6-6-3 double play that put the Bears into Saturday's Round of 16.
Next up is No. 3 Bergen Catholic, a finalist last season and one of the contenders to win it all, but, win or lose; Lyndhurst (13-9) is going to enjoy the experience. And the Bears will have a home game as Lyndhurst is one of the three traditional host sites for this round of the tournament.
"That is the best part of it. We are just going to go out there and play [Bergen Catholic] and do the best we can," said DeMarco. "We are just going to go out and have fun, play baseball and whatever happens happens. We have nothing to lose."
CLICK HERE FOR MORE PHOTOS FROM THIS GAME. TO BUY A COLLECTOR'S PRINT OF THIS STORY, PLEASE VISIT 4FeetGrafix.com.