Tuesday, May 10, 2016
By Rich Barton
NJS.com Staff Writer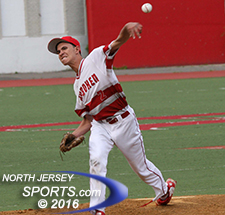 John Casella went 3-for-3 at the plate and also picked up the win on the mound as Hoboken pulled away early for a 15-3, five-inning victory over Snyder in the first round of the Hudson County Tournament.
HOBOKEN – When a tradition-rich program at any high school program falls on hard times it can be especially draining mentally and emotionally. As a four-year varsity player John Casella has seen a former perennial Hudson County power Hoboken fall back to the pack and then some. It would have been easy for Casella to check out or to flat out quit. But with this being his last chance to help lead the Red Wings back to glory the senior has made it a point to play hard and lead his team by example.
With the start of the Hudson County Tournament representing a fresh start, Casella made sure he would set the tone any way that he could.
Casella did a little bit of everything at the plate, on the mound and in the field. He went 3-for-3 with three runs scored, three RBI and also picked up the win as 10th seeded Hoboken pulled away early for a 15-3, five-inning victory over 15th-seeded Snyder in the first round of the Hudson County Tournament on Monday at JFK Stadium in Hoboken.
"This hasn't been the season we thought it would be, but the county tournament gives us a chance for a fresh start," said Casella.
Casella struck out the final two batters in the top of the first inning to strand a runner in scoring position. Then in the bottom half of the frame he helped his own by beating out a chopper to third to spark the Red Wing offense. He stole second and was driven home on an RBI single by Aram Assadourian. Hoboken aggressively ran the bases all game long and took advantage of four Snyder errors in the first. CJ Smith added an RBI single as the Red Wings grabbed a 5-0 lead.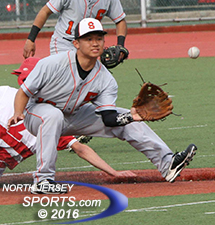 Swansean Chu taking a throw at second base for Snyder.
Snyder fought back with two runs in the top of the second. Alfred Tavarez hit a long triple to deep center and Jordan Heredia drove him in with an RBI single. It was only a brief respite as the Red Wings erupted for nine runs in the bottom half of the inning.
Once again, Casella was the lynchpin to the outburst. He had two hits, scored twice, and drove in two runs in the second inning alone. After stroking a leadoff double and scoring, he lined a single to center that brought home two more runs. Two batters later designated hitter Nick Burke blooped in a two-out, two-run double to give the Red Wings a commanding 14-2 lead.
"When we get an early lead, we're a team that really feeds off of that," added Casella. "Everyone wants to get that next hit to drive a run in. For me, I pitch with a lot more confidence knowing I have some runs to work with."
With plenty of run support, Casella just had to throw strikes and let his defense make the plays behind him. With runners on second and third and two outs in the fourth inning, Casella made a great play to snare a hard ground ball back through the box. He got the runner at third caught in a rundown and eventually tagged out at the plate to end the inning.
The defense did not stop there for Hoboken. After the Tigers loaded the bases with one out in the top of the fifth, shortstop Nick Sobolov made a sliding play and a nice flip to second base, Jeffrey Garcia fielded it cleanly and turned the game-ending double play to lift Hoboken into the HCT quarterfinal round.
Casella. along with his 3-for-3, 3 R, 3 RBI day at the plate, walked three batters and struck out six to pick up the win for Hoboken (7-13). Smith and Garcia each collected two hits and scored twice. Along with Tavarez and Heredia, Dante Santana and Jorge Mejia also had hits for Snyder (13-7).
Hoboken will travel this weekend to take on seventh-seeded North Bergen. It will be a daunting task for a Group 1 school to face a hungry Group 4 squad on their home field. However, the Red Wings are not just happy to be where they are. They want to see just how far they can go.
"North Bergen is a really good team that can hit, pitch, and play defense. We have to be ready," said Casella. "We're not happy with our season, but it is what it is. The county tournament gives us a chance to prove people wrong and as an athlete that's all you can really ask for. We're going to play as hard as we can against North Bergen and see what happens."
CLICK HERE FOR MORE PHOTOS FROM THIS GAME. TO BUY A COLLECTOR'S PRINT OF THIS STORY, PLEASE VISIT 4FeetGrafix.com.