Saturday, April 16, 2016
By Rich Barton
NJS.com Staff Writer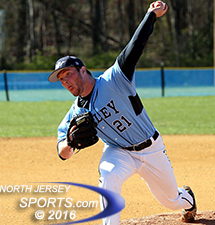 Sean Lewandowski settled in after the first inning and went the distance on an 8-hitter for Wayne Valley, which beat Eastside, 5-2, on Friday afternoon.
WAYNE – Winning a Passaic County championship on a walk-off homer last year was a memory that none of the Wayne Valley baseball players who were there will ever forget. This year's Indian squad has come into the season not as the hunter but as the hunted and one of the teams hot on their trail is Paterson Eastside.
With experience starting to catch up to the talent, the Ghosts are off to a good start and were looking for a big road win to show the rest of the county that they are for real. Wayne Valley's Sean Lewandoski had other plans, however, and came through with an efficient performance on the mound.
After being bailed out by his defense in the first inning, Lewandoski settled in by mixing speeds. Wayne Valley took advantage of four Ghost errors in the third inning and Lewandoski did the rest as Wayne Valley climbed over the .500 mark with a 5-2 win on Friday at Wayne Valley High School.
Paterson Eastside came on fire and planned on adding to its four-game win streak. Their aggressive style at the plate was effective in the top of the first but their similarly aggressive style on the basepaths backfired. After a leadoff walk, a runner tried to advance to third on a single to left but was thrown out. Then, with runners on the corners and one out, shortstop Jon Ludwig fired a strike to the plate and catcher Jake Blumenstyk slapped on the tag to snuff out a double steal attempt. Lewandoski struckout the next two batters to get out of the inning unscathed.
"We made a couple of big plays defensively that are tough to execute with precision," said Wayne Valley head coach Jeff Hoover. "I thought Sean really stepped up great after those first couple of batters and got two big strikeouts to get out of the inning. Once we got through that, I think it made Eastside a bit skeptical about being overly aggressive the rest of the game."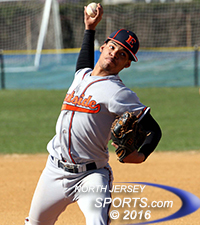 Kelvin Cruz took the hard-luck loss for Eastside, which fell to 4-2 on the season.
Kelvin Cruz was throwing the ball well for Eastside, but that could only go so far as four errors in the bottom of the third helped the Indians seize control of the game.
Connor Olaya reached on an error to start the inning then stole second. On a comebacker to the mound, Olaya was hung up between second and third and would have been out by plenty had the throw been on target. Instead, it sailed high which put runners on first and second with no outs. Jake Blumenstyk made the Ghosts pay for the miscues with an RBI single, the only hit of the inning, to get the Indians on the scoreboard first. After a sac fly by Tyler Waltler, two more errors on routine plays allowed two more runs to score as Valley took a 4-0 lead.
"You can't give as many extra outs we did in that inning and get away with it," said Eastside head coach Jose Rojas. "Wayne Valley is well coached and is always disciplined. If you make mistakes, teams like that make you pay for it. We have to make those kind of plays to beat championship-caliber type of teams. But these are teams we used to get ten-run ruled by regularly. We're starting to gain respect, now we have to take that next step and be consistent with the way we play."
It was still a four-run deficit going into the top of the seventh when the Ghosts made one last push. Pinch hitter Robert Ortiz roped a single to right to cut the lead to 5-2 and bring the dangerous Danny Camilo to the plate as the tying run. Camilo got a good swing on a fastball and hit it to deep center, but Olaya was in position to make the catch to end the game.
Alex Kokos knocked in an insurance run for Wayn Valley, which improved to 4-3 on the season.
"They were a really aggressive team so I had to stay focused and hit my spots," said Lewandoski. "After the first inning I felt really comfortable throwing my curve for strikes and that helped keep them off-balance. Even when they got a couple of hits in the seventh, I knew I just had to stick to what I was doing and trust the guys behind me."
Lewandoski scattered eight hits with one walk and four strikeouts to pick up the win for Wayne Valley (4-3). Alex Kokos added an insurance run with an RBI single in the sixth.
Kelvin Cruz took the hard-luck loss for Paterson Eastside (4-2) despite giving up just one earned run. He allowed five hits with one walk and three Ks. Luis Garcia was the only player for either team to collect two hits, including an RBI single in the fourth.
This is the first of four games in the next five days for Wayne Valley. Starting off with a quality win provides an opportunity for the Indians to get on a roll and get prepared to defend their Passaic County crown.
"This was a good win for us and it's a nice way to start a big stretch of tough games," said Lewandoski. "The whole baseball season is a grind. That's what we have to keep doing, keep grinding and keep finding ways to win."
CLICK HERE FOR MORE PHOTOS FROM THIS GAME. TO BUY A COLLECTOR'S PRINT OF THIS STORY, PLEASE VISIT 4FeetGrafix.com.