Saturday, April 2, 2016
By Cory K. Doviak
NJS.com Editorial Director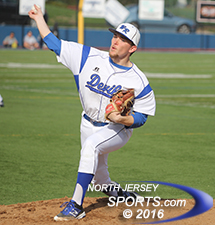 Senior Joe Batcho gave up just two runs in five innings to pick up the win for Wood-Ridge, which opened the season with a 10-2 victory over Ridgefield.
WOOD-RIDGE – Ridgefield's baseball program has provided a blue print for how to do it in Group 1. They rode the talents of a deep and talented Class of 2015 sprinkled in a couple of other solid contributors in the grades above and below and won two straight sectional championship and made it all the way to Toms River for the Group 1 final in 2014. Now they are trying to stay there as the process starts all over.
Wood-Ridge has been building just the same way. Taking baby steps that included a first round upset of Pascack Valley in the opening round of last year's Bergen County Tournament, the Blue Devils are deep in experience and led by a senior class that has listed a deep state tournament run on its 'To do' list this season.
"As coaches we have said that this is probably the most complete one through nine [batting order] that we have ever had. It is the kind of versatility that we have never had before. We don't think we have any week spots and we are still able to do the little things like but runners over," said Wood-Ridge head coach Mikey Carcich. "Little things make big things happen and, when it comes to the state tournament, we have been on the schneid a little bit. We have been bounced three times in a row in the first round and we can't have that again this year."
Facing Ridgefield in the season opener on Friday, Wood-Ridge showed many of the qualities that could signal the makings of a successful season. The Blue Devils showed their resiliency by bouncing back from majestic back-to-back Ridgefield home runs in the top of the first inning, showed their command of the strike zone by drawing seven walks in the first three innings, showed their offensive depth with every spot in the lineup reaching base at least once and showed off their quality pitching with a combined three-hitter thrown by senior Joe Batcho (5 IP, 2 R, 2 ER, 3 H, 6 K, 2 BB) and junior Nick Pronti in a 10-2 Opening Day victory.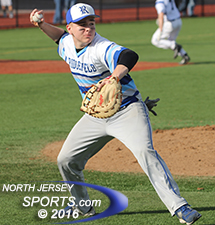 John Miano hit one of two back-to-back, first-inning home runs that gave Ridgefield an early lead.
After giving up the home runs in succession to Joe Correa and John Miano, the lefty who hit a bomb the other way over the softball dugout in deep left field, Batcho settled in. He allowed just three more baserunners in his five innings of work. Spotting his plus fastball where he wanted, Batcho struck out six.
"It was definitely hard going out there on Opening Day because you are so excited for the season to finally start, but I tried to treat it like any other day and just do my job and throw strikes," said Batcho. "Ridgefield has good hitters, really good kids, but I went out there with the mindset that no one could beat me. Even after the two home runs, I kept my confidence up and just tried to go after them."
With Batcho sorted on the mound, Wood-Ridge had plenty of time to rebound from the early deficit and it started chipping away in the bottom of the second when Anthony Trano's squeeze bunt pushed home Shian Tanaka, who had drawn a one-out walk and went to third on Tommy Luzzi's single. Wood-Ridge then went ahead in the top of the third with two runs without the benefit of a base hit.
Batcho and Anthony Lattarocca drew back-to-back walks to start the inning and Joe Sartori's sacrifice bunt turned out better than planned. Ridgefield got the out at first, but with a close play at the bag putting the defender on the ground in foul territory, a run scored to tie the game at 2. Lattarocca then beat the play at the plate on Chris Leone's ground ball to go up 3-2 and the Devils would break the game open in their final two turns at bat.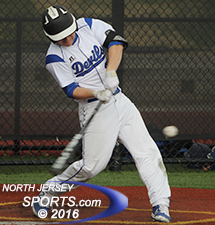 Tommy Luzzi had two hits and an RBI for Wood-Ridge.
Batcho (1-for-3, 2 R, 3B) tripled leading off the fifth and scored on Lattarocca, who was officially 0-for-0 at the plate with three walks, a stolen base, two runs scored and an RBI, then lifted a sacrifice fly to make it 4-2. Sartori, the No. 5 hitter who bunted in his previous at bat, then hit a classic all-you-can-get home run. Sartori crushed one to straight away centerfield. It's a long way to the back fence with the turf helping propel the ball forward and Sartori, the senior catcher who gives way to a courtesy runner when stopped short of home, circled the bases.
"There was no way I was stopping. I love running the bases and I wanted to score," said Sartori (2-for-3, HR, R, 2 RBI). "It took me about three minutes to catch my breath after that, but it was worth it."
With Ridgefield reluctant to go deep into its bullpen and burn any more arms than necessary on opening day, Wood-Ridge struck for five more runs in the bottom of the sixth when it sent 10 men to the plate. Mike Timpson, who started the rally with a pinch-hit single, also made the last out of the frame as he got two at bats in the same frame. Ryan Marrone circled the bases when what likely would have been a grounds-rule double was played into a two-run homer by a defensive mistake and Leone (2-for-4, 2 RBI, R, SB) adding an RBI triple.
Pronti, Wood-Ridge's starting shortstop, its leadoff hitter and closer, slammed the door in impressive fashion as he struck out five of the seven hitters he faced while allowing nothing more than a one-out walk in the second of his two innings work.
After a preseason schedule in which it played up as much as possible, Wood-Ridge opened the season with a Group 1 statement.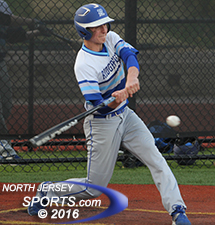 John Biggiani, one of Ridgefield's three returning starters, had one of the Royals three hits.
"We played Bergen [Catholic], we played Paramus, we played Dumont and now the kids can look at that kind of competition and realize that it was helped us get ready for what we want to accomplish in our league and in Group 1," said Carcich. "No doubt it helped us. We had a lot of strikeouts and a lot of bad at bats against that competition and it was a lesson learned. Today we struck out twice as a team, we put the ball in play and we made them field it."
It was a tough spot for Ridgefield, which is attempting to reload rather than rebuild. It was facing a team that might be the mirror image of what it has been in the last two years, but the Royals are sure to be heard from again before this is all over.
"I think Wood-Ridge is in the situation we were in last year with a lot of good returners coming back and a lot of expectations and we are kind of the opposite for the first time in a long time. We lost 13 seniors, we have only three returning starters and I had to bench one today because of an incident," said Ridgefield head coach Joe Gambardella. "None of that is an excuse. Our starter was not good, their starter was good and he settled down after we hit back-to-back homers in the first inning. We had him down, but we didn't score again and that is our youth showing. We are just going to keep going after it. Our goals are never going to change as long as I am the head coach here and these kids know that. We'll get right back to work.
CLICK HERE FOR MORE PHOTOS FROM THIS GAME. TO BUY A COLLECTOR'S PRINT OF THIS STORY, PLEASE VISIT 4FeetGrafix.com.